Culture
Here's the perfect starter pack for any aspiring musician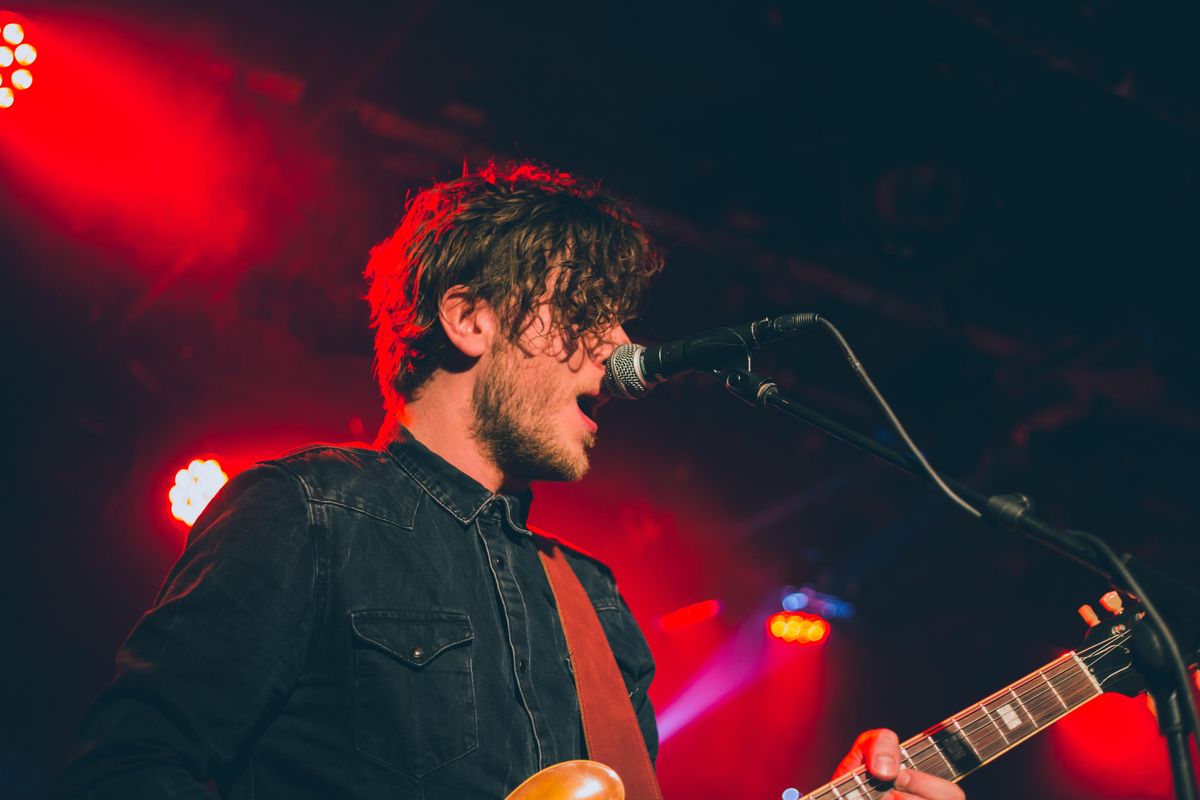 Every musician had a first time they picked up the guitar, bass, keyboard, etc. And as a professional musician, I can tell you that there is nothing more satisfying than creating music in your own home. Whether it is just picking up an acoustic guitar or producing your own original ideas, this list should help you get budding musicians of all ages well on their way.
---
An acoustic guitar is an instrument you can bring anywhere. This Fender FA-115 Dreadnought comes complete with everything you need including a soft guitar case (gig bag), tuner, strap, string and guitar picks. Fender has been around forever, and for around $200, this is bundle is everything you need to get started.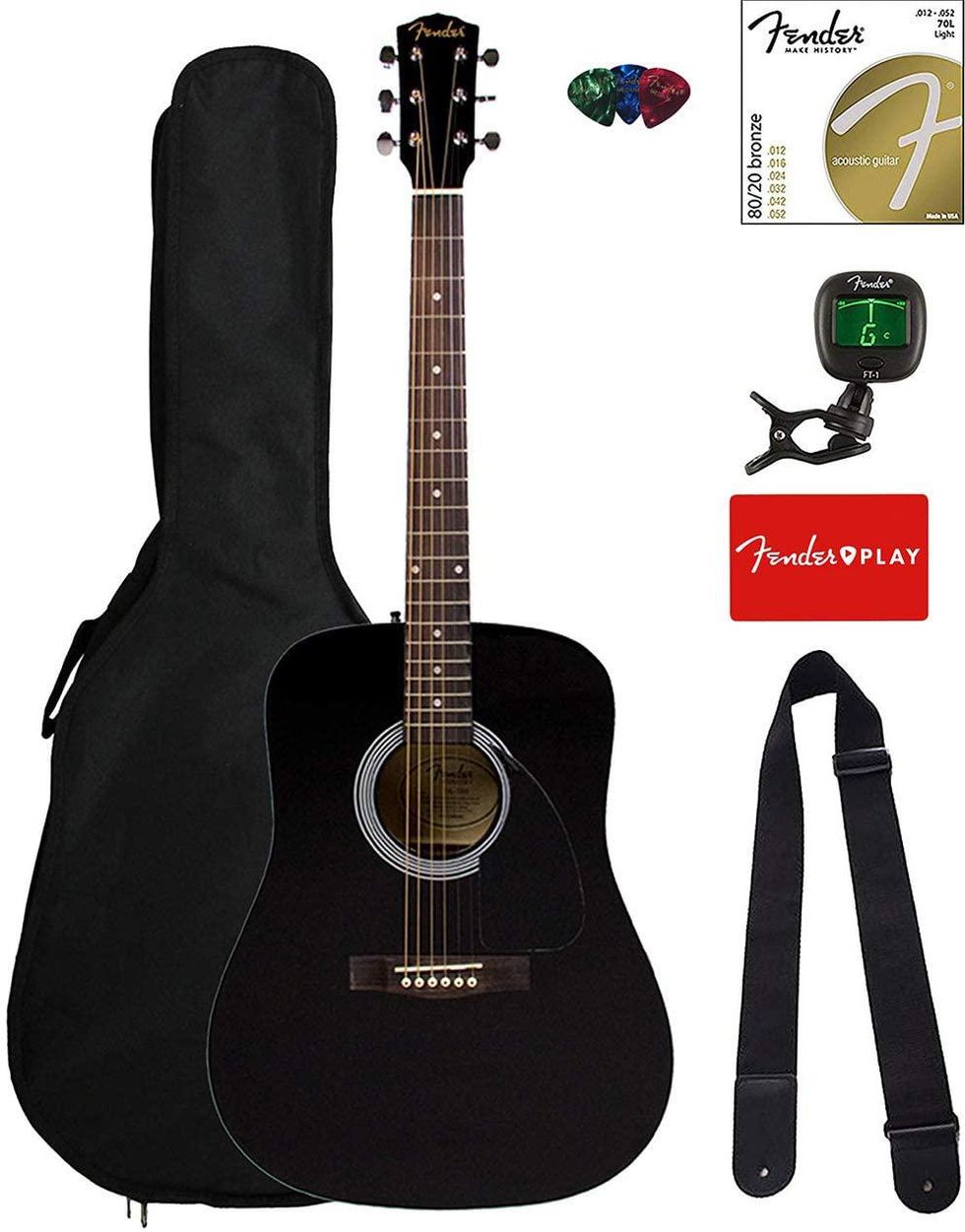 2. ChromaCast Upright Guitar Stand
One item the Fender bundle does not have is a guitar stand, and the ChromaCast Upright Guitar Standis solid inexpensive option. Not only is it easier than taking the guitar in and out of the case, but there is no motivation like an instrument sitting on a stand staring back at you, wondering why you aren't practicing. The easy access coupled with the security of keeping your guitar upright is well worth the the $10. Leaning your guitar up agains the wall tells everyone, most importantly yourself, that you aren't taking it seriously. Especially when you hear that clang after it falls over.

Bassists and drummers are always the most sought after components to a band. And unless you have a big house with sound proof rooms and lot of patience, the bass is the obvious gift. This Ibanez is a perfect first bass. Ibanez basses and guitars sound great and are underrated, in my opinion. I have a bass and guitar from Ibanez, and have never had the need for anything else.

4. Ampeg BA-108v2 20-watt Bass Combo Amplifier
If you decide to gift a bass, you will want to include a bass amp. Ampeg is one of the top bass amp manufacturers in the industry, and the Ampeg BA-108v2 20-watt Bass Combo Amplifier is a fantastic choice to start out with. It has a great tone for the money and won't shatter the windows in the process.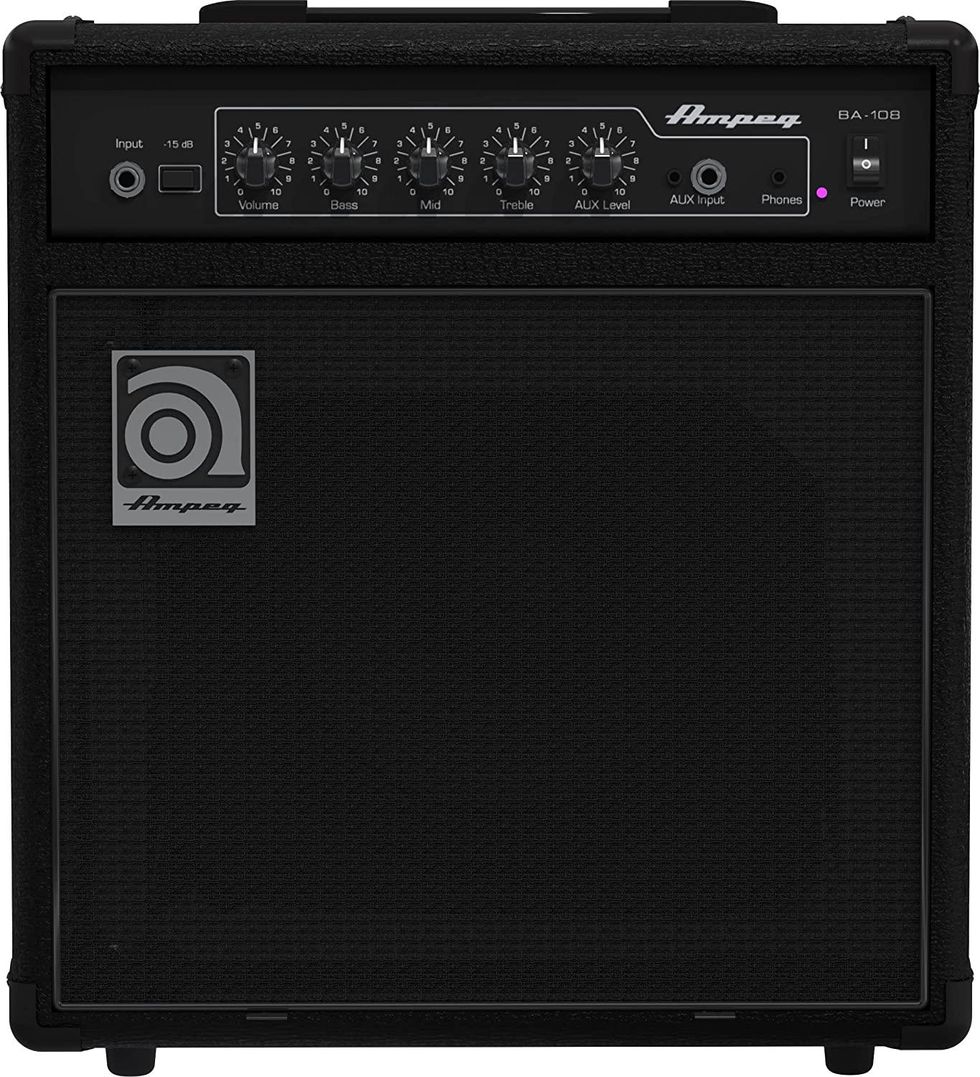 5. YUWAKAYI 10 foot guitar cable
Unless otherwise specified, your guitar does not come with an instrument cable. There is no need to break the bank for a beginner, as some cables can be in excess of $60. The YUWAKAYI 10 foot guitar cableis $9 and is more than sufficient for those just starting out. When you start gigging and recording, you might want to look into upgrading, but for now it does the job just fine.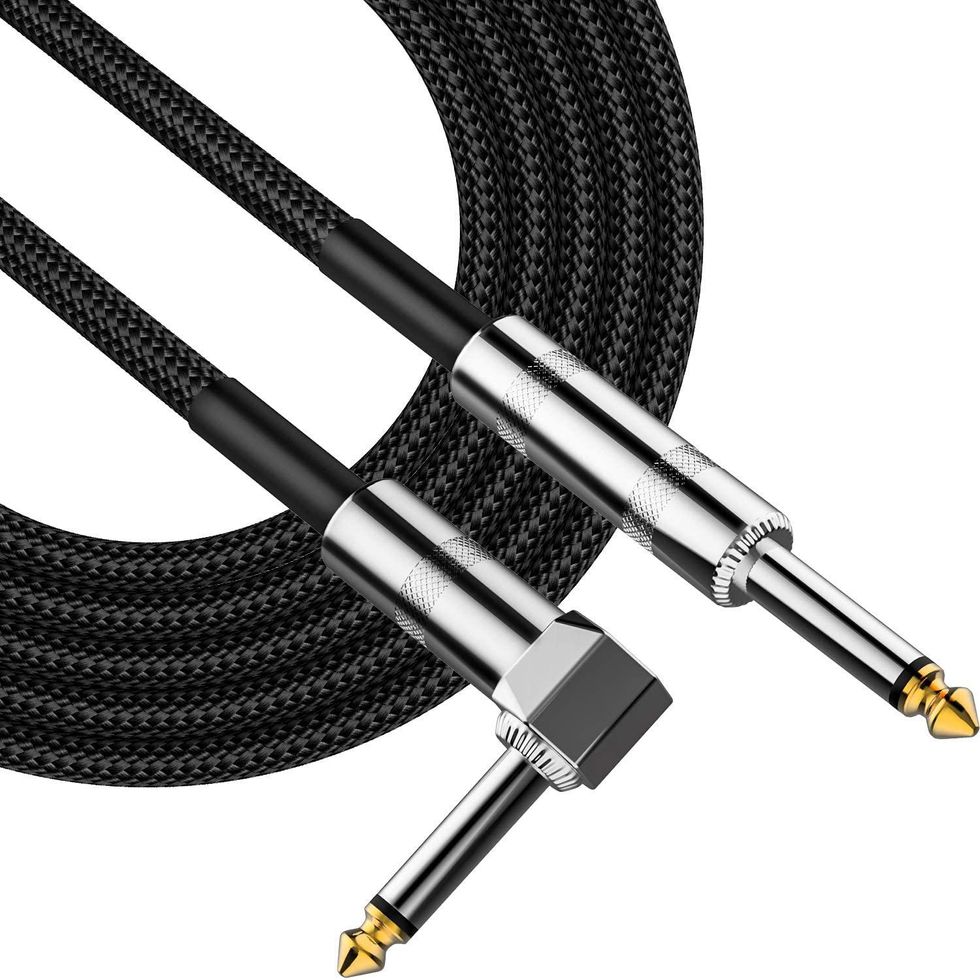 If you ask any guitarist what their first guitar was, they will most likely tell you it was a Fender Squire. This package comes with a guitar, amp, strings, tuner, chord, strap, picks and gig bag. For $370, you will be hard pressed to find a better deal than this.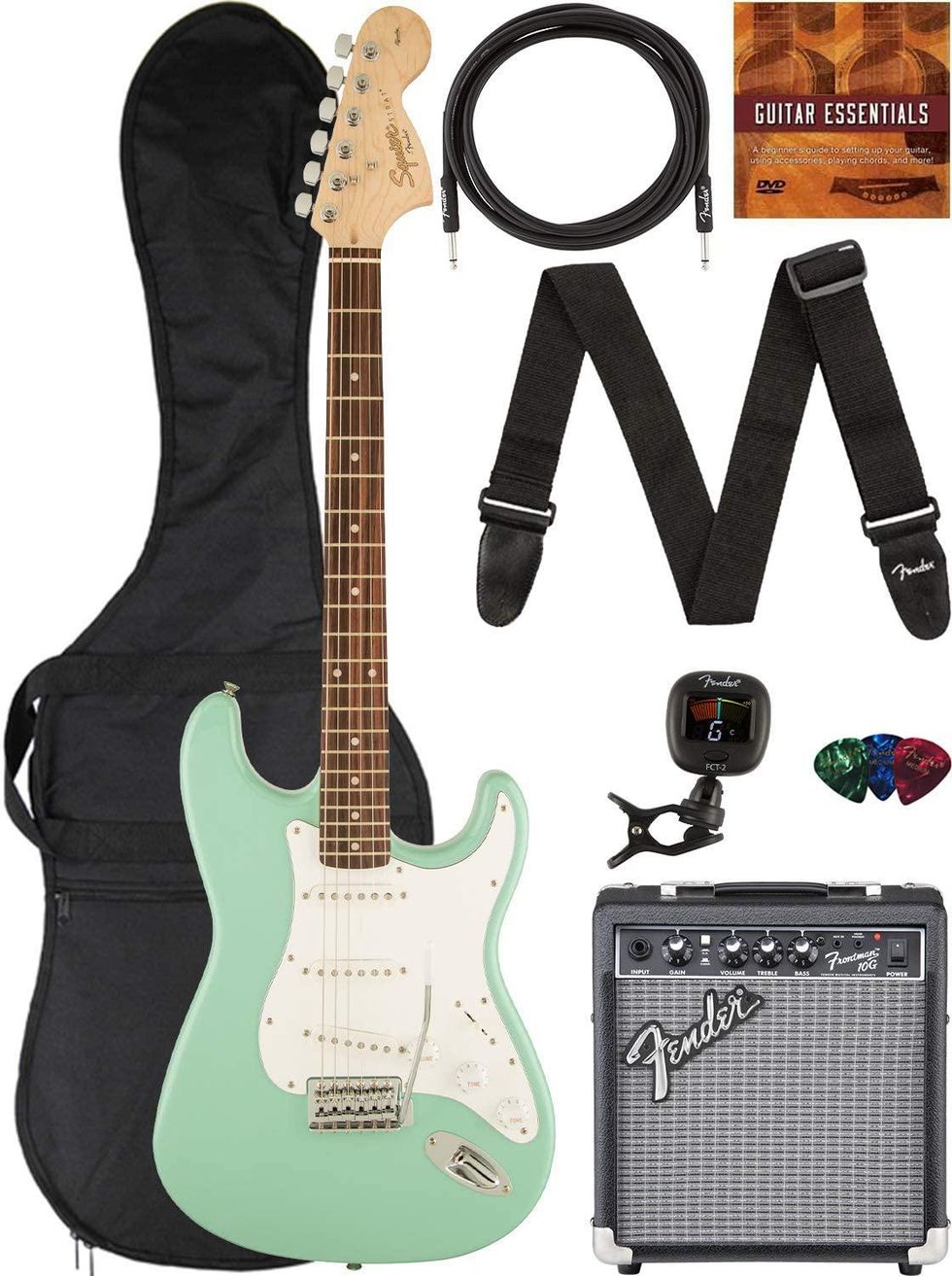 7. VOX AP2AC amPlug 2 AC30 Guitar/Bass Headphone Amplifier
If noise is an issue, VOX AP2AC amPlug 2 AC30 Guitar/Bass Headphone Amplifier is a beautiful thing. Vox makes great amps, and this little guy has a surprising sound for its size and price. Plug it into your guitar or bass and then plug headphones into the Vox. Then rock out without disturbing the neighbors, or anyone in your own house for that matter. It takes two AAA batteries that should give you anywhere from 7-11 hours of life.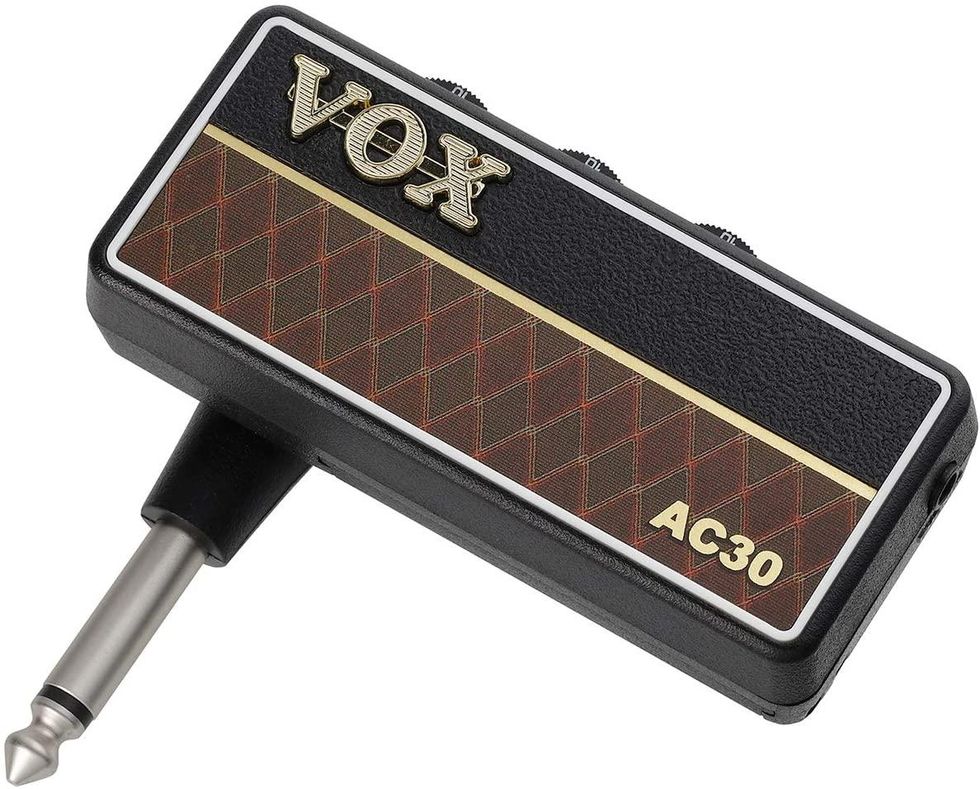 8.The Midiplus, 32-Key Midi Controller
If you have a Mac, then you have Garage Band, and The Midiplus, 32-Key Midi Controller is an inexpensive way to access sounds from Apple's free recoding software. Garage Band has tons of software instruments from drums to cello, bass to guitar and way too much more to mention. Just plug the midi controller into the USB port on your Mac, and when you select an instrument in Garage Band each keystroke mimics the chosen sound. After a short learning curve, you can be producing full compositions in no time. Don't get suckered in to buying keyboards with a lot of useless buttons. Midi controllers like this one are simple and easy to use, especially since everything you need is in the Garage Band program on your Mac. Not all iPads have USB ports, so be sure your computer has one.

Eventually, you will want a condenser mic to record vocals, but they are fragile and can stop working after they hit the floor even once. The Shure SM58is the most trusted microphone out there, and has been used to record a bunch of hit records. It is widely used as live performance mic, but it does just fine in the studio, as well. Not to mention, you can run it over with a truck and it will still work. I have had the same one for as long as I can remember, and it has endured more than you can imagine. If "They don't make 'em like they used to" the SM 58 is the exception to the rule.


10.Tripod Boom Microphone Stand
You will need a mic stand. Whether you are recording, rehearsing or playing live, there are very few situations that don't call for one. And besides, you can't truly achieve proper rock stance without it. No need for anything fancy here. For $25 the AmazonBasics Tripod Boom Microphone Stand will do the trick.


11. M-Audio Midi Interface Recording Software
Finally, if you want to record guitar, bass or vocals into Garage Band or any other recording software, you will need an interface to plug into. An interface is a small box where you plug in an instrument or mic cable, and then in turn plugs into your computer. Once plugged in, you can access what ever guitar/bass sounds your software offers, along with effects like delay, reverb and compression to put on your vocals and instruments. M-Audio is my pick for an interface that you won't outgrow for some time, and is just over $100.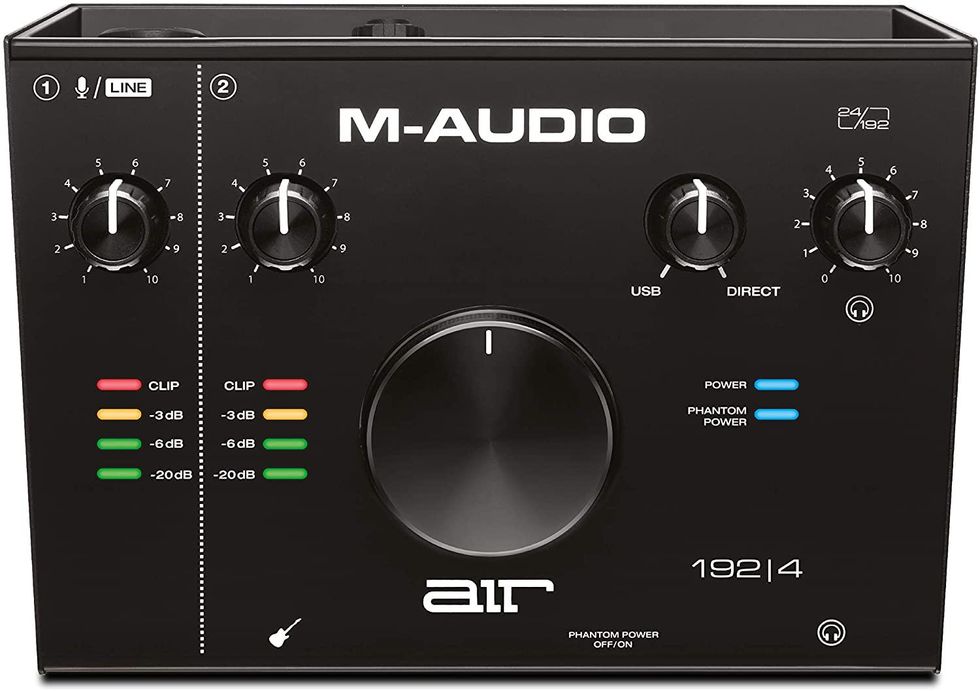 These are just some of the gift options for those people in your life curious about trying the music thing out. If it takes, then you can upgrade as they grow as musicians. These are just a few ways to get them started with decent gear that won't drain your bank account. If you can afford a little more, there are certainly a bevy of other options. If finances are tight, this is a good list to go on.