Heroes
Mitch McConnell mocked Jon Stewart's work on behalf of 9/11 victims. Big mistake.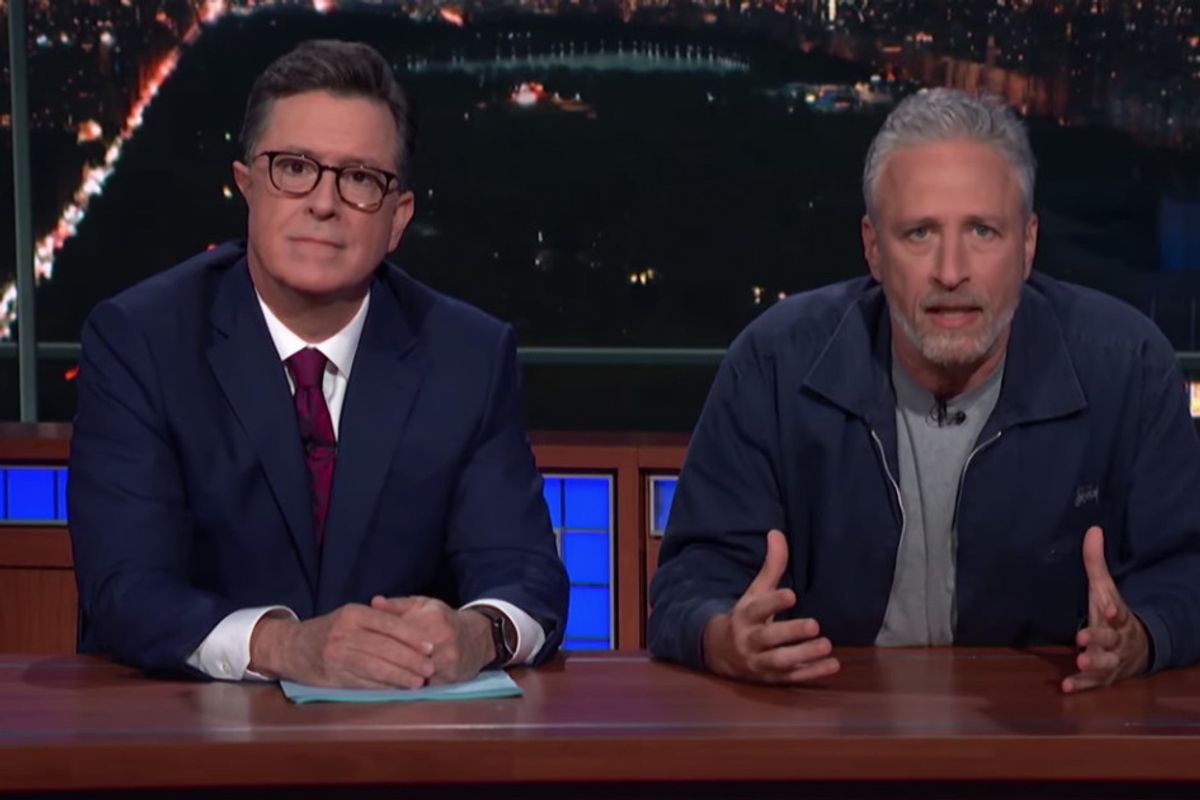 Jon Stewart Won't Let Mitch McConnell Off That Easywww.youtube.com
Jon Stewart's work on behalf of the 9/11 Victims Fund has truly elevated him to hero status. His tireless efforts to raise awareness and restore funds to survivors and the families of victims have earned him much-deserved praise and literally helped push funding through a House committee last week.

But it shouldn't have to be like this.
---
There is room for almost any kind of political debate within the storied halls of Congress but providing basic healthcare for survivors of the worst terrorist attack on American soil in history should not be a place of neglect, or a talking point for one political party.
And yet, here we are.
Despite moving out of the House committee, the funding bill faces an uncertain future when it makes its way to the Republican-controlled U.S. Senate, after expected passaged by the full House.
Senate Majority Leader Mitch McConnell has been non-committal in terms of when or even if the funding measure will get a full vote in the Senate and whether or not he will direct Republicans to support what should be just about the least controversial bill to come before lawmakers.
Yet, during an appearance on the Fox News Channel, McConnell was dismissive of Stewart's impassioned efforts, calling the former "Daily Show" host "bent out of shape" and insisting the Senate was too busy to rush its attention on the bill: "Many things in Congress have [come] at the last minute," McConnell said. "We have never failed to address this issue, and we will address it again."
His statements were not only insensitive but ironic after McConnell drew much ridicule in recently after tweeting support for the idea that the Senate shouldn't move forward with any meaningful legislation until Democrats submit to President Trump's legislative priorities, i.e. funding for a border wall with Mexico.
Well, McConnell should have known that Stewart wasn't going to take this lying down.
Instead, he stopped by to visit his old pal Stephen Colbert and delivered an epic 6-minute monologue on McConnell's comments. Some highlights below:
"No, Mitch McConnell, I am not bent out of shape," Stewart began.

"Listen, Senator — I know that your species isn't known for moving quickly," Stewart said in reference to a joke he started years ago about the Kentucky lawmaker resembling a turtle. "But damn senator. You're not good at this argument thing.

Basically, we're saying you love the 9/11 community when they serve your political purposes. But when they're in urgent need, you slow-walk, you dither, you use it as a political pawn to get other things you want."

"You know what, if you're busy, I get it," Stewart continued. "Just understand that the next time we have a war, or you're being robbed, or your house is on fire, and you make that desperate call for help, don't get bent out of shape if they show up at the last minute with fewer people than you thought."

"These are the first heroes, and veterans, and victims of the great trillions-of-dollars war on terror," Stewart said. "And they're currently still suffering and dying and in terrible need. You would think that would be enough to get Congress' attention, but apparently it's not."


Keep going Jon Stewart. It's a shame you're having to do the work our elected representatives are being paid to do. But until they do their jobs, please keep doing yours. America needs you, the 9/11 Victims Fund needs you, and we could all use a little more of the common sense decency you're casting an illuminating light upon.