More
Meghan Markle and Prince Harry just delivered a very personal and positive message to sex workers.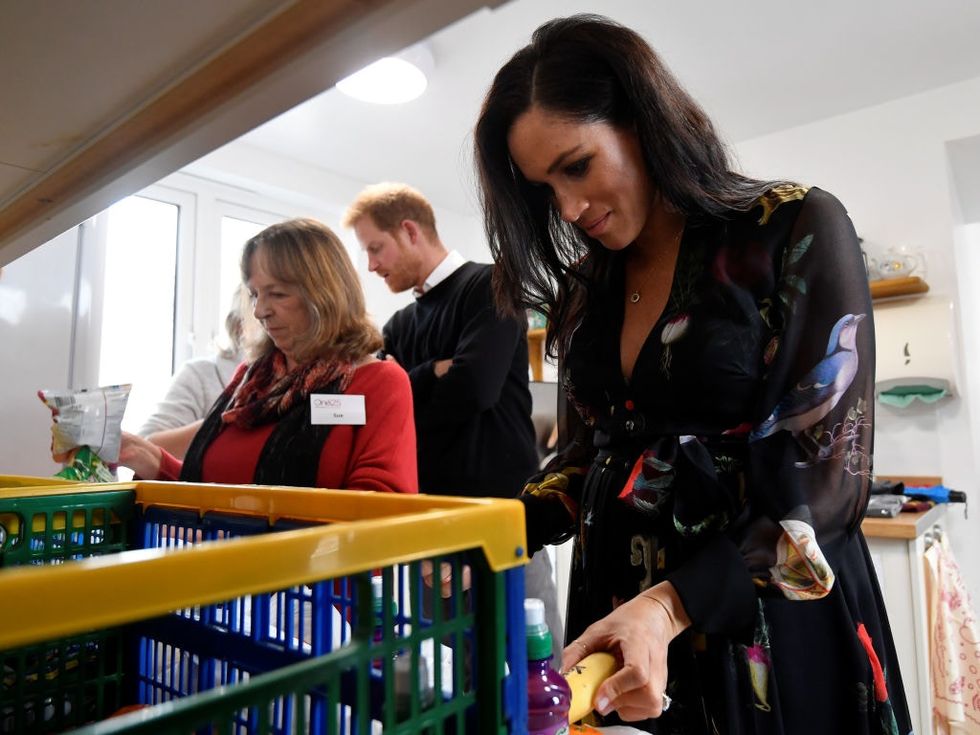 Photo by Toby Melville/Getty Images
Meghan Markle and Prince Harry stopped by the charity One25 unannounced in Bristol where Markle and Prince Harry got to work helping pack lunches meant to be distributed to sex workers.
As part of its larger set of initiatives, One25 provides 150 sex workers with food bags on a nightly basis.
Markle Spontaneously asked for a magic marker and began to scrawl inspirational messages on the bananas. "Do you have a sharpie?" Markle says in a video of the day. "I have an idea."
---
"I'm in charge of the banana messaging," Markle can be heard saying in a videoTweeted out by Kensington Palace, as she wrote supportive words such as "You are strong,""You are brave," "You are special," and "You are loved" over the fruit.
While packing lunches for @One25Charity's outreach service, The Duchess of Sussex had an idea to write positive mes… https://t.co/3RZc18zs9q

— Kensington Palace (@Kensington Palace) 1549038666.0
In a brilliant and heart warming move, Markle took inspiration from an American school lunch program.
According to DailyMail's Rebecca English, Markle said, "I saw this project this woman had started somewhere in the States on a school lunch program. On each of the bananas she wrote an affirmation, to make the kids feel really, like, empowered. It was the most incredible idea—this small gesture."
The Duke & Duchess of Sussex have made an unannounced visit to @One25Charity which supports sex workers in Bristol.… https://t.co/VzmvsjUcyU

— Rebecca English (@Rebecca English) 1549037231.0
One25 helps women "break free from street sex work, addiction, and other life-controlling issues and build new, independent lives."
"Our approach to giving unconditional love and support is what builds trust — and how that works and helps them move on," Smith told People. "At the bottom of all this is self-esteem and self-worth for the women who may have come from a background of being sexually abused or a life in care and where their families don't support them in the way they should."
Smith said of Markle's gesture:  "To be told by someone in the public eye that they are worth it and that they value what they've said and done is a massive part of that process," said Smith.
Although the messages weren't directed towards the volunteers at One25, the volunteers were still touched by Markle's words. "It sounds really cheesy, but little things like that when you are out, especially tonight, just to get that little thing that Meghan took her time out to write that one, it's lush," one of the volunteers told Hello.
Markle's supportive words got a ton of support on Twitter as well.
Very special [unplanned] moment for @One25Charity today ~ Meghan asking for a sharpie and leaving messages "You are… https://t.co/tt3S9oFbf9

— Sam Cavender (@Sam Cavender) 1549041547.0
meghan markle signing bananas that will send support and happy thoughts to sex workers is by far the best thing i've seen this week alone

— 𝑒𝒻𝒻𝑜𝓇𝓉𝓁𝑒𝓈𝓈 (@𝑒𝒻𝒻𝑜𝓇𝓉𝓁𝑒𝓈𝓈) 1549129360.0
This is one of my favorite things Meghan Markle has ever done!! https://t.co/gS2lW55J0W

— Perez (@Perez) 1549274439.0