Culture
Meghan Markle made sure freckles weren't airbrushed out of her guest-edited Vogue cover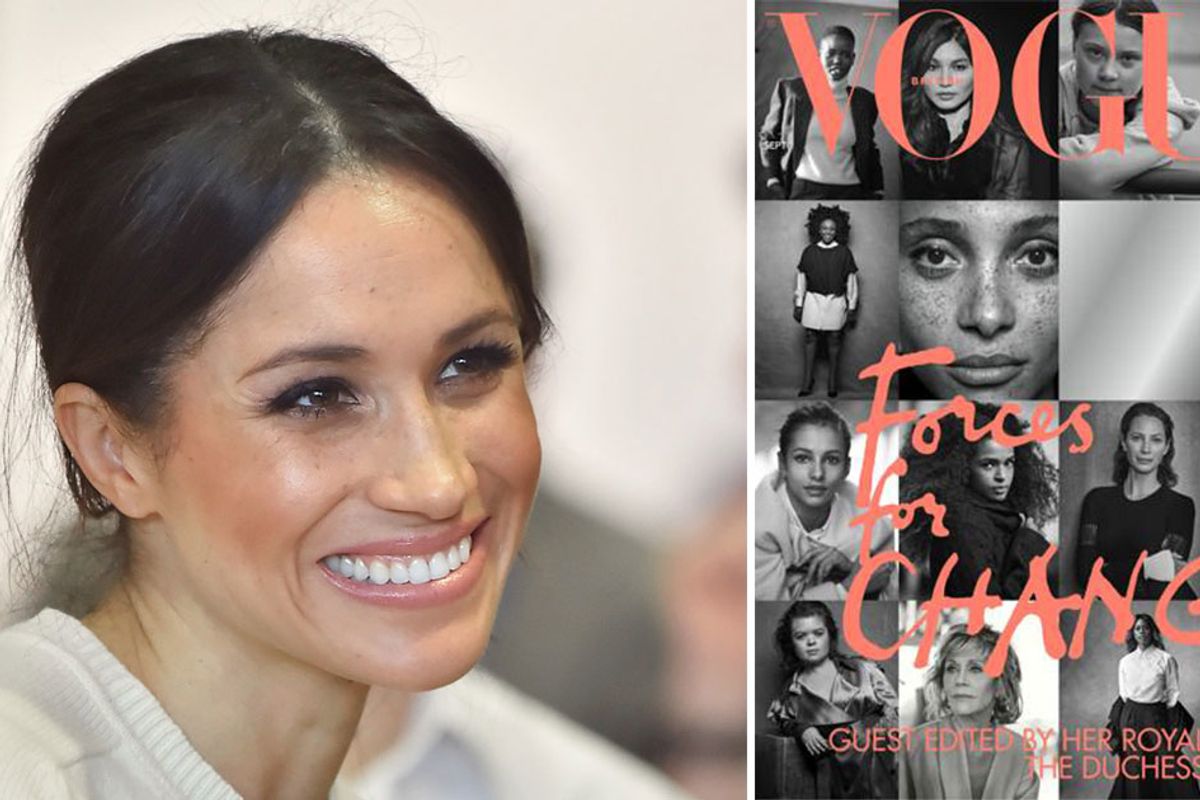 Wikipedia / Vogue U.K.
Beauty magazines are notorious for removing perceived "imperfections" from their photos of women, but these perceived flaws are what make each individual beautiful and unique. So when Meghan Markle became the first-ever guest editor during British Vogue's 103-year history, she had one specific request for the cover image: leave the freckles.
The cover photo of British Vogue's "Forces for Change" issue features 15 strong women who come"from all walks of life, each driving impact and raising the bar for equality, kindness, justice and open mindedness." Women such as Adwoa Aboah, Jane Fonda, New Zealand Prime Minister Jacinda Ardern, Jameela Jamil, Laverne Cox, Chimamanda Ngozi Adichie, and Selma Hayek are all on the cover. So are their freckles and beauty marks.
---
Photographer Peter Lindbergh was told to highlight the natural beauty of the women and skip out on the airbrushing magazines are notorious for."My instructions from the Duchess were clear: 'I want to see freckles!'" Lindbergh told the New York Daily News. "Well, that was like running through open doors for me. I love freckles."

Markle is proud of her own freckles, saying she hates it when they're removed either through photoshop or foundation. The removal of her freckles is a form of colorism. In 2017, Markle told Allure she remembers "feeling too light in the black community, too mixed in the white community," and as a biracial actress, was labeled "ethnically ambiguous" during castings. "To this day, my pet peeve is when my skin tone is changed and my freckles are airbrushed out of a photo shoot," she said. "For all my freckle-faced friends out there, I will share with you something my dad told me when I was younger: 'A face without freckles is a night without stars.'"
Makeup artists who have worked with Markle say the Duchess requests less makeup so that her freckles stay visible. "Every time I'd do her makeup, she'd say, 'Can we just make sure my freckles are peeking through? I don't want a ton of foundation,'" makeup artist Lydia F. Sellerstold Refinery29. "It was more about the amount of product that went on her skin and keeping it really fresh and dewy, rather than caking it on."
Fashion magazines shouldn't dictate which spots on your face are right or wrong. The fact that Markle embraces her freckles (and those of other women) sets the right example and can help other women embrace theirs.