Pop Culture
Librarian is sharing her 'gravestone recipes' to help others find comfort with death
Rosie Grant has delighted folks with wholesome recipes for cookies, pies and more—all passed down from those who have passed on.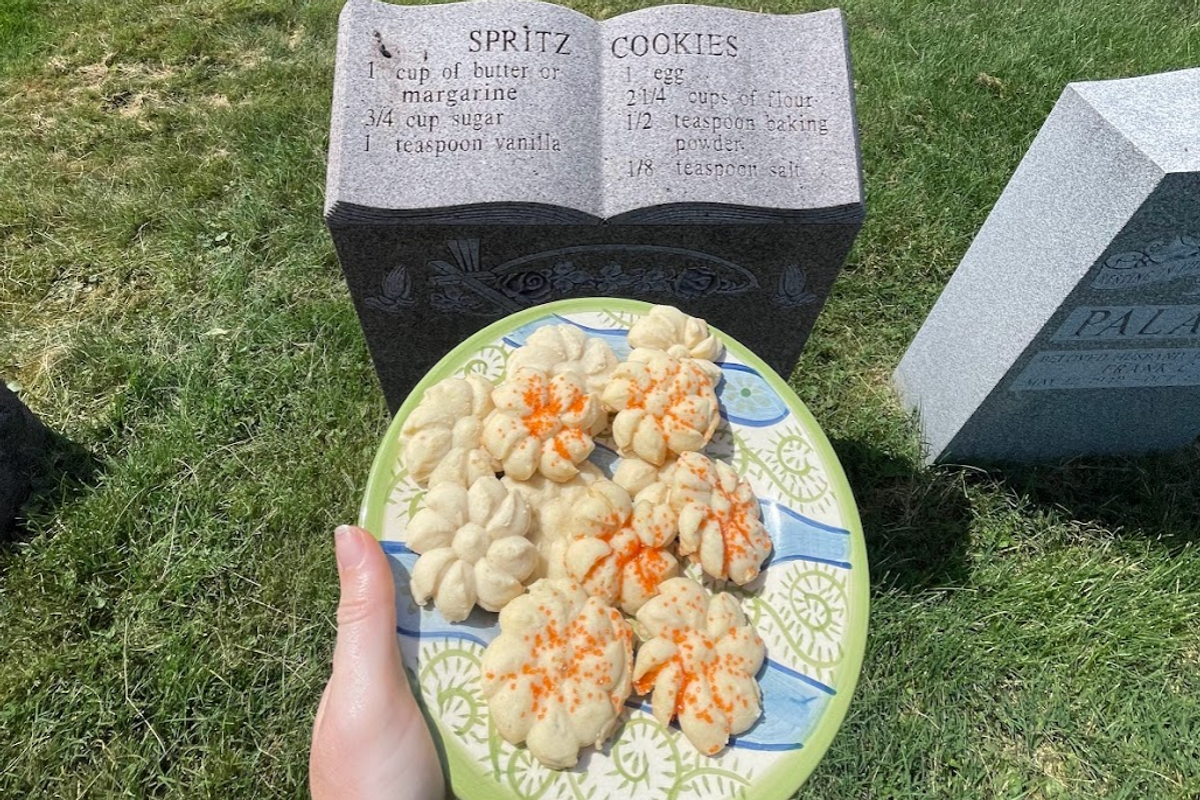 Photo used with permission from Rosie Grant
You really can combine any interests and make them into something truly unique. Such was the case with digital librarian Rosie Grant, who has somehow been able to blend cemeteries, social media and baking into a sweet way of sharing memories of those who have passed on.
Grant's @ghostlyarchive TikTok is filled with video tours through gravesites, uncovering lesser known cemetery facts and stories from history. It was while she was traveling through the Greenwood cemetery in Brooklyn, New York, that she stumbled upon the grave of Naomi Odessa Miller-Dawson—along with a recipe for something called "spritz cookies" printed on her gravestone.
Grant had no idea what a spritz cookie was, other than it required seven basic ingredients. But she decided to follow the recipe as best she could to find out.
---
With the guidance of her followers, Grant was able to successfully bake what she describes as "if a sugar cookie and a shortbread cookie had a baby," delightfully buttery treats that were "to die for."
Grant soon discovered more gravestone recipes using various news reports, tweets and a graveyard archive site called Find a Grave. Grant told Today that she's been able to recreate "12 or 13" recipes, including fudge found on a grave in Utah, blueberry pie in Washington and snickerdoodles from California.
It should be noted that savory dishes are certainly not excluded from Grant's cemetery baking journey. She has also made delicious cheese dip and apparently the "best meatloaf."
Occasionally Grant is able to bring back treats to the graves that provided the recipe, as she was able to with Miller-Dawson's spritz cookies.
As a library science student at the University of Maryland in 2021, Grant was given the assignment to start a TikTok account from scratch to better understand how networks work. Coincidentally, Grant was also interning at the historical archives of the nearby Congressional Cemetery.

A professor wisely suggested that Grant combine the two. And thus, the @ghostlyarchive TikTok Channel was born. Grant quickly found that others shared her passion—within a year, Ghostly Archive racked up more than 100,000 followers and millions of collective views. In an interview with BuzzFeed, Grant credited a lot of the channel's popularity to the "death positive community" of #GraveTok, a TikTok subculture that celebrates the stories of those who have died.
"[It's] the idea that society is better if we understand our own mortality and change our mindsets so that [death is] like a celebration of our lives, rather than something to be feared or ignored," she told BuzzFeed.
Folks have viewed the gravestone recipes in particular as an endearing way of connecting those who have passed to those in the land of the living. "When we're in mourning, food is very comforting to us," Grant told Today. "These recipes feel like a more tactile, all-senses-included way to remember someone rather than only using your memory. When you're eating grandma's special cake or cookie or whatever it is, you feel a little bit more connected to her."
"People will comment what they would want to put on their gravestone if they had to pick a recipe, or some people say things like, 'Oh, snickerdoodles, my mom made it this way.' And so there's just this whole nostalgic connection, which has been really cool," she added.
Grant, who admits to having her own fears about mortality, has found that gravestone recipes can help make potentially hard conversations a little more lighthearted. "My family and I talk about it more regularly. What will our final resting place be? How do I want to be celebrated in life? How do I want to be celebrated in death? And it's made me personally feel a lot more comfortable with this, like the absurd thing that we'll all die someday," she told NPR.
Death is not always an easy thing to embrace—whether it's the grief of losing a loved one or coming to terms with our own impermanence. But as Grant's recipes show, there are so many ways in which memories really do live on, especially through the things that made our time on Earth a touch sweeter.
By the way, if you've seen a gravestone recipe, you can reach out to Grant via Instagram or TikTok.