Culture
Disney refused to allow a family to put Spider-Man on a 4-year-old's grave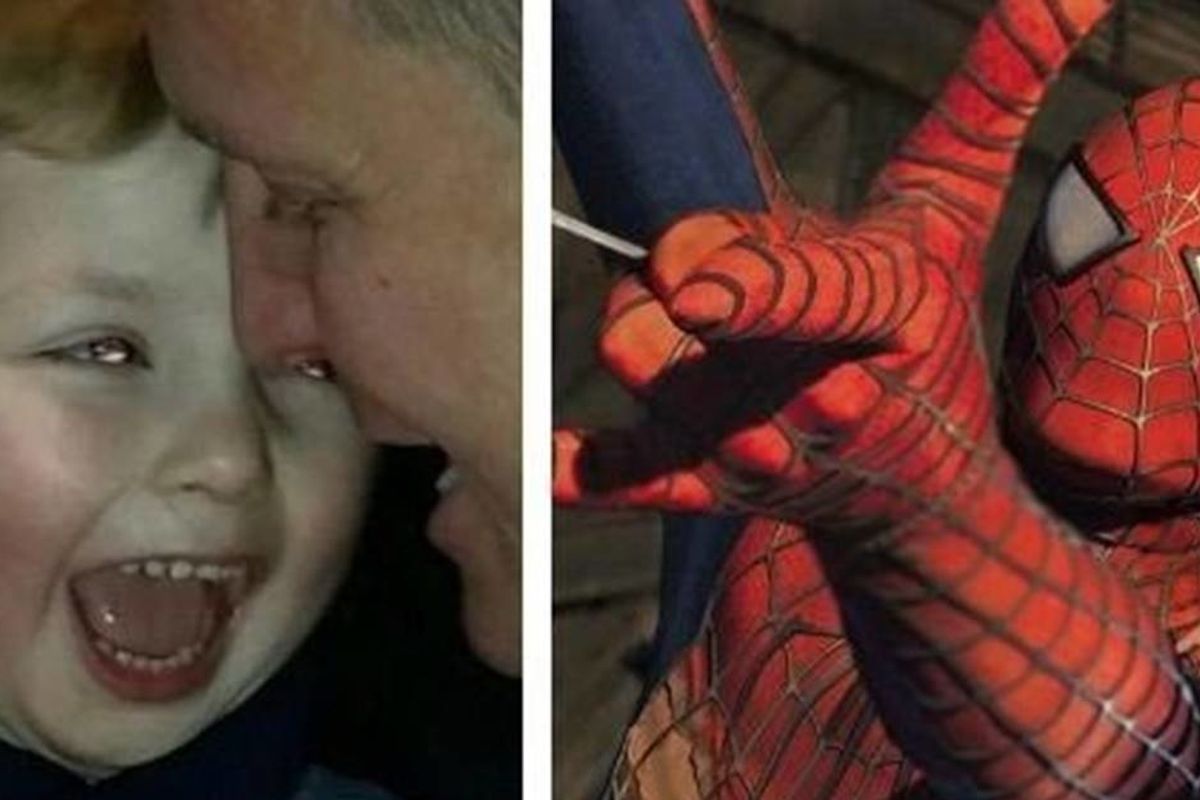 The Walt Disney company is notorious for the way it aggressively protects its brand and trademarks. It's been called the "most powerful brand in the world," in part due to how it guards its intellectual property by any means necessary.
According to lawyers from the Michael Jackson estate, Disney's "zeal to protect its own intellectual property from infringements, real or imagined, often knows no bounds."
Now, the company is taking heat for going so far to protect a copyright that it has denied a simple request from a father whose young son recently died.
---
Ollie Jones lost his life to leukodystrophy, a rare genetic disease, last December at the age of four. Ollie was a massive fan of Spider-Man, a Marvel character owned by the Walt Disney Corporation.
The boy's father, Lloyd Jones, thought it would be fitting to have the superhero looking over his son, so he designed a tombstone featuring Spider-Man to appear at his grave site at Maidstone Cemetery in Kent, England.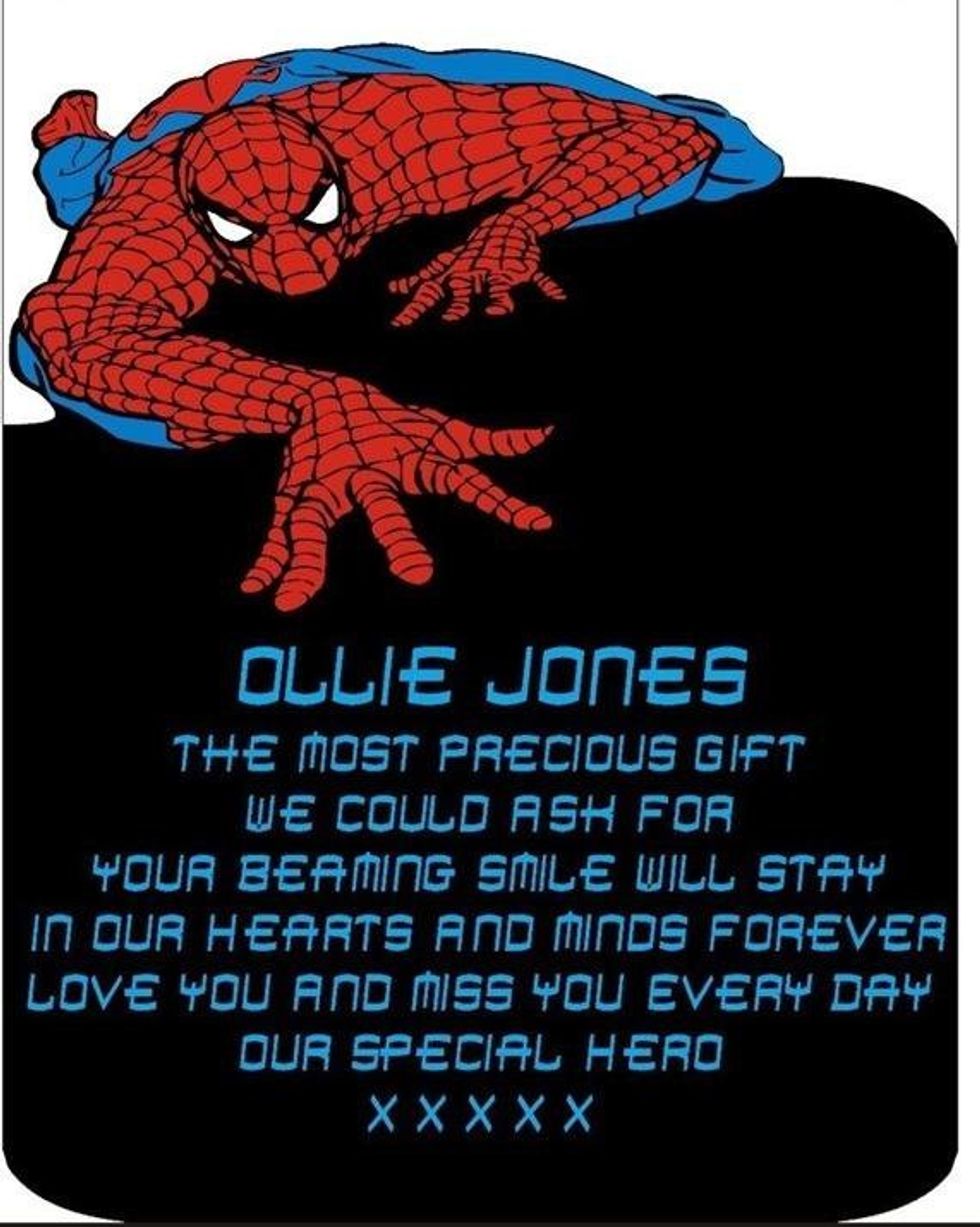 via GoodingFuneralServs/Twitter
However, a local council of Maidstone, U.K. said it needed permission from Disney to create the tombstone due to potential copyright infringement. Disney denied the request, citing a rule handed down by Walt Disney himself. While he was alive, Disney banned the use of Disney characters on graves, tombstones, and other memorial markers.

"His coffin was covered in Spider-Man, the procession was led by someone dressed as Spider-Man, this would really mean the world to us," his father told Yahoo. "I didn't expect it to be an issue – my funeral director, who's also my friend, rang me and told me they can't do it. I thought he was joking at first."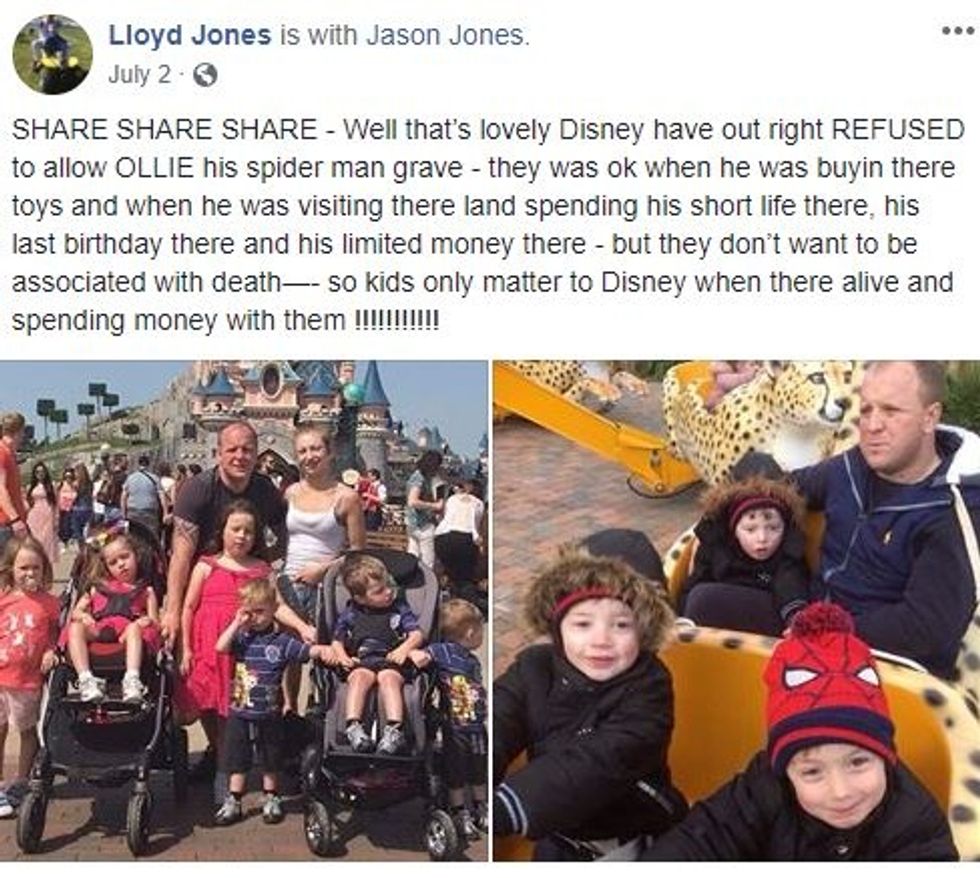 via Lloyd Jones / Facebook
"We extend our sincere condolences. If we played a small part in Ollie's happiness we are honored," a Disney representative said in a statement.

"Generations of fans have responded to our characters with the same wonder and delight that Ollie did. In fact, many believe the characters to be real. We have striven to preserve the same innocence and magic around our characters that brought Ollie such joy. For that reason, we follow a policy that began with Walt Disney himself that does not permit the use of characters on headstones, cemetery or other memorial markers or funeral urns."
Disney's dedication to protecting its brand, even if it means breaking the hearts of a grieving family, struck many on social media as a cruel gesture. Reddit users responded by trashing Disney with memes.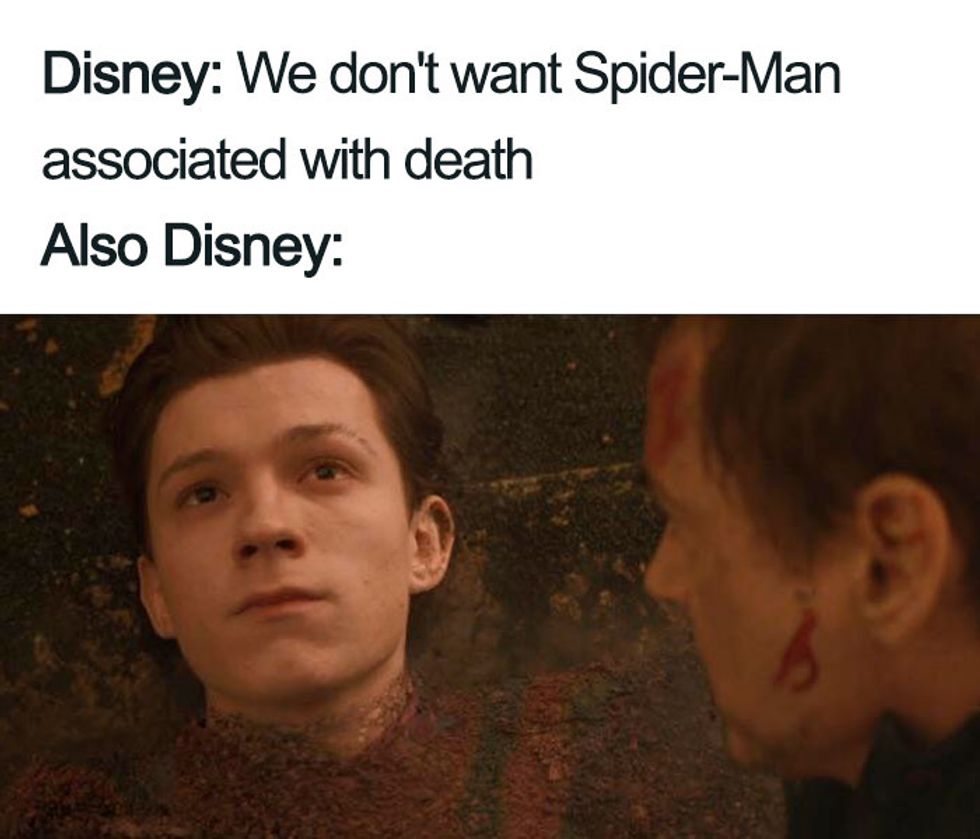 via Redpandaca / Reddit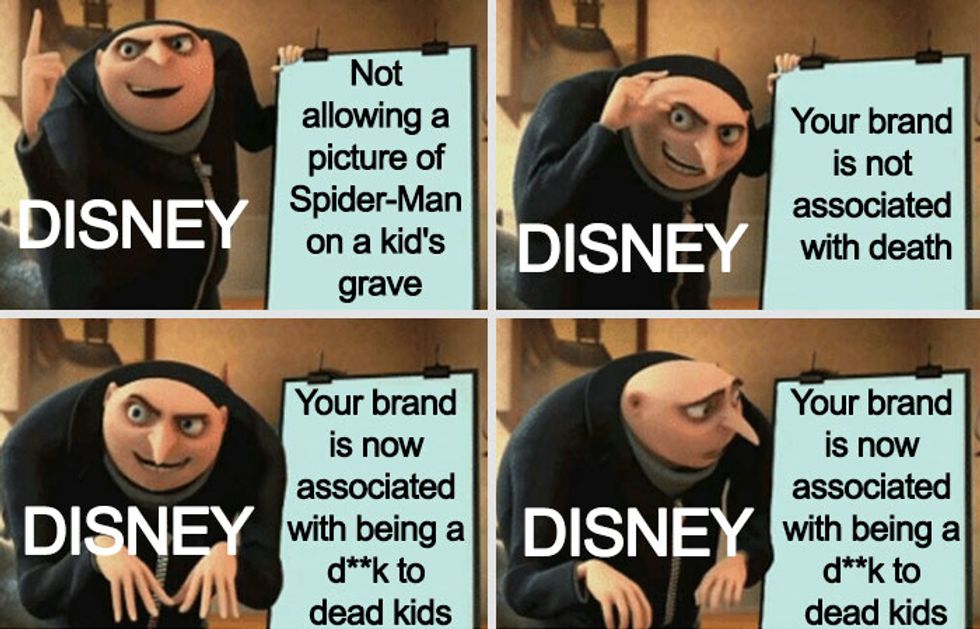 via Pathetticcat / Reddit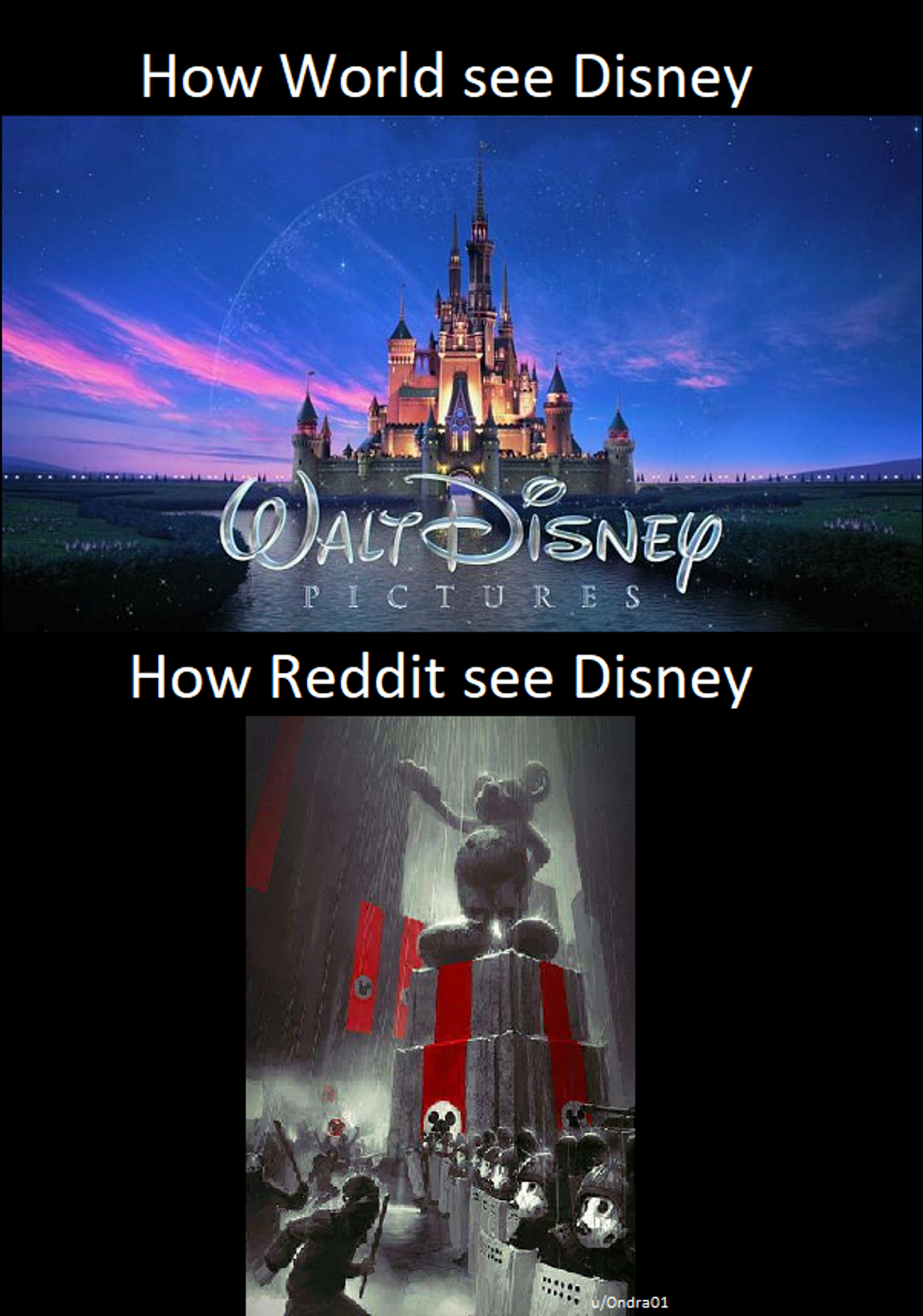 via Ondra01 / Reddit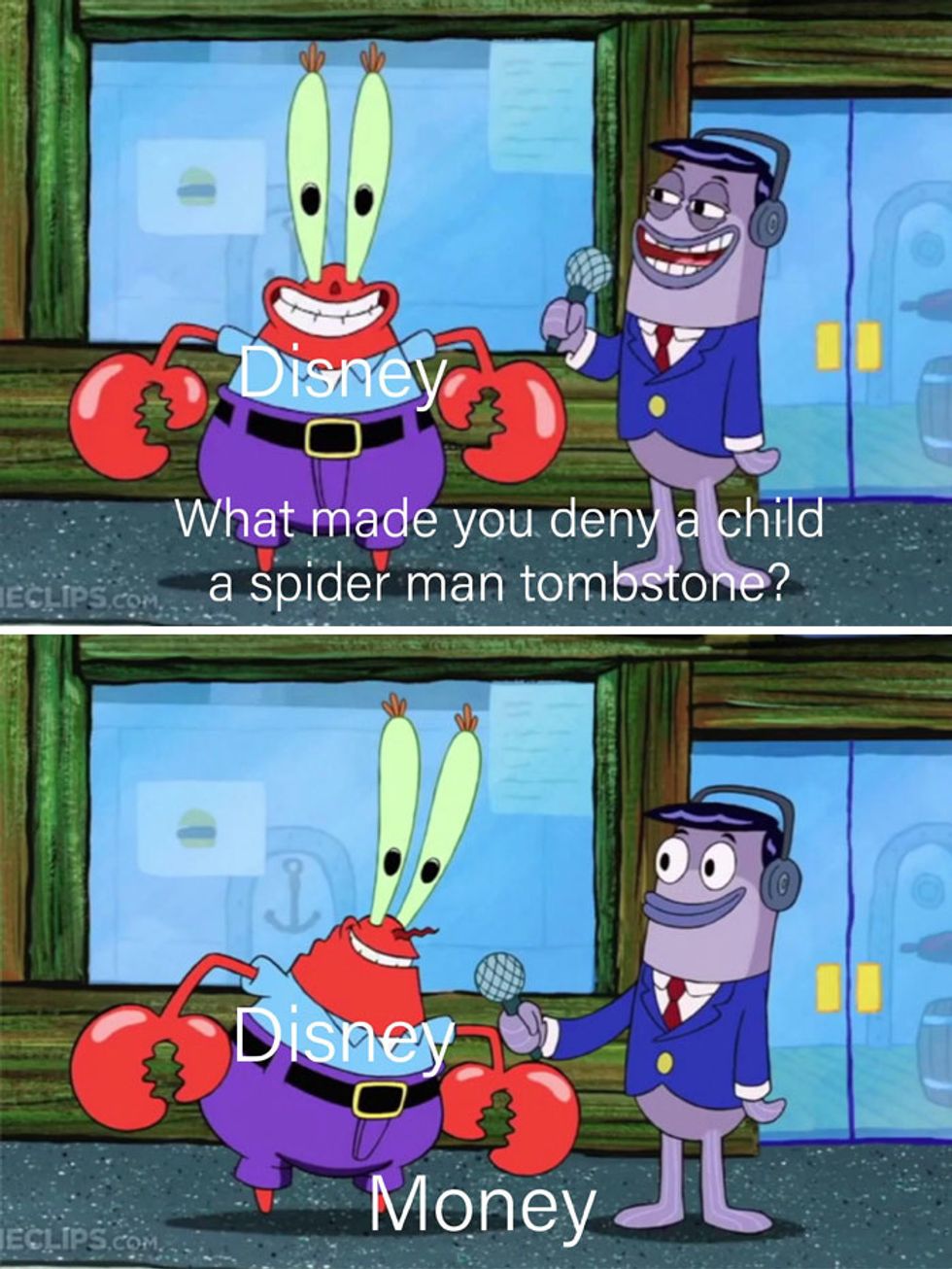 via Meme-Mage / Reddit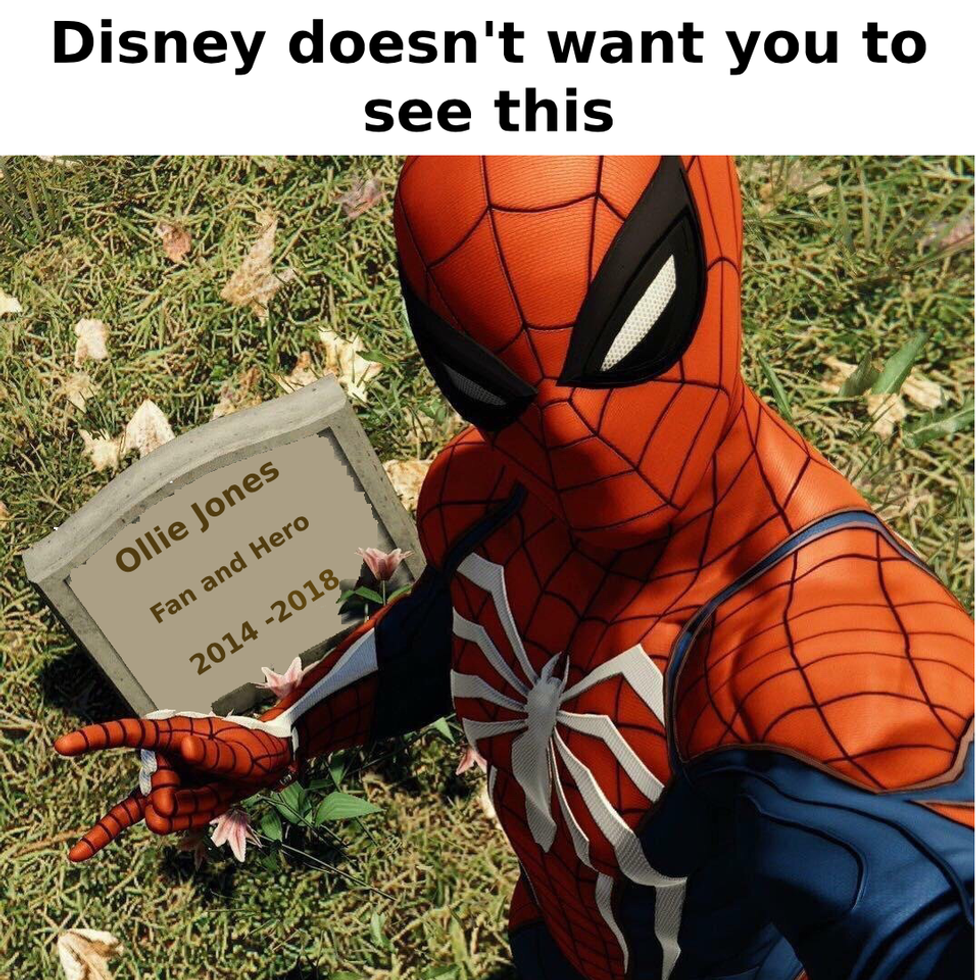 via I_am_unique_6435 / Reddit
Multiple Twitter users noted that characters in Disney movies — especially its Marvel films — die all the time.
"Mr Jones said Disney did not want its characters associated with death"

Spiderman, amongst almost every superhero, is ultimately a byproduct of death. Peter felt responsible for the death of the only father figure he had and from that became Spiderman

Fuck Disney https://t.co/YgOpK6V2XT
— Cripp Daddy ♿™ (@RealYungCripp) July 6, 2019
Don't characters die in a good handful of Disney movies? What is this "we don't want our characters associated with death" bullshit?
— ShakeFan19 (@ShakeFan19) July 6, 2019
Stan Lee would be disgusted. Walt Disney would be disgusted. Whoever is running Disney now clearly has no shame.
— ShakeFan19 (@ShakeFan19) July 6, 2019
Then again it's Disney, a massive company that onlycares about making mediocre stuff or just rebooting their beloved franchises, all for money alongside with probably trying to buy half the Earth out
— CheeseInTheOven🧀 (@CheeseInTheOven) July 7, 2019
I'm reading that and just thinking like ..how's a random drawing on a grave even gonna remotely dictate any Spider-Man association. Dumb logic. We would have never heard of this had they not done this poor man and his son's memory dirty like this.
— Edwin Costa (@SexyEdwin) July 6, 2019
How many Disney characters have two living parents again?
— Double A (@Dracalous) July 7, 2019
Respect the hyphen pic.twitter.com/b9ozK3MSmM
— Jeff (@HughbertMungus) July 6, 2019
> we don't want our characters associated with death

> Literally the first 30 minutes of endgame features Thor brutally decapitating someone

Seems legit.
— YeOleFrosty (@darkloardpiggy) July 6, 2019
pic.twitter.com/84dDzQdBot
— 🇨🇦🇵🇹⚧Monarcha Maria⚧🇳🇴🇨🇦 (@Monarcha_Silvia) July 7, 2019
"We don't want our characters associated with death"
*kills Iron Man
— Nathaniel (@Tru_Alpha) July 6, 2019