More
Disney will hold its first official Pride event this year because the Happiest Place on Earth is for everyone.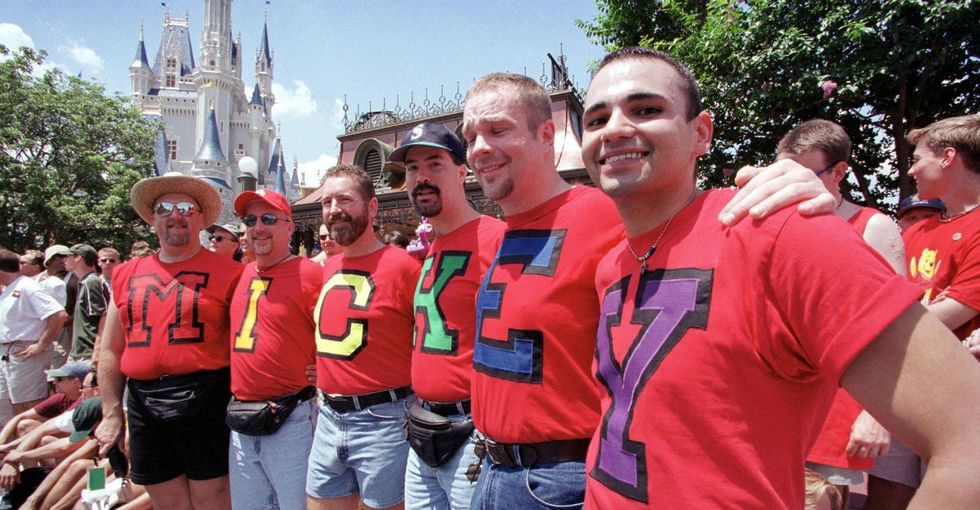 Photo by Tony Ranze/Getty Images
This summer, the Happiest Place on Earth will get a lot more inclusive… and magical.
Disney will host the theme park's first-ever official Pride event at Disneyland Paris on June 1st, the first day of Pride Month. The Magical Pride Party, as it is known as, will welcome members of the LGBTQ community and friends, encouraging patrons to, according to their website, "Dress like a dream, feel fabulous and experience Walt Disney Studios Park like never before – loud, proud and alive with all the colours of the rainbow."
The first unofficial Magic Pride event took place in Paris in 2014, but now Disney has taken over due to its popularity.
The Magic Pride Party will include dance parties, live performances, late night access to the park, and a pride parade called Magical March of Diversity Parade. Popular Disney characters will be "out and about" as well. Special packages are available for members of the LGBTQ community and their friends and family.
---
Unofficially, Disneyworld and Disneyland have had Gay Days since in the 1990s, but there has never been an officially sanctioned LGBTQ event until now.
Gay Days Anaheim is held in October, while Gay Days Orlando is held in August. The first event took place in 1991, when approximately 3,000 gays and lesbians attended Disneyworld wearing red shirts to make their presence known. It has since grown to a six-day event drawing nearly 180,000 people.
[rebelmouse-image 19397790 dam="1" original_size="1024x683" caption="Quinn Dombrowski/Flickr" expand=1]Quinn Dombrowski/Flickr
Disney has stated that inclusion is important to the company.
"Diversity and equality are strong values at Disneyland Paris, and each year, we host millions of visitors regardless of their origins, gender or sexual orientation," a Walt Disney spokesperson told NBC News. "We are committed to fostering a welcoming environment for all of our Guests where magic is for everyone."
Last year, Disney began selling a rainbow version of their iconic Mickey Mouse ears. In 2007, Disney allowed same-sex couples to marry at Cinderella's castle.
Their Fairy Tale Wedding program had only been open to couples who had a valid marriage license. At the time, same-sex marriage was not legal, but Disney allowed those couples to marry regardless. "We believe this change is consistent with Disney's long-standing policy of welcoming every guest in an inclusive environment," Disney Parks and Resorts spokesman Donn Walker told CBS News of the decision. "We want everyone who comes to celebrate a special occasion at Disney to feel welcome and respected."
Disney has been known for making magic, but the Magical Pride Party is taking it to a whole new level! Bienvenue à Paris!