Identity
Lady Gaga's moment with Liza Minnelli was a beautiful example of caring with dignity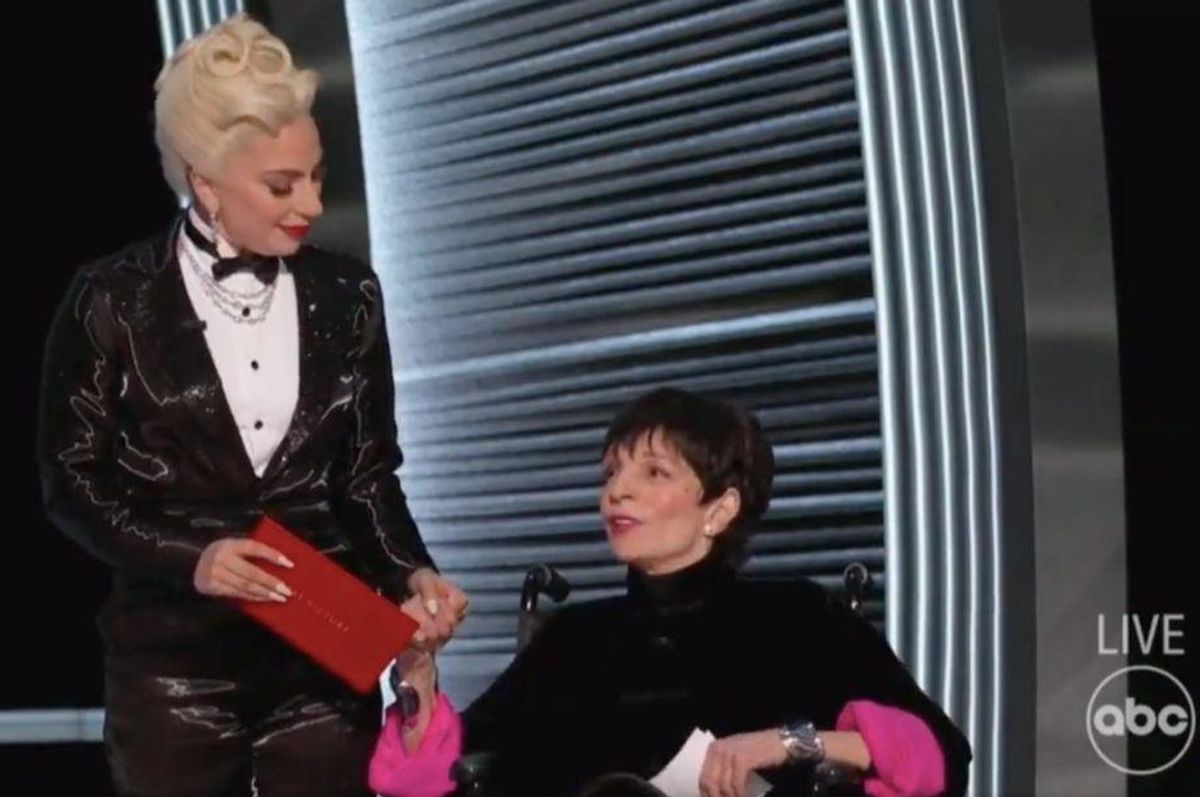 Welp, despite dwindling ratings over the past several years, the 2022 Academy Awards turned out to be a highly talked-about event. Unfortunately, the public's attention has been sucked into feverish furor over the Chris Rock-Will Smith fiasco, which has overshadowed some truly lovely moments.
One of those moments came near the end of the show, during the announcement of the winner of the coveted "Best Picture" award. Legendary actress Liza Minnelli joined Lady Gaga to announce the nominees and the winning film. Minnelli, 76, sat in a wheelchair while Gaga stood beside her and introduced her, with Minnelli relishing the welcoming cheers from the crowd.
As she was introducing the category and nominees, Minnelli appeared to get a little lost, and Gaga helped her out. At one point, the mic picked up Gaga leaning over and quietly telling Minnelli, "I got you," with Minnelli responding, "I know."
---
Lady Gaga's genuine love for the elders in the showbiz community shows in the care she shows them. Far from being patronizing or infantilizing, Gaga beautifully balances being helpful with respecting and honoring their dignity.
Watch:
This is like a lesson in how to facilitate older people while honouring who they are.\nWhat a class act by @ladygaga with legend Liza Minnelli. \nThe conferred whispers of "I gotcha" "I know" picked up by the mikes make it especially touching.pic.twitter.com/2JOWyrTQxn

— Naomi O'Leary (@Naomi O'Leary) 1648460995
People loved the exchange and the way the love and admiration flowed between the two women.
It also prompted someone to share a video of when the pair first met one another in 2010. They were both fans of each other and seeing their first interaction is just delightful.
when they met in 2010https://twitter.com/gagadaily/status/1508290698369548295?s=21&t=i0MrtKZEMxcHeIYSIcsWtw\u00a0\u2026

— Jalin\ud83c\uddf5\ud83c\uddf7| \ud83c\udde8\ud83c\uddfa (@Jalin\ud83c\uddf5\ud83c\uddf7| \ud83c\udde8\ud83c\uddfa) 1648441783
Lady Gaga's easy rapport with show business legends, from her famously adoring relationship with Tony Bennett to her Oscars presentation with Liza Minnelli, has become a bit of a legacy for her.
And it's not just Hollywood greats that she's managed to connect with. Check out this meeting between her and British soap opera star June Brown in 2013 when Brown was in her late 80s. (She is still alive at 95, by the way.) Their instant connection was delightful and hilarious.
Lady Gaga's moment with Liza Minnelli was only a small part of her Oscars evening. Gaga helped co-host the 30th annual Elton John AIDS Foundation Academy Awards Viewing Party in Elton John's absence while he's on tour. The event raised a whopping $8.6 million to help end the AIDS epidemic.
"I'm so grateful to my friends Lady Gaga, Billy Porter and Eric McCormack for joining David in hosting such an incredible evening, and of course Brandi Carlile for bringing down the house with an electrifying performance," Sir Elton John said in a statement. "Most of all, I'm thankful to all who attended and participated to ensure that we can continue our lifesaving work to end AIDS. I could feel the love and support all the way from Lincoln, Nebraska!"
Gaga also showed that she's as comfortable around the youngsters as she is around the elders, as she posed for photos with Elton John and David Furnish's sons, Zachary and Elijah. She is the boys' godmother (or "Gagamother," as they call her).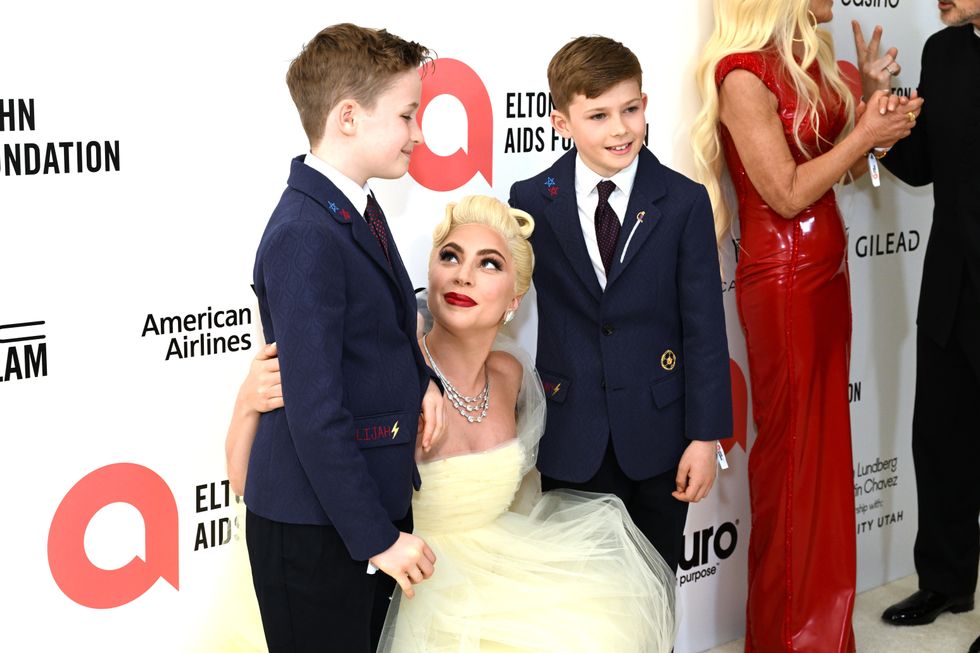 Elton John AIDS Foundation
Every time we turn around, we're reminded that it's Gaga's world, and we're just living in it.