Culture
There are lots of wins to celebrate this year for Indigenous Peoples Day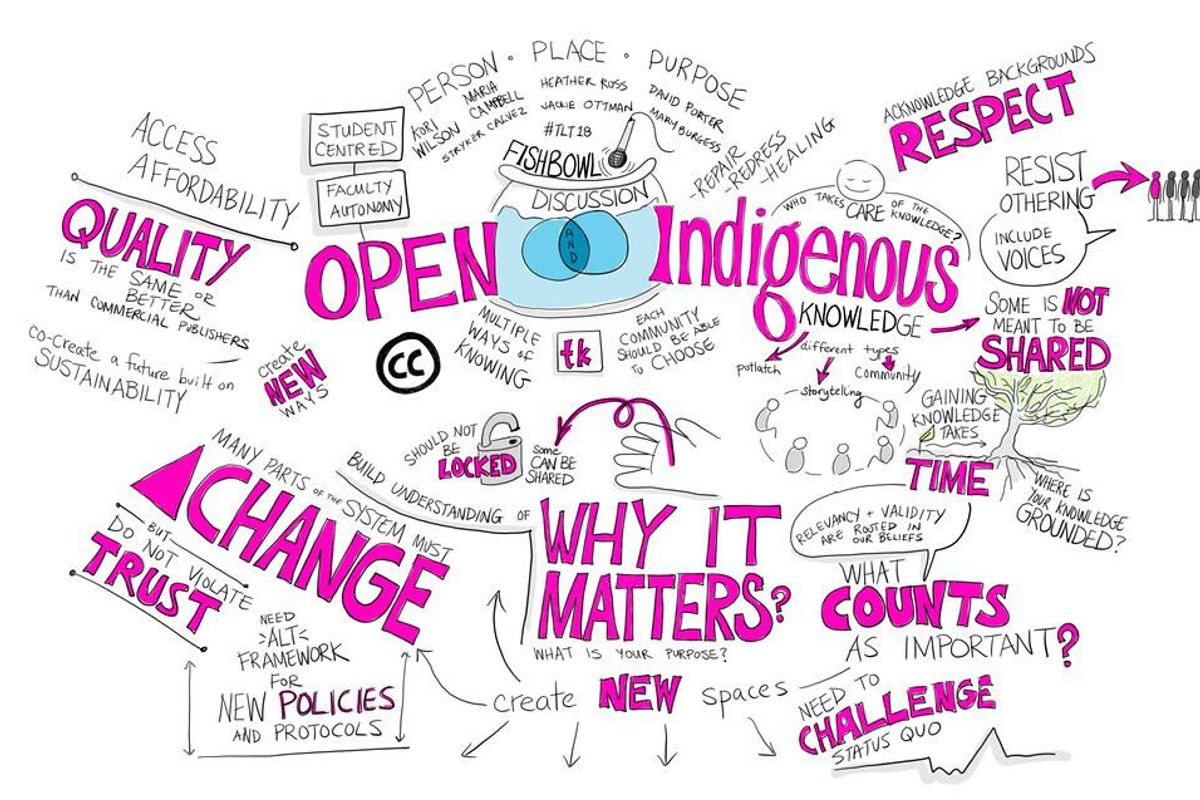 Whether as a way to bring power to more marginalized voices, or to lessen the "white-washing" of American history … or maybe just as a simple F-U to the patriarchy, many are trading in Columbus Day for Indigenous Peoples Day.
There are several wins for Native Americans that might make Indigenous Peoples Day more celebratory this year. Things like:
More recognition for the new holiday
President Joe Biden made history last Friday (Oct. 8) after issuing a proclamation calling on the country to honor Native Americans and incorporate more "appropriate ceremonies and activities." He recognized the inherent sovereignty and resilience of Indigenous cultures and marked their contributions to society as invaluable.
---
Biden's proclamation marks a more formal reflection of what many states have already been doing. According to CNN, 21 of our 50 states have begun incorporating Indigenous Peoples Day, whether in official or unofficial observation. And that list is growing. Though it doesn't include the state of Massachusetts (yet), cities such as Boston observed the holiday for the first time; it held a ceremony in a town just outside of where the Boston Marathon was held.

Indigenous art and humor is being celebrated in the mainstream

I'll start with my hero Taika Waititi, whose script "Jojo Rabbit" won the Oscar in 2020 for Best Adapted Screenplay. He also gets my personal MVP award for somehow making Hitler quirky and fun. If you haven't familiarized yourself with Waititi's magical blend of irreverence and a bizarre sense of humor, you can get a taste of it in his acceptance speech here:
Taika Waititi's Hilarious Acceptance Speech for Jojo Rabbit's Adapted Screenplay Win | EE BAFTA Filmwww.youtube.com
Speaking of Taika, his other project, "Reservation Dogs," debuted on Hulu this year and is already receiving ample critical praise. This dark comedy, which centers around a group of four Indigenous teenagers seeking to escape their Oklahoma reservation, or rez for short, depicts the Native American community as three dimensional, nuanced and endearing, rather than victimized or supporting characters. No reductive clichés here. Okay, well maybe there are for the white supporting characters. But to be fair, it's pretty hilarious.

Humor that truly reflected Indigenous culture was a major priority for the show's creators. In an interview with Vogue, Steven Harjo, Taika's co-writer on the project, stated, "There hasn't been any Native humor onscreen, and I've always wanted to bring it to a mainstream audience. Native humor is very sophisticated." With a goofy Native American ghost warrior, some fresh native slang and a few hella-funny rap battles, I'd say they did just that.
Taika isn't the only one making huge leaps for the native art community. The new Cahokia Socialtech + Artspace in Phoenix, Arizona celebrated its grand opening today. According to az.central.com, the space was established by co-founders and partners Eunique Yazzie (Navajo) and Melody Lewis (Hopi, Tewa and Mojave). The two were "inspired by the original Cahokia, the largest pre-Columbian city in North America." Like the original city, the Cahokia Artspace is intended to "bring together the knowledge and creativity of Indigenous people in a central gathering place." The article added that since its soft opening in September, the space has been host to "youth events, art markets, virtual conferences, art exhibits, even the Hopi tribal leadership debate in advance of tribal elections."
Because good stories can often do the most for social change, lifting up the stories of Native Americans is a simple, yet profound way to bring about real transformation.
Indigenous culture is even being represented in a digital space
The Native Land app is an entirely new way to pay respects to Indigenous culture. You can type in your address and then see which native groups once occupied the land. I decided to test it out: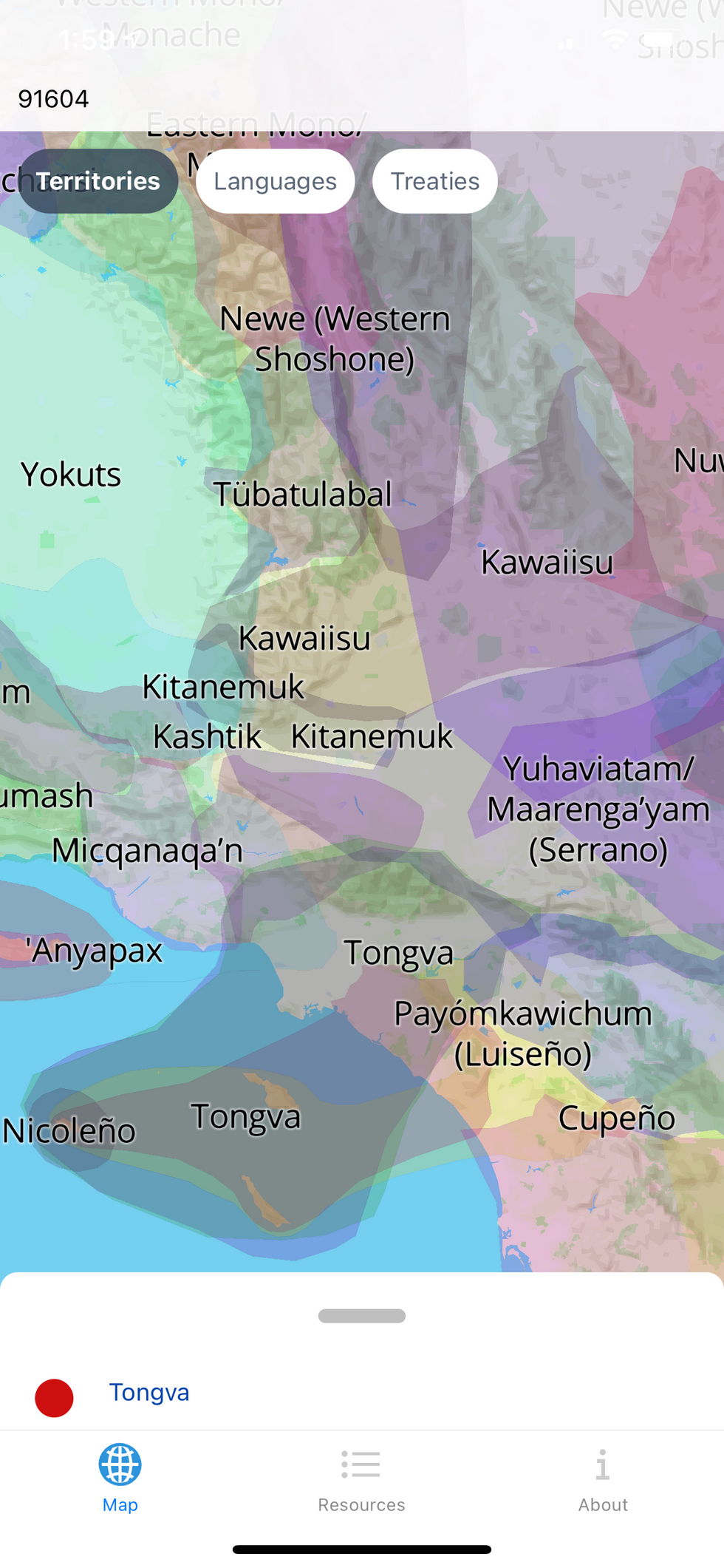 Native Land app
In his About page, the app's inventor, Victor Trempano said that Native Land "seeks to encourage people — Native and non-Native — to remember that these were once a vast land of autonomous Native peoples, who called the land by many different names according to their languages and geography." He added, "The hope is that it instills pride in the descendants of these People, brings an awareness of Indigenous history and remembers the Nations that fought and continue to fight valiantly to preserve their way of life."
Just taking a bird's-eye view at all the Indigenous nations that once did occupy the land does instill a sense of utmost respect.
More ancestral land is returning back to natives
Though one glance at the Native Land app might present a bleak outlook on the topic, the good news is: From sacred mountains to to nearly 1 million acres, many Native American lands have been restored to their rightful owners.
Cultural Survival reported that in the last two years alone, eight ancestral lands have been recovered. This included the cancellation of the Keystone XL pipeline in Canada as well as native land being restored in Oklahoma, Cambodia, Peru, Panama, Australia and Belize.

More education about Indigenous culture

Perhaps the egregious aspect of colonization is the obliteration of an entire culture from history. Minus that one Native American diorama that third-graders make each year, we simply aren't educated about our real "forefathers." What's worse, we raise monuments and tell romanticized stories to honor them while downplaying those who have been devastated by their actions.
Mount Rushmore was built on land that belonged to the Lakota tribe and sculpted by a man who had strong bonds with… https://t.co/Yp53RGPYNG

— The New York Times (@The New York Times) 1593626414.0
The fact that we're finally realizing that Native American history is American history, though bittersweet, still marks steps in the right direction.
North Dakota passed a bill in April that requires all schools to teach Native American history, culture and treaty rights. And more efforts to preserve and honor Native American language have been made, with Canada's first-ever bachelor's degree focusing on Indigenous language fluency, and The United Nations declaring 2022-2032 to be the Decade of Indigenous Languages.
Indigenous Peoples Day was originally created in 1990 as a means to shift the narrative away from Christopher Columbus as a "hero discoverer" and bring back the forgotten voice and sovereignty to those most victimized by him: Native Americans. That's why big changes, like completely rebranding a holiday, are necessary. It brings awareness, empathy and, as noted above, real progress. It might feel like anti-patriotism to some, but to others, it's finally restoring some sense of balance.
It also might feel like a linguistic "splitting of hairs." However, the last few years have really shown us that language should evolve to include all of society. For the Native American community, there's more to it than simply taking out Christopher Columbus' name. It's about giving a name to their collective story. It's about saying "we have been here, and we continue to be here."
To everyone—Native or not—I wish you all a happy Indigenous Peoples Day.