Most Shared
New Mexico just became the latest state to ditch Columbus Day for Indigenous Peoples' Day.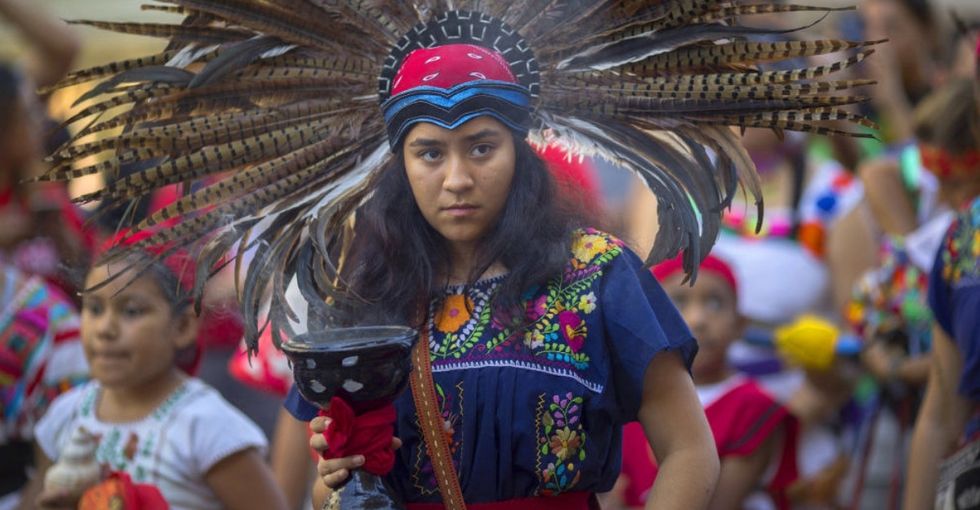 What is the point of Columbus Day again? Anyone? Bueller?
Let's go over brief reacap of why Americans have spent decades celebrating Christopher Columbus every October:
In 1492, Columbus sailed the ocean blue in search of a Western route to Asia. Instead, he ran into the islands of the Caribbean, but declared that he had, in fact, found the land he was looking for. He said Cuba was China. He thought that Hispaniola was Japan. He maintained these erroneous claims for two entire trips back and forth from Europe.
---
While he was at it, he also pillaged and tortured the native population of the islands, forced them into slavery, offered them the gift of infectious diseases, and claimed their lands for Spain.
But hey, we need an October holiday. And Columbus was a pretty good sailor, so surely he deserves a national holiday in a country that isn't even physically part of the land he "discovered," right?
Come on now.
New Mexico has joined several other states in ditching Columbus Day in favor of Indigenous Peoples' Day.
Many U.S. localities have begun rethinking Columbus Day in recent years, with some cities and counties choosing to use the October holiday to honor native peoples instead. After all, an entire holiday for this man who wasn't a good guy and who never even set foot in our country seems a bit excessive. We don't yet have a national holiday acknowledging indigenous people, and that sure seems like the least we could do after our government invaded their lands and tried to systematically destroy their cultures.
Enter New Mexico. The state has just joined Alaska, Vermont, and South Dakota in replacing Columbus Day with an official holiday honoring native peoples. As of this year, New Mexicans will celebrate Indigenous Peoples' Day instead of Columbus Day, a move that proponents say better reflects the state's culture. According to 2017 U.S. census data, more than 12 percent of the state's population is indigenous.
Seriously, though. Isn't it time to make this change national?
I can't think of one good reason why we don't change the federal holiday of Columbus Day to Indigenous Peoples' Day. I know some people have a hard time letting go of tradition, but it's not like this holiday has been around since our founding. It became a holiday in 1937. It's not sacrosanct.
And it's long past time for our country to start atoning for some of what the native people endured at the hands of our government. A holiday acknowledging the contributions of indigenous people and recognizing what they've been through would at least by a symbolic gesture of goodwill, especially if it replaces a holiday honoring someone who caused great pain and suffering to native people.
It would be great to see the whole country follow New Mexico in putting the Columbus Day holiday into the historical vault in which it belongs and honor indigenous people instead. It really is the least we can do.