popular
As an adult with a less-than-normal childhood, here's what Christmas means to me now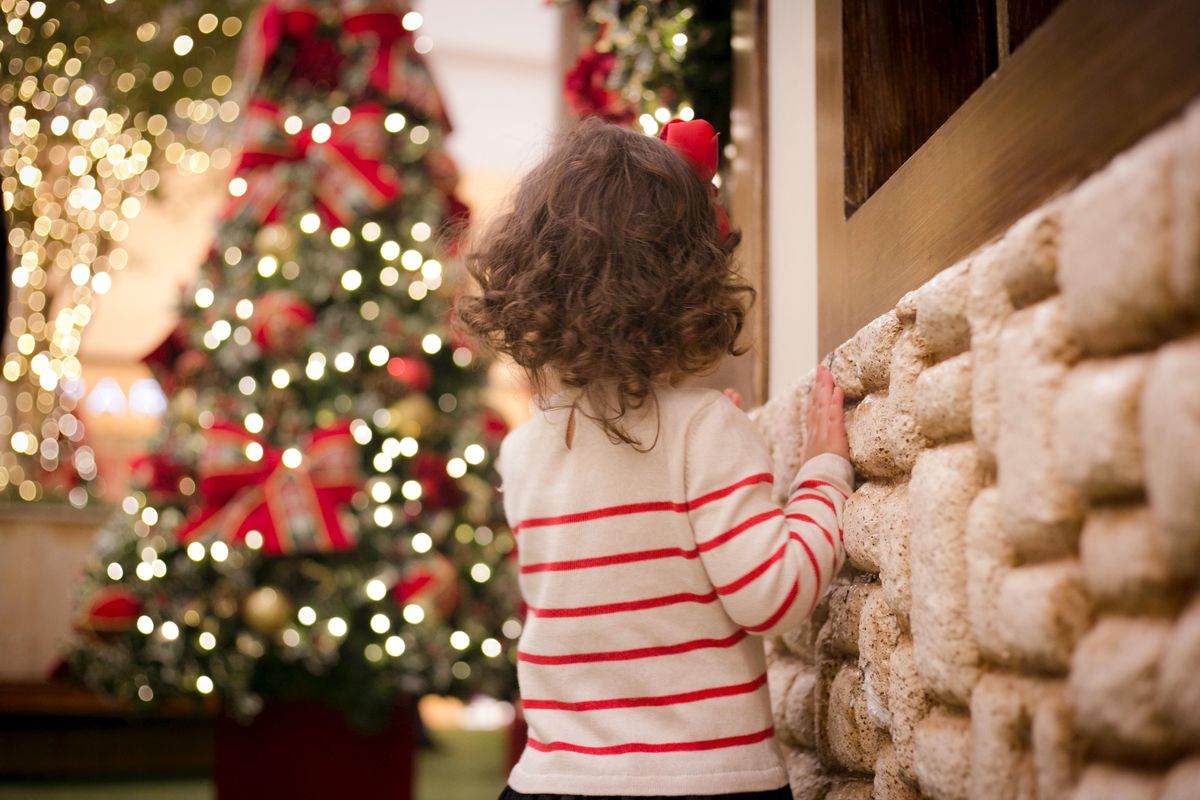 As Christmas fast approaches (literally eight days away, holy cow) I relish the opportunity to do all those wholesome holiday things.
I love filling my cats' stockings with tuna treats and springy toys. I'm thrilled to top our tree with a sparkling glowy star and sneak away to wrap my boyfriend's present. And boy, do I look forward to his authentic Puerto Rican coquito.
The apartment smells of cinnamon and gingerbread, and it fills me with a comfort that's both so welcomed and yet so foreign.
It hadn't really dawned on me before, that perhaps why I now wholeheartedly embrace the tradition of Christmas, though I am in no way religious, is because it's a way to cultivate what I never really had in childhood: a sense of peace.
In other words: Christmas provides a sense of normality. And for someone with a less-than-normal childhood, that feeling matters. A lot.
---
I hadn't always given Christmas the same thought. When I was little, all I knew was Christmas meant getting one of those cheap kiddy art sets from Angel Tree.
If you don't know what that is, Angel Tree is an organization that provides gifts to children of parents who are incarcerated. It comes with a note from the parent, written in prison. That way there's at least some semblance of connection during the holiday.
My mother knew I liked art, and therefore always asked for it.
Unwrapping the gift was … fine. Reading the letter from my mom, on the other hand, was outright numbing. It just didn't compare to the real thing. To talking. To seeing her react to my surprise. To hugging.
"Little me" didn't realize that all I wanted for Christmas was the one thing I couldn't have, and to ease the pain of longing, I would feel nothing instead. All I understood was art set + mom's letter = Christmas.
This is by no means a complaint against Angel Tree; I think what they do is an amazing contribution. I certainly used the hell out of those watercolor paints and oil pastels, and it most definitely made a positive impact on my life.
And my mom did her best. This is not a judgment of her character nor a degradation of her parenting. It just is me saying: I didn't feel what I think I was supposed to feel, as a little kid at Christmas time.
Having this holiday apathy, I spent my teens being "too cool" for Christmas, and looked down on it as some kind of capitalist conspiracy. Then as an adult working at amusement parks, Christmas simply became "holiday pay day." Yes, I suppose you could say I leaned into that same capitalism I fought so hard against during my formative years. What a sellout.
I spent the holiday wearing a prosthetic "Who nose," stilt walking, entertaining the crowds. And when that fat check came in, I would always wonder if the 12+ hours were worth it.
It wasn't.
(Again, no ill intentions toward my former place of employment. Plenty of my coworkers loved spending Christmas this way. I just did it for the wrong reasons.)
Knowing what I do now, it makes perfect sense that I allowed the holidays to fuel my raging workaholism. It was a way to avoid difficult feelings. And many experts note that it is a symptom of parentification, when a child has to take on the adult role, thereby suppressing their own needs.
Miriam Njoku, a certified Trauma Recovery Coach, sums it up best:
"When a child suffers from prolonged trauma, they live in a perpetual state of stress with no control over their life, work can become something they have control over or a means to escape their reality. They might come to believe that if they work hard enough it will bring peace in their home.
"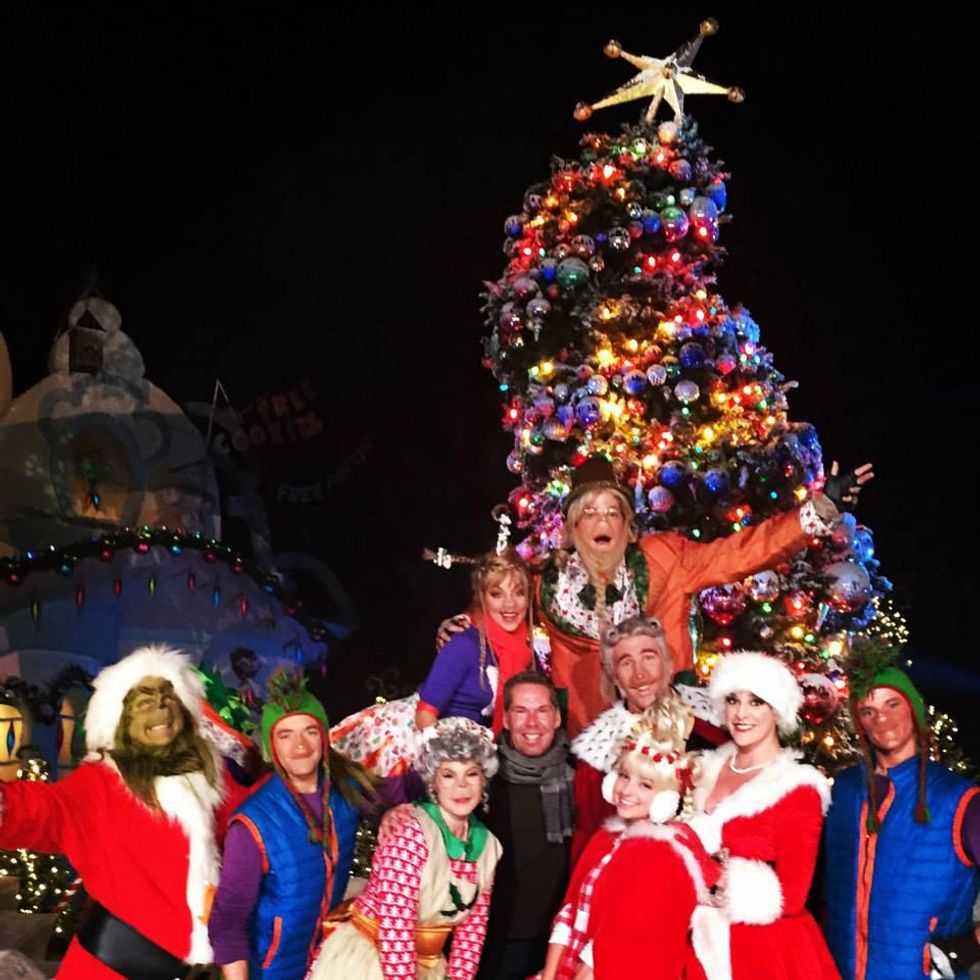 My previous life as an amusement park entertainer.
Yep, that was me. As someone who grew up mostly without a mother, mostly without a father, in poverty, bouncing between relatives' houses and changing schools multiple times, I sought out sovereignty in the only way I knew how. Through making money.
But after a while, I couldn't take it anymore.
Having my own Great Resignation, I slowly started to embrace Christmas as a way to wean off my workaholic tendencies. If most of the world was going to take a day off, then why shouldn't I?
Did I decorate? No. But did I splurge on a Starbucks White Chocolate Peppermint Mocha and do some serious Netflix binging? Yes I did.
As I coated my mouth with the sweet, creamy treat and bundled up in a blanket, new sensations washed over me. It was like my spirit finally exhaled. It was so rare for me to not feel hypervigilant, goal oriented, anxious. But in that moment I was inexplicably, undeniably … safe.
And that was when my attitude started to shift.
I think for most people that come from a troubled home, there comes a point where you realize that in order to heal, you can't simply work for a better tomorrow. The better tomorrow is already here. Instead, the priority should be giving yourself what you never had, today.
Kelly McDaniel, author of Mother Hunger, stresses that mothers provide daughters with three important developmental needs: nurturing, protection and guidance. And if any of the three is missing, an achy loneliness permeates the self-image. That loneliness is what she calls "Mother Hunger."
This book was a real eye-opener for me. Look, I knew that my childhood was not that great. But I had no idea just how much my inner compass was warped. No wonder I didn't know how to have those warm fuzzy holiday feelings. I didn't know how to have warm fuzzy feelings, period.
Login • Instagram
McDaniel shares in her book that healing "Mother Hunger" involves "thawing the frozen, innate healing process." In my case, that meant a warm blanket and learning how to simply be comfortable doing nothing.
Though I am focusing on the mother-daughter relationship, a similar principle can be said for father-daughter, mother-son, father-son. Bottom line, when we don't get an example of safety as children, it affects our lives until we choose to teach it to ourselves. That's my take, anyway.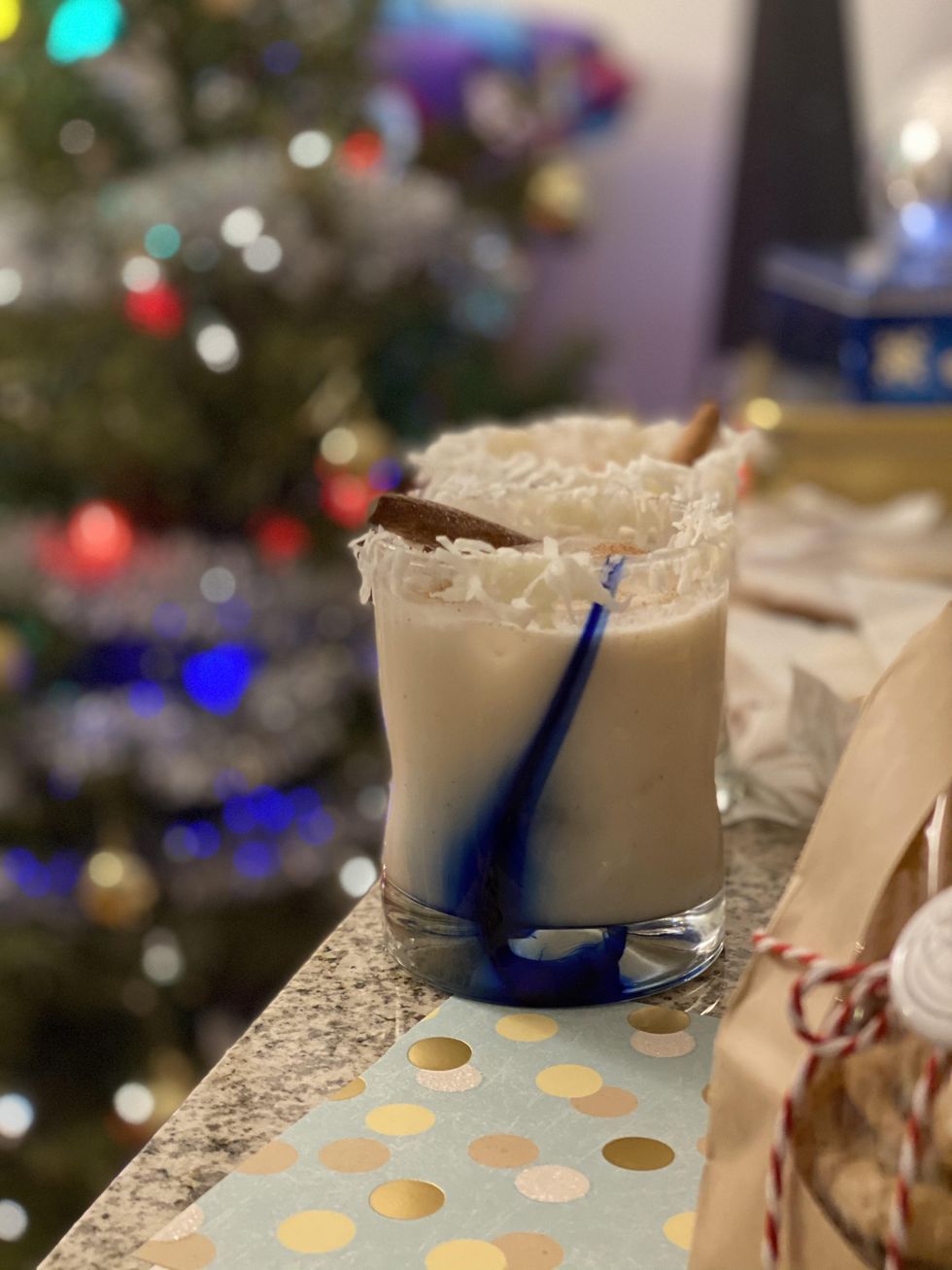 The sweet taste of coquito and normalcy.
personal photo
Now when I think of Christmas, I think of warmth. I think of rest. I think of gratitude. I also think about how nice it would have been to feel this way as a kid, and it can trigger a bit of sadness. And yet, with every holiday tradition, both big and small, I find comfort knowing that it's never too late to reclaim those lost parts.
To me, Christmas means celebrating a recovery from numbness. And sipping coquito with my boyfriend while watching my kitties play with their toys. And I feel joy in every minute of it.
Whether or not this story resonates with you, I'm wishing you a very Merry Christmas. In these sometimes stressful, often less-than-normal times, may you find your own special way to exhale.