Most Shared
A humble teacher from a remote Kenyan village just won the $1 million Global Teacher Prize.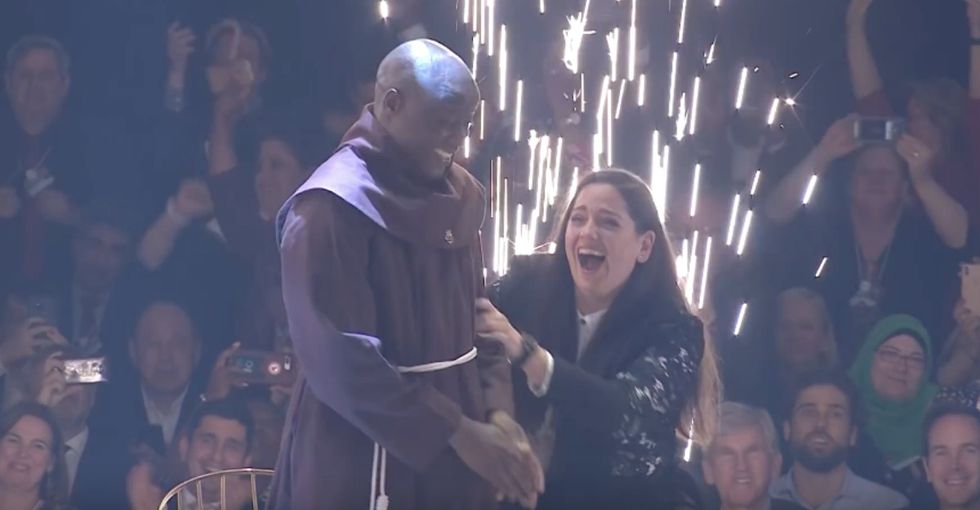 A math and science teacher who teaches in a small, impoverished village in Kenya has been awarded the Global Teacher Prize.
The ten finalists onstage at the Global Teacher Prize ceremony in Dubai represented the best of the best in humanity's ever-advancing quest for knowledge. Ten teachers from around the world beat out tens of thousands of other nominees for the prestigious honor, which has been given by the Varkey Foundation for the past five years. One winner takes home the ultimate $1 million prize.
Hugh Jackman, who hosted this year's Global Teacher Prize ceremony, announced the winner as Peter Tabichi, a humble Franciscan friar who teaches science and math in a remote village in Kenya and gives away 80% of his earnings. His students, despite facing poverty and hunger, have bested some of the country's top schools in science competitions. Tabichi says that the prize money will make a huge difference in his students' lives.
---
"This prize does not recognize me but recognizes this great continent's young people," Tabichi said. "I am only here because of what my students have achieved."
"This prize gives them a chance," he added. "It tells the world that they can do anything."
Peter Tabichi says teaching is in his blood, and is how he helps people and the world.
Tabichi's father was a teacher, as are his uncles and cousins. Tabichi started his teaching career in a top private school that had the best facilities and equipment, but felt that the remote communities should have access to the same quality of education. Now he teaches at the Keriko Secondary School in Pwani Village, Nakuru, Kenya—an area where drought and famine are common and where most of the students come from impoverished families.
"I said, 'Let me stretch and extend this same love to the surrounding communities,'" he says. "That's what made me come to this school."
Keriko has a student teacher ratio of 58 to 1, and Tabichi says food insecurity makes teaching a challenge. Students often haven't eaten when they arrive at school, which makes it difficult for them to learn. But Tabichi is determined to keep them engaged with hands-on learning, creative use of technology, and lots of love.
Teachers like Tabichi should be recognized—and rewarded—for the difference they make in our world.
Tabichi goes above and beyond the call of duty, tutoring students outside of school time and donating his own money to help struggling students in addition to his work in the classroom. He also started a Peace Club to unite the different tribes who attend the school.
Though certainly outstanding, Tabichi is one of countless teachers around the globe who dedicate their lives to educating the next generation and ensuring our continued advancement. Such educators often work behind the scenes, but imagine what the world would be like without them.
It's wonderful to see educators recognized and rewarded, especially with a prize as generous as The Global Teacher Prize. Congratulations to Mr. Tabichi—and his students and school—for this well-deserved honor.
See more about this amazing teacher here: