Pop Culture
Bon appetit! Totally common kids' dinners from the 90s you haven't thought about in ages
Long before the days of flashy food trends on TikTok, we feasted on Shake n' Bake pork chops.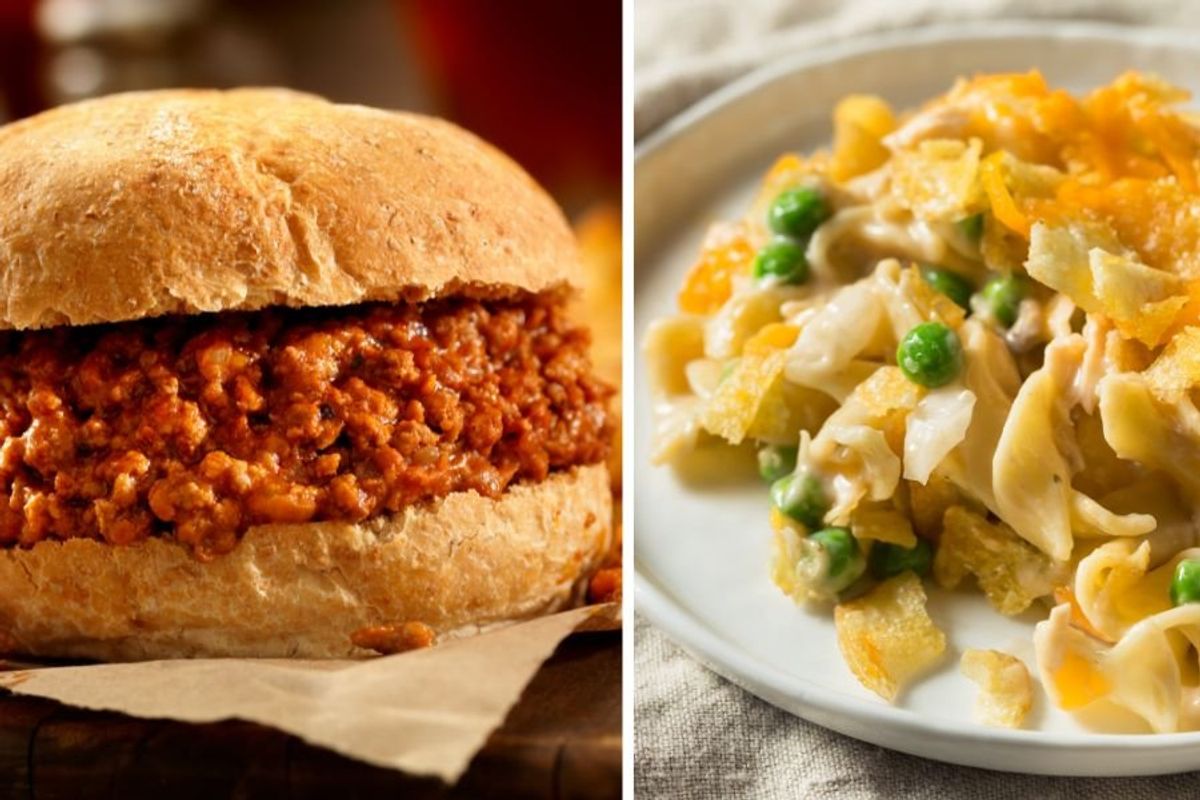 Canva
The 90s aesthetic might be finding its way back into being fashionable, but certain gems from the era remain only in memories. The food, for instance, probably won't be trending on TikTok anytime soon, as it is nowhere near as fancy as whipped coffee and watermelon pizza.
In fact, for many 90s kids, certain childhood staples might be hidden deep in the recesses of their memory, because, let's face it, our taste buds—and our collective views on food—have advanced far beyond the comforts of yesteryear.
Still, Redditor u/kammikazzie asked 90's kids to share common dinners they had growing up that aren't so common anymore, and it's hard not to feel wistful about the answers. Sure, the meals were basic as hell, but there was a simple charm to it all. They were easy enough to make that any parent could provide something tasty without being Gordon Ramsey. In fact, you might find your inner child having some nostalgic cravings after reading this list.
Go ahead, sample from the memory buffet and sink your teeth into these dinners only a 90s mother could love.
---
"A bowl of baked beans with sliced hot dogs. I always looked forward to this meal as a kid, but my mom recently admitted that she only made it when she barely had any money for dinner."
"Shake and bake pork chops. It was a staple in our dinner rotation."
"Tuna noodle casserole. It was a total abomination that I'm thrilled to never again have plonked down in front of me. Miss you, mom, you terrible yet beloved cook."
"Cream of mushroom soup on spaghetti. I didn't realize until well into my 20s that this was a meal my mother fed us to make us full for three bucks."

"Pot roast made with chuck roast covered in a packet of onion soup mix. Of course, it was always accompanied by cut carrots, halved potatoes, and mushrooms on the side."
1. "Taco night with all the fixin's, featuring crunchy shells, ground beef, shredded cheddar cheese, lettuce, diced tomato, and jarred salsa."
2. "Kid Cuisine frozen dinners. Mmm, that blazing hot brownie that I burned my mouth on every single time...."
3. "Fried bologna. My dad made a mean fried bologna sandwich with a slice of American cheese on wonder bread with mayo. On special occasions we also got our sandwiches with a fried egg or Lays potato chips added between the layers of bologna."
4. "Pizza bagels, or really any kind of pizza-on-toast if we're being honest."

5. "I had a lot of Manwich growing up in the 90s."
6. "Grilled cheese and canned tomato soup. It's the best combo ever. This would instantly revive me after riding my bike home from school in the cold weather."
—
u/staticthreat
7. "Fish sticks with ketchup, obviously. Plus a side of heated, limp, canned string beans. And a piece of toasted Wonder-bread, dry."
8. "Chicken breasts baked in Italian dressing with Pasta Roni. Mom's go-to."
9. "My mom used to cook lasagna with an amazing made-from-scratch meat sauce. But then she discovered Stouffer's frozen lasagna, and we never had the homemade version again."
10. "We always had this one salad with crunchy, uncooked ramen noodles and canned mandarin oranges. I remember people making it a lot for picnics and potlucks in the '90s."

—u/Mila1023
11. "My mom would heat up a family sized pack of those cheap, frozen Salisbury steaks with gravy and serve them with instant mashed potatoes. I'd always make a messy sandwich out of everything. I remember being so stoked when she said that's what was cooking for dinner."
12. "Goulash. My mom kinda over killed it, but I miss how she made it."
—u/tblazertn
13. "Chili rice. It's made just the way it sounds: Prepare some rice, heat up a can of chili, and then mix together and enjoy. I usually ate it with some sliced white bread or Saltine crackers."
14. "Meatloaf. My mom was an awful cook, and meatloaf is generally awful, but for some reason my mom's meatloaf was amazing."
15. "Hamburger Helper. It was so quick and easy, and I loved it as a kid. That plus Shake and Bake Pork Chops and Stove Top stuffing. Ahh, the staples of the '90s..."
16. "We used to have chicken breaded in crushed up Ritz crackers. I actually made it a few months ago, and I still absolutely love it."
17. "Pizza Hut buffet. Mostly we could only afford Pizza Hut when I read enough books to get my free personal pizza."