popular
The 'World's Ugliest Dog' has crowned a new winner, and his name is Scooter
He has no hair, his legs are backwards and his tongue permanently sticks out. What's not to love?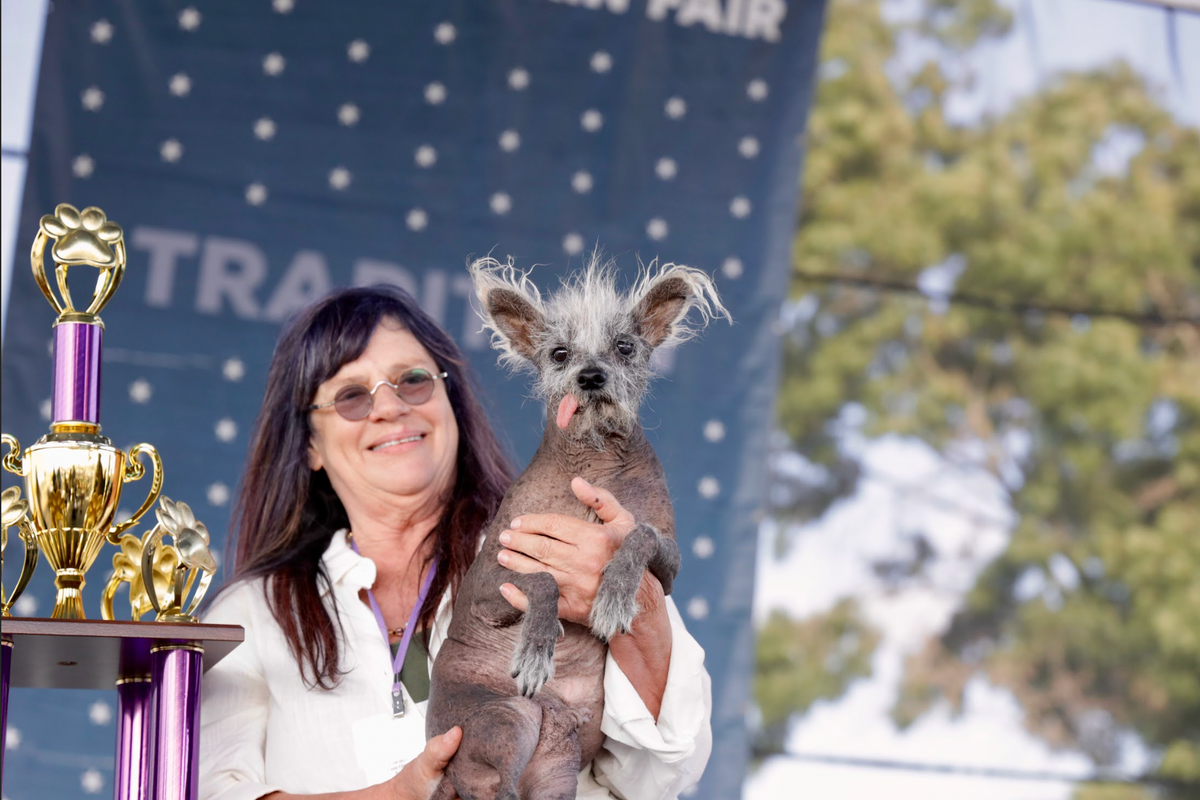 For nearly 50 years, the World's Ugliest Dog contest has celebrated unique pups of all kinds in order to show that man's best friend has far more value than pedigree. In this contest, endearing imperfections and charming personalities reign supreme over an ideal appearance and obedient temperament. And this year's champion has all those attributes in spades.
Behold: Scooter, a 7-year-old Chinese Crested dog, mostly bald save for the scraggly tuft of white hair on his ears, with a bright pink tongue constantly dangling out of his mouth and backwards facing hind legs.
Dubbed "a hairy hippopotamus in the cutest way possible" by
the New York Times
, this peculiar canine might not be modeling in a calendar anytime soon, but he is adorable in his own way, and has a pretty epic
underdog
story.
---
According to his bio, Scooter was taken to animal control in Tucson for euthanasia by a Chinese Crested breeder when he was just a puppy because of his deformity. Luckily Linda Celeste Elmquist, a volunteer for the Saving Animals From Euthanasia (SAFE) rescue group stepped in to adopt Scooter and save the poor fellow's life.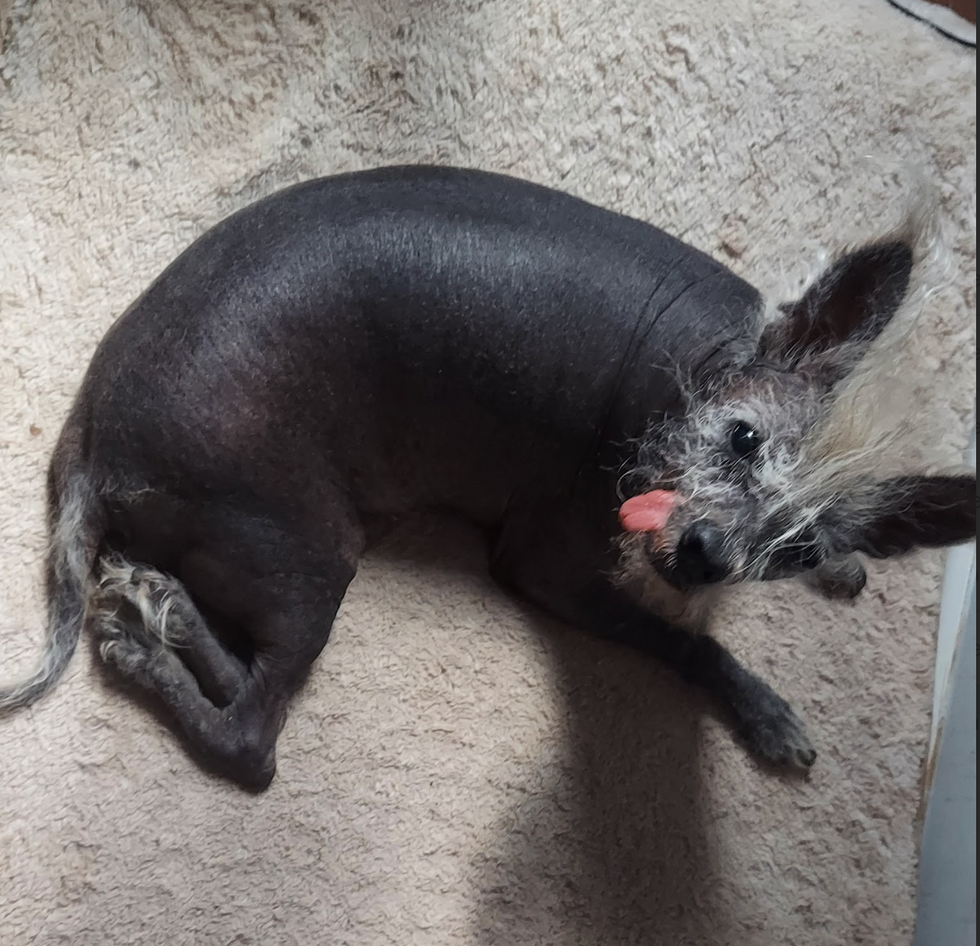 What a cutie
Photo courtesy of Sonoma Marin Fair
After being taken into a safe and loving home with Elmquist, Scooter is thriving. He might have to take frequent rest stops, but he is able to walk by balancing on his two front legs. "Swaying side to side he takes on obstacles – stones, curbs, steps – and then throwing his back end to the sky, in one final swoop – he conquers!"
Thanks to the support of friends and rescue groups, this doggo can also "scoot" to and fro using a mobility cart, which he loves to have when visiting the park to "welcome any outstretched hand." All in all, he "has no idea that he is any different from any other dog."
And now, Scooter has "contest winner" to add to his long list of accomplishments. Elmquist shared in a press release that the victory is made sweeter by challenges overcome. "Scooter has defied all odds and shown us the true meaning of resilience and determination. He has become an inspiration to countless people around the world."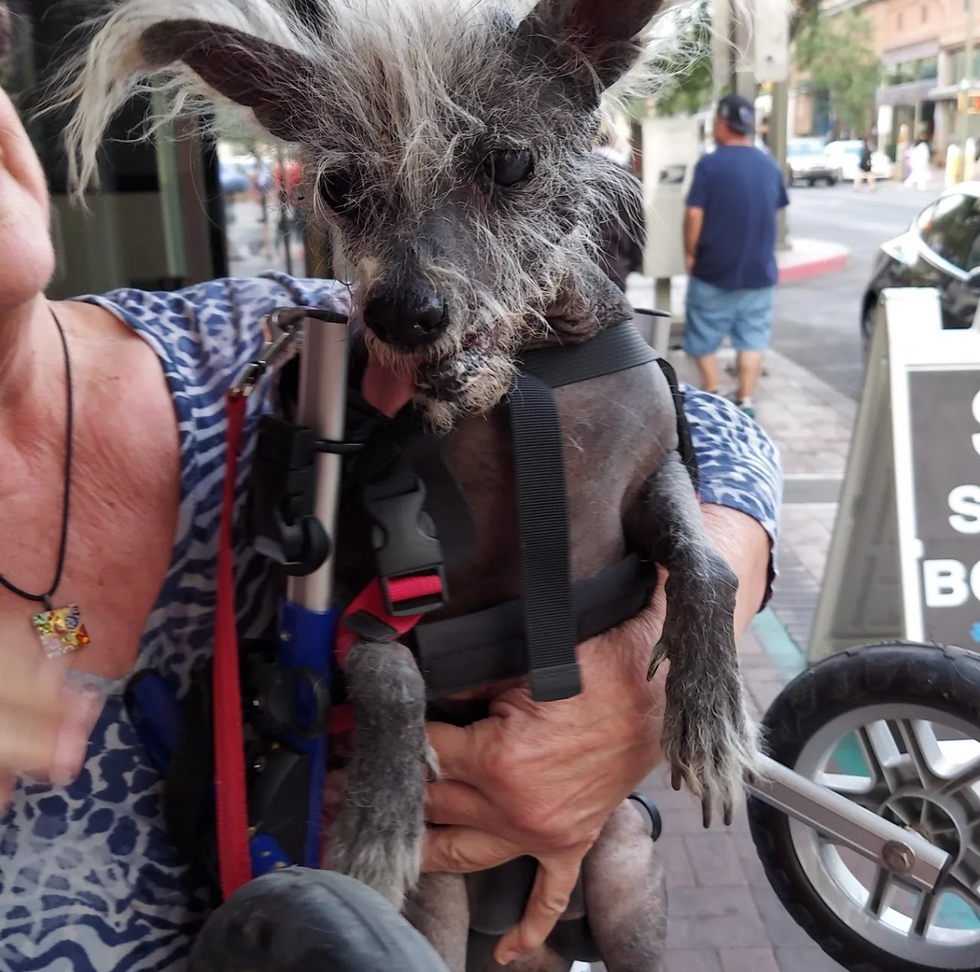 He looks happy, and that's all that matters
Photo courtesy of Sonoma Marin Fair
Scooter's story perfectly embodies the purpose behind the World's Ugliest Dog contest, which, despite its name, isn't to make fun of ugly dogs. Rather, it's to highlight the beauty of their "extraordinary resilience." As Tawny Tesconi, CEO of the Sonoma-Marin Fair (where the contest is held) stated: "Each contestant has a remarkable story to tell, and they serve as a testament to the power of love, compassion, and the indomitable spirit of these incredible animals."
The gifts that pets bring into our lives have so little to do with aesthetics. Sure, seeing a Border Collie with an impossibly shiny coat or an incredibly muscular Rottweiler is great, but it's the unconditional love, loyalty, grade-A cuddles, and pure joy that will stick in our hearts far longer. Scooter, like every "ugly" dog, deserves all the accolades for showing what makes a dog truly beautiful.