Heroes
A visually impaired Paralympian is overjoyed when her guide proposes to her after their race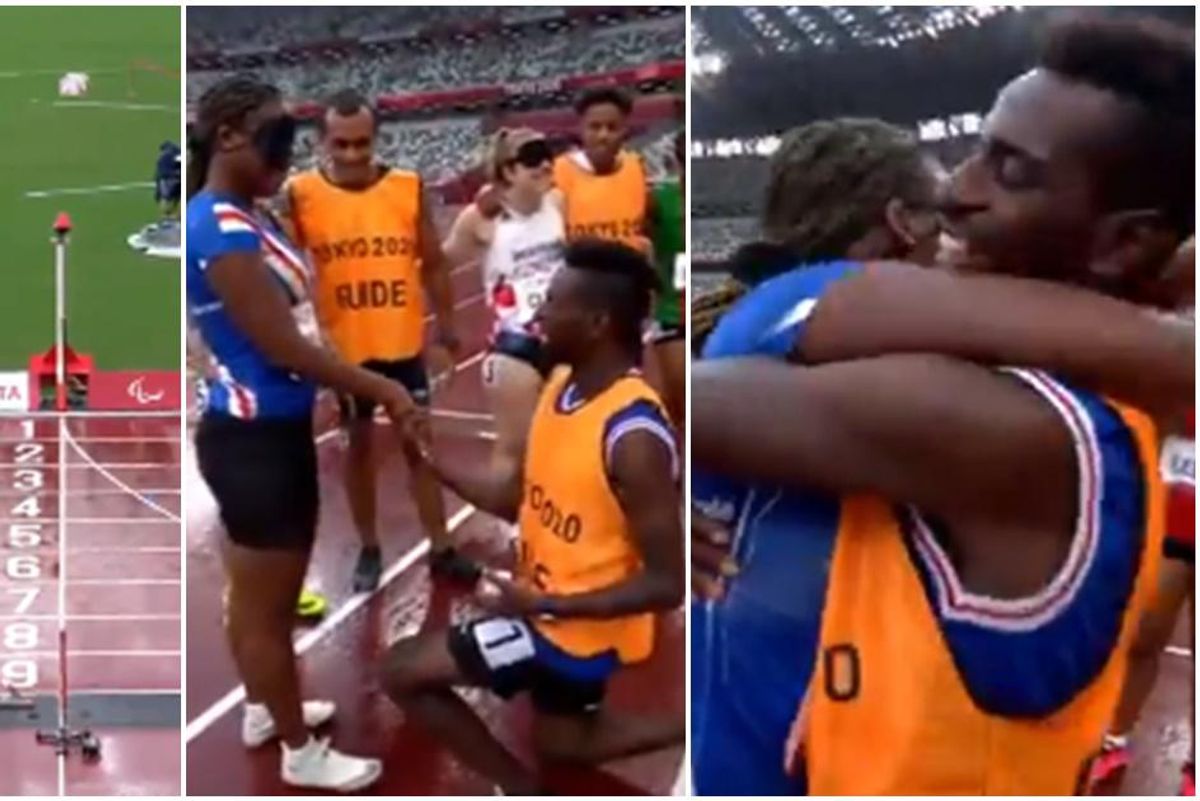 via Paralympic Games / Twitter
Sprinter Keula Nidreia Pereira Semedo won't be leaving the Tokyo Paralympics with a medal, but she did get something that may be even better: an engagement ring.

Semedo currently lives in Portugal but is originally from Cape Verde, the country she's represented as a Paralympian since 2005.
Semedo came in fourth place in the preliminaries for the 200-meter dash for athletes in the T11 classification, meaning they have very low visual acuity and/or no light perception. To run safely, she is tethered to her running partner, Manuel Antonio Vaz da Veiga.
---
But it looks like they're going to be tethered together for much longer than their time on the track. After the 200-meter dash was over Vaz da Veiga can be seen briefly leaving the track and then returning with a few more runners and guides.
Then, he got down on one knee and proposed to Semedo, who appeared to be overjoyed by the proposal as Vaz da Veiga put a ring on her finger and then gave her a big hug.
"May the two of them run together for life!" tweeted the official Paralympic Games account.
#Paralympics proposal alert 🥺 Manuel Antonio Vaz da Veiga, guide to Keula Nidreia Pereira Semedo, popped the quest… https://t.co/OUpWWqFKx2

— Paralympic Games (@Paralympic Games) 1630547086.0
Shortly after the race and proposal, Semedo was completely overwhelmed.

"With the proposal, there's just too many emotions going on right now," Semedo said after the race, via Paralympic.org. "I don't have words to explain how I feel. These were my first Paralympic Games and with my age and speed, I was actually thinking about stopping afterwards. But now I have an additional motivation to carry on after the Games, always with him by my side."
Vaz da Veiga later admitted he had been planning the big moment since she was selected for the Cape Verde team in July.
"I thought this was the best occasion and the best place to do it," he said. "This [an athletics stadium] is her second home. She has been competing since 2005."
"We have been together in a relationship for 11 years, so I thought it was about time to come up with a proposal," he added. "So why not do it?"
The engagement wasn't the only in Tokyo this summer. During the Summer Olympic games Argentine fencer Maria Belen Pérez Maurice was proposed to by her coach of 17 years, Lucas Saucedo.
Y después del combate de esgrima le pidieron casamiento a María Belén Pérez Maurice en vivo. https://t.co/wEmGuOW7CB

— Rústico (@Rústico) 1627268110.0
After Pérez Maurice was knocked out of the games she gave her post-match interview and Saucedo stood behind her with a sign that read: "Will you marry me, please?"

When Pérez Maurice saw the sign she let out a scream of joy and accepted the proposal.
"They [the interviewer] told me to turn around, and he had the letter. I forgot everything. I was like: 'Oh my God,'" she said. "We are very happy. We are very good partners. Of course, we have fights, but we enjoy each other's time. We love each other so much, and we want to spend our lives together. We are going to celebrate in Buenos Aires with a big barbecue."