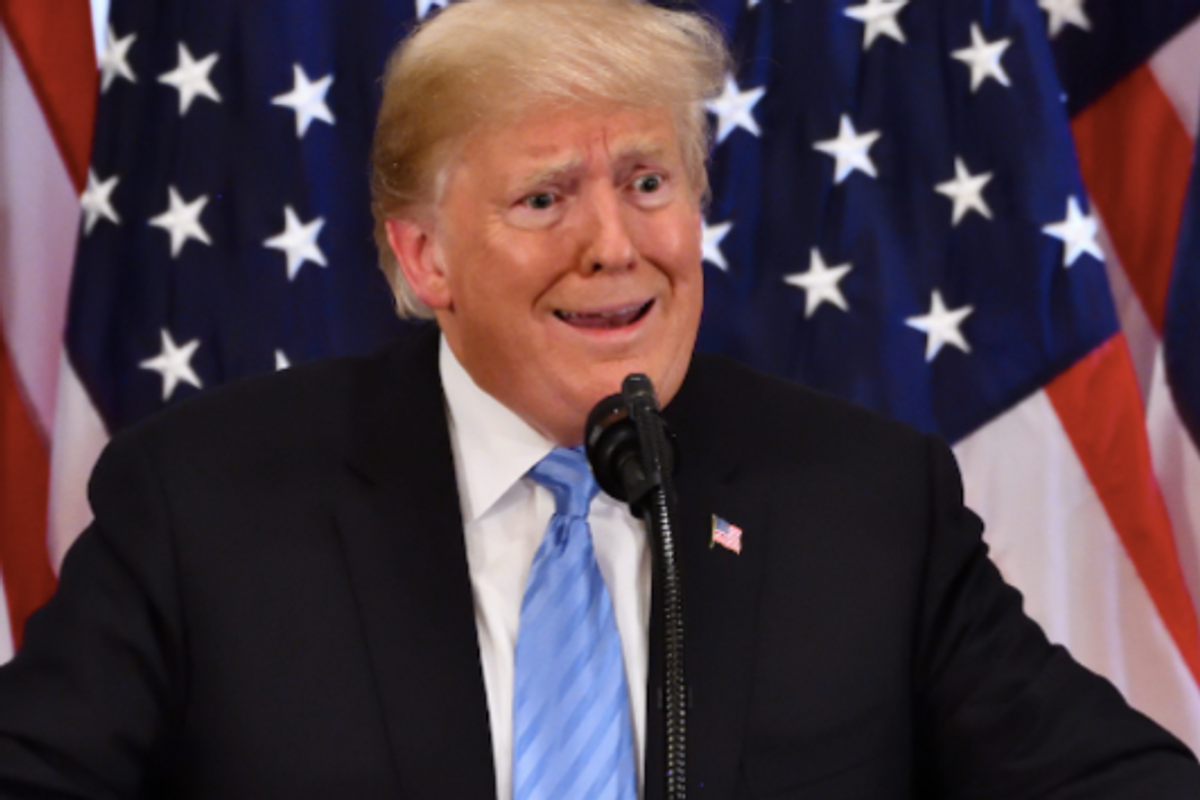 Today in "this cannot possibly be happening": Donald Trump said in a speech that the U.S. Army won the Revolutionary War by "taking over the airports." Airports, obviously, did not exist back then.
I know what you're thinking: there's no way he could make such an egregious error, especially not during his costly Fourth of July Bugs Bunny dictator parade. The quote has to be taken out of context. Nope! Here it is:
---
As you might remember from your fourth grade history class, air travel was not invented until the early 1900s.
Ever the history buff— Trump brags how the Military "took over the airports" during the Battle of Baltimore in 1814… https://t.co/8tG5teqHGe

— Ryan Hill (@Ryan Hill) 1562291670
And air fields didn't start popping up in the US until the very early 1900s, with the first actual airport being invented in 1928, according to Centennial of Flight and several other sources. Incredibly, Trump actually mentioned the American inventors of the airplane, the Wright Brothers, earlier in his speech, the Guardian points out.
There's also some squabbling over whether Trump meant the Revolutionary War or the War of 1812 here, because he scrambled a few different events. But the fact remains that airports did not exist yet during either of these wars.
He also made a slew of other errors.
Correcting President Trump : 1 - The Continental Army was not named after Washington. 2 - General Cornwallis was no… https://t.co/hZLqe9qh5V

— Jmantime (@Jmantime) 1562305201
Former teachers were bemused by the news.
My sincerest apologies to my former 8th grade US History students for my failure to teach you about the Continental… https://t.co/r2rGeWywKn

— Mae S. Chaplin (@Mae S. Chaplin) 1562297975
Some used the gaffe as an opportunity to roast LaGuardia, the Port Authority of air transit hubs.
if you guys think there were no airports built in 1776 you have not been to LaGuardia

— Jason Gay (@Jason Gay) 1562286404
Trump also promised we will soon land on Mars, or at the very least shoot an American flag at it with a giant outer-space T-shirt gun.
Trump vows to "plant the American flag on Mars." #SaluteToAmerica https://t.co/D0kPmixFyc

— Aaron Rupar (@Aaron Rupar) 1562280653
At least the journalists tasked with fact-checking Trump had an easy day.
Fact check: there were no airports in 1775. https://t.co/v8j0gPMswI

— The Guardian (@The Guardian) 1562309122
Happy July Fourth weekend, y'all.
in fairness to Trump the crowd size doesn't appear to be horrible https://t.co/5oTXCrrDTb

— Aaron Rupar (@Aaron Rupar) 1562280323
This article originally appeared on SomeeCards. You can read it here.

Trump vows to "plant the American flag on Mars." #SaluteToAmerica https://t.co/D0kPmixFyc

— Aaron Rupar (@Aaron Rupar) 1562280653