Heroes
TikTok star helped a struggling young girl he'd never met realize her dream of becoming a baker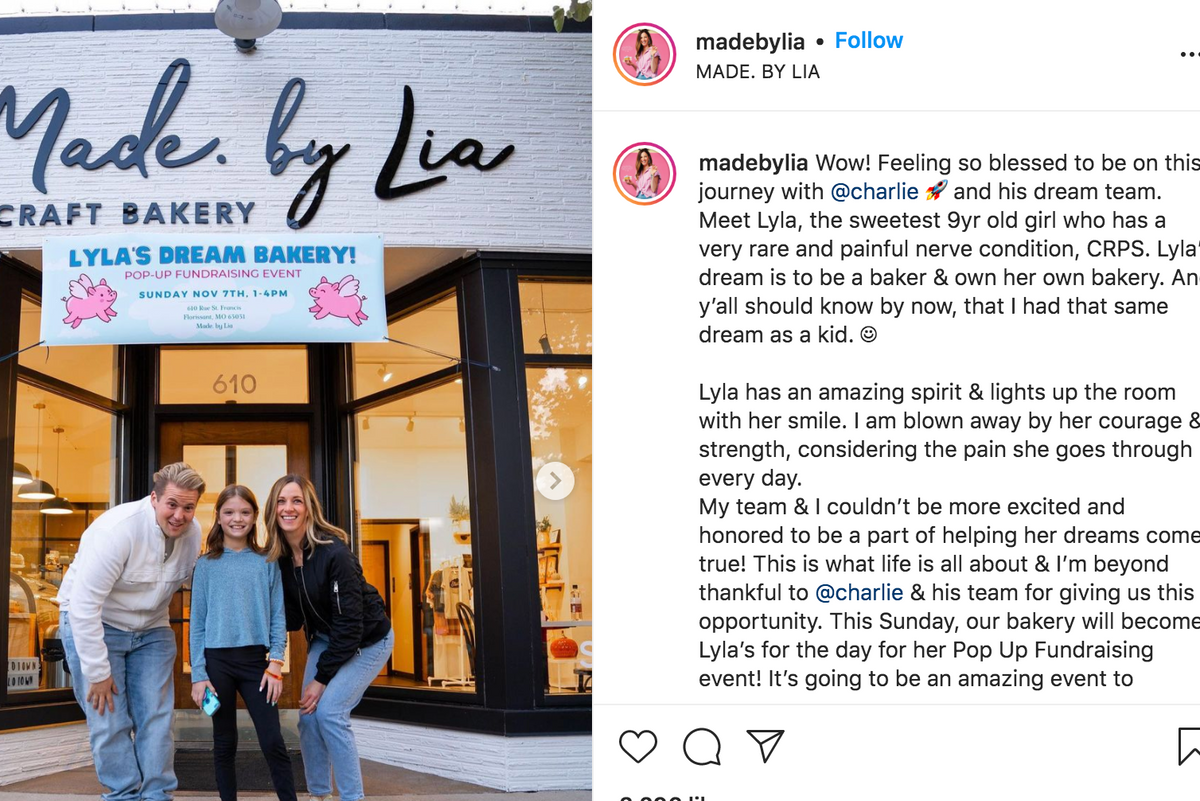 Not all TikTok stars are in it for the internet fame. For some, like Charlie Rocket, it's about making people's dreams come true. Driving across the country in his Dream Machine RV, Rocket uses his platform to inspire people from all walks of life to "reach for the stars and not give up on themselves" by doing good deeds.
According to
Fox News
, Rocket had been helping a homeless man start a food truck in Colorado Springs when he heard about Lyla, a 10-year-old girl in St. Louis with chronic leg pain who had her own dream needing to be fulfilled. As Rocket put in his TikTok video, Lyla had no idea that her life was about to change for the next 24 hours.
---
Lyla suffers from complex regional pain syndrome (CRPS) in her leg. The pain is "worse than childbirth and getting something amputated," she told Rocket. But her passion for baking was a helpful distraction.
The dream team rolled up to Lyla's bake sale, which had been created to fundraise money for pain treatment. Rocket asks, "Do you think you would be able to bake for us?" and the little girl's face instantly lights up so bright it could melt glaciers.
As the video shows, Lyla's baking is more than a hobby. It's a God-given talent. She effortlessly mixes, rolls and decorates cookies by hand, complete with bright pink frosting to look like adorable pigs. All with a smile on her face. With skills like that, it's no wonder that her dream is to own her own bakery someday.
Little does Lyla know that "someday" will be as soon as tomorrow.
"Lyla has no idea that we're surprising her with her own bakery for 24 hours, and we're gonna try to raise 100,000 dollars."
And not just any bakery, a bakery owned by Lia Holt, winner of TLC's "Next Great Baker." Holt told Fox News "As soon as I met Lyla, my heart just melted. I'm like, I was a kid and my dream was to be a baker, own a bakery. Now, I can't wait to help make her dreams come true."

As Rocket leads a blindfolded Lyla to her soon-to-be bake shop, he tells her "I have a surprise for you." The blindfold lifts, and Rocket tells her that for the next 24 hours, the bakery Lyla sees will be hers, and that the entire city is invited to buy her cookies. Lyla's reaction is nothing short of heartwarming.
But wait! There's more!
Rocket had one more surprise. After learning about Lyla's fondness for pigs, the TikTok star surprised her with a baby piglet of her very own. I don't know which is more endearing: the swaddled piglet or the girl's sweet happy tears after getting everything she's ever wanted.
The bake sale was held on Sunday, Nov. 7 and the money earned went toward her CRPS pain treatment. If you want to support Lyla's dream, you can do so through this website.
Rocket finds people to help like Lyla through his Dreamr app. On his website, he writes:
"We dream of a world where there is an abundance of opportunity for everyone. We dream of a world where our fellow human beings remember that in their heart lives a profound force of limitless potential. It is our core belief that if the world can inspire a dream within someone, it is within their power to achieve it."
He encourages you to share your own dream on the app, which you can find and download
here
.