More
This senator said nurses "sit around playing cards" most of the day. Big mistake. Big. Huge.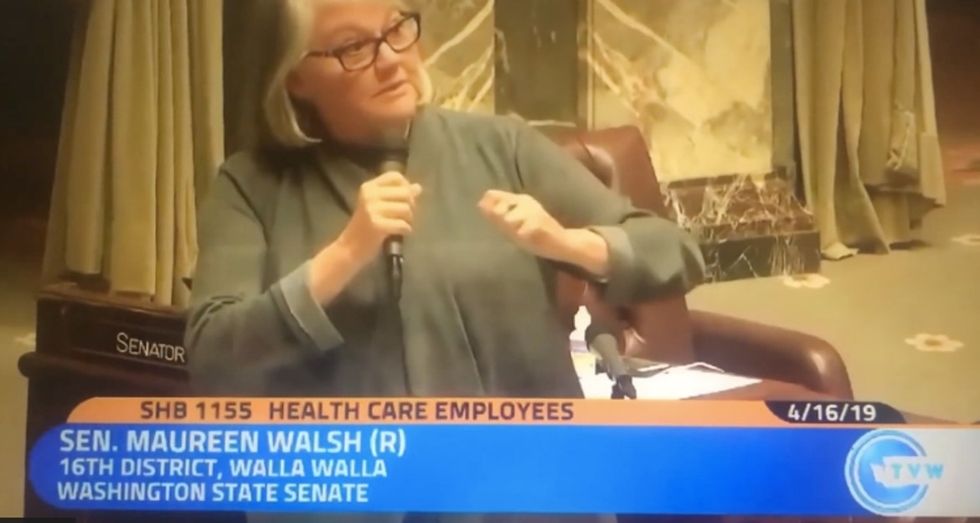 A Washington state senator is getting an earful from constituents who are angry with her attack on nurses.
Republican state senator Maureen Walsh (R) inexplicably put her foot in her mouth—and pissed off about 3 million nurses—with her comments on a Washington state bill that would mandate uninterrupted breaks for nurses and offer them protection from mandatory overtime.
On April 16, she stood on the legislative floor and, with a straight face, told her fellow lawmakers that nurses in rural hospitals should be exempt from those legal protections because they "probably play cards for a considerable amount of the day."
---
Big mistake. Big. Huge. Nurses around the country—along with people who actually know nurses—immediately and rightfully pounced.
Seriously, Senator Walsh. What were you thinking?
Trust me, nurses haven't earned the title "most trusted profession" for seventeen years running by "playing cards"… https://t.co/BFIXFXehzW

— Bonnie Castillo (@Bonnie Castillo) 1555695270.0
1 years worth of flashcards in a nursing degree. Never had a single chance to even look at them at a clinical site.… https://t.co/jjk9T4GURt

— Maddie Allen (@Maddie Allen) 1555770295.0
In any given week I: -care for a person following a heart attack -identify someone having an active stroke and ta… https://t.co/mvMZXgmfMN

— Amber, Queen of Dragons (@Amber, Queen of Dragons) 1555776106.0
@repmaureenwalsh I'm a paramedic and I'd like to know which hospital you go to Miss Walsh, because the ones I trans… https://t.co/DyYJvO4LWu

— 🇺🇸 Jonathan Manalo 🇵🇭 (@🇺🇸 Jonathan Manalo 🇵🇭) 1555743877.0
What an ignorant thing to say. I have gone entire 12 hour shifts that sometimes turn into 14 hour shifts without a… https://t.co/zXow0DHCpu

— Amber Gifford (@Amber Gifford) 1555761235.0
A Facebook post from one nurse has been shared 37,000 times because he totally nails it.
Nurse Dave Mattox wrote:
"Yes, I heard Senator Maureen Walsh's comment about 'nurses playing cards while working.' I gotta be honest, as a nurse I think it's time we take responsibility for this comment. You see, it's our fault she thought this, have you ever seen a nurses "poker face"? It's one of a kind. So of course Maureen Walsh has to assume you only get a poker face that good by playing cards all the time.
So Maureen please let me clear this up for you. We didn't get this poker face by playing cards, but we did get it by the hands we were dealt. Oh the damn hands we have been dealt. Sometimes we are dealt a lifeless baby, blue with no pulse. Mom is in panic. As extreme as this may sound, don't worry Maureen we have been dealt this hand before, and guess what? We use our poker face and we look mom right in the eyes and we say 'we will take care of your baby.'"
Yes, I heard Senator Maureen Walsh's comment about "nurses playing cards while working". I gotta be honest, as a nurse I...

Posted by Dave Mattox on Friday, April 19, 2019
"Sometimes the hands we are dealt are not as fast paced but damn do they hurt. Sometimes we are dealt the hand of lung Xray results of a beautiful teenage cancer patient who was hoping they were getting better and this was just a cold, hell pneumonia would even do. Unfortunately, it's not, the cancer has spread and we as nurses know it isn't our place to tell her. So we pull the only wild card we got; we bluff…and we bluff so damn hard. We laugh, we joke with her, and we get her comfortable for the night because we know how the cards are going to fall.
I don't blame you for your comment Maureen because its really our own fault. Our poker face is just that damn good. But here's the best secret of all about nurses; if you or your loved one are ever dealt a life or death emergency and all hope is gone…you have prayed every prayer you can think of…and our chances of winning the pot is slim…..NURSES DON'T FOLD. WE MAY NOT WIN EVERY HAND BUT YOU BETTER BELIEVE WE WILL PLAY EVERY DAMN CARD WE HAVE UP OUR SLEEVES."
Well said, Nurse Mattox.
Walsh also tacked on an amendment limiting shifts to 8 hours because nurses were too tired if they needed uninterrupted breaks.
As if the card-playing insult weren't enough, Senator Walsh also said that if nurses were so tired, they should have their shifts shortened. "Maybe 12-hour shifts aren't a good idea if you're so exhausted," she said, according to My Northwest.
Many nurses prefer to work 12-hour shifts to be able to work around family obligations, and longer shifts means fewer transfers of care, which means more consistent care for patients. My mother, who worked as a labor and delivery nurse during my schooling years, worked 12-hours night shifts, which allowed her to be with her kids in the after school hours and have several days off per week.
There is room for debating the pros and cons of different work shift lengths in hospitals, but Walsh wasn't citing informed opinion when she proposed the amendment—she was being flip.
"I ran the amendment to simply say, that if the argument on behalf of this bill is nurses are experiencing exhaustion and fatigue, then perhaps the shifts are too long," said Senator. Walsh. "This was a statement amendment by the minority party to try to make a point on the floor about the bill."
"I fully expected a rousing 'no' on my amendment," she said. "I never dreamed that the amendment would hang."
So . . . she was bluffing and had her bluff called? How fitting.  
Nothing the senator has said really makes any sense. And I can't help but wonder what's behind it all.
First of all, if you've ever known a nurse, you know how damn hard they work. To imply that any nurse anywhere is playing cards for a considerable part of the day is ludicrous.
Second of all, if there were nurses who were playing cards because work was slow, why would you exempt them from mandatory breaks? They can take official breaks during that down time, which is when nurses take breaks when they are able to anyway.
Third, even if some nurses occasionally play cards, so freaking what? There are many jobs where people are paid to be ready and prepared and trained to respond to emergencies. I've never once heard anyone complain about firefighters hanging out in the fire station playing cards on occasion. Is it because nursing is a primarily female-dominated profession vs. a male-dominated one?
Maybe the senator has some underlying issue with nurses. Maybe this was just a partisan move. Whatever the reason, it backfired spectacularly.
You know what? If nurses ever actually do get the down time during a shift to play a game of cards, they absolutely should. The job is stressful enough as it is. So yeah, go ahead and play cards if you get a chance, nurses. And thank you for the countless hours you spend too busy saving lives and caring for the sick and injured to even think about it.