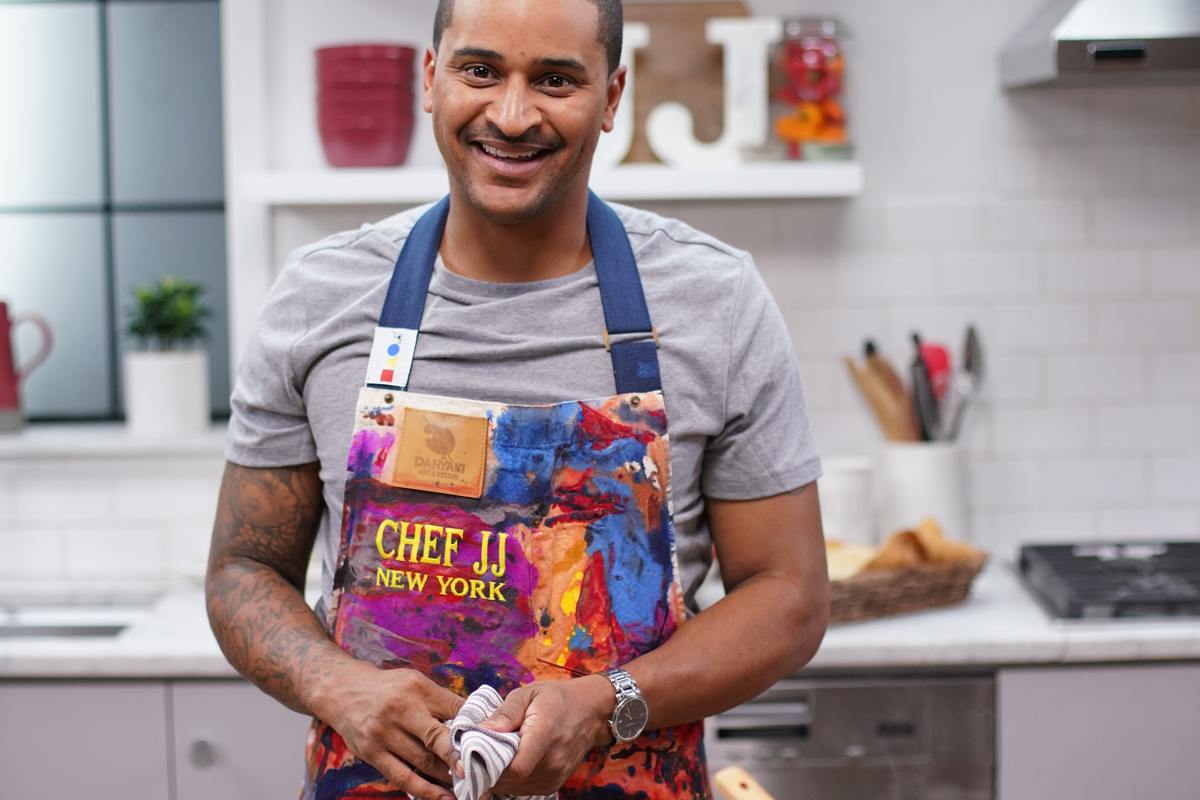 Courtesy of FIELDTRIP
True
The COVID-19 pandemic has disproportionately affected diverse communities due largely in part to social factors such as inadequate access to housing, income, dietary options, education and employment — all of which have been shown to affect people's physical health.
Recognizing that inequity, Harlem-based chef JJ Johnson sought out to help his community maximize its health during the pandemic — one grain at a time.
Johnson manages FIELDTRIP, a health-focused restaurant that strives to bring people together through the celebration of rice, a grain found in cuisines of countless cultures.
"It was very important for me to show the world that places like Harlem want access to more health-conscious foods," Johnson said. "The people who live in Harlem should have the option to eat fresh, locally farmed and delicious food that other communities have access to."
Lack of education and access to those healthy food options is a primary driver of why 31% of adults in Harlem are struggling with obesity — the highest rate of any neighborhood in New York City and 7% higher than the average adult obesity rate across the five boroughs.
Obesity increases risk for heart disease or diabetes, which in turn leaves Harlem's residents — who are 76% Black or LatinX — at heightened risk for complications with COVID-19.
---
"For decades, people in Harlem have been buying food at supermarkets that have been injected with antibiotics and pesticides because they can't afford healthier options at organic grocery stores," Johnson said. "Harlem isn't a food desert because it doesn't have food. It's facing food insecurity because of the food its residents have access to."
Despite his intentions to break this cycle, Johnson says the concept of FIELDTRIP was met with skepticism over concern as to whether Harlem residents would be open to trying its exotically seasoned rice bowls and salads — even if they were the healthy alternative.

"When I opened FIELDTRIP, many people in the community didn't think it was owned by a Black person," Johnson said. "In the heart of this pandemic, people saw me and my staff — which is primarily Black and Latinx — behind the counter and realized they wanted to support us."
While dishes from eastern cultures may not traditionally be sprawled across dining tables in Harlem, Johnson saw his hometown as the prime location for breaking down barriers within the food industry when FIELDTRIP opened in 2019.
"It's become this engraved part of Harlem that when the lights come on at FIELDTRIP, there's a sense of hope installed throughout the community," Johnson said.

That connection with local residents has been put on full display during this pandemic.
To maximize the restaurant's ability to feed those facing food insecurity during the pandemic, Johnson joined forces with Chef Erik Bruner-Yang who created The Power of 10. This initiative was built on the idea that if a restaurant were to receive $10,000 a week during this crisis, it could create 10 full-time jobs and provide 1,000 free meals to its direct community.
Born out of Washington, D.C., The Power of 10 partnered with Capital One earlier this year to expand nationally to help restaurants like FIELDTRIP thrive in cities across the country such as New York, Los Angeles, Chicago, Dallas, Charlotte, North Carolina, Richmond, Virginia and Fairfax, Virginia.
Since May, this partnership has helped enable The Power of 10 to donate more than 200,000 meals and provide income to workers at 38 restaurants.
"We were eager to do our part to help in this urgent and unprecedented time of need," says Andy Navarrete, Head of External Affairs at Capital One. "Restaurants play a vital role in unifying the communities we serve."
This work comes as part of Capital One's Impact Initiative, an initial $200 million, five-year commitment to support growth in underserved communities and advance socioeconomic mobility by closing gaps in equity and opportunity. The Impact Initiative builds upon Capital One's core mission to change banking for good and its priorities around racial equity, affordable housing, small business support, workforce development and financial well-being.
Through this support to The Power of 10, Johnson could assist Harlem's residents in ways that weren't possible before.
FIELDTRIP began distributing free "JJ Boxes" — prepared meals that consist of organic produce from local farms in the Tri-state area. Johnson first sought to give these meals to essential workers in the area but soon expanded FIELDTRIP's offering to any people in need.
To date, this initiative has helped FIELDTRIP distribute more than 3,000 free meals.

"Many of these people receiving these meals had lost their jobs and had very little money," Johnson said. "The Power of 10 helped us ensure that those families still had fresh produce that they could cook at home and put a delicious dinner on the table every night."
This funding has also allowed FIELDTRIP to continue working with local farms to use the freshest ingredients possible in its meals in an effort to help Harlem residents stay healthy.
"In every community we serve, we'll look at who needs help and how we can be there for them," Johnson said. "As I expand FIELDTRIP, my goal is to make our food so affordable that people chose us over fast food every time."