Heroes
Is the University of Texas alumni song racist? Student athletes speak out against 'Eyes of Texas.'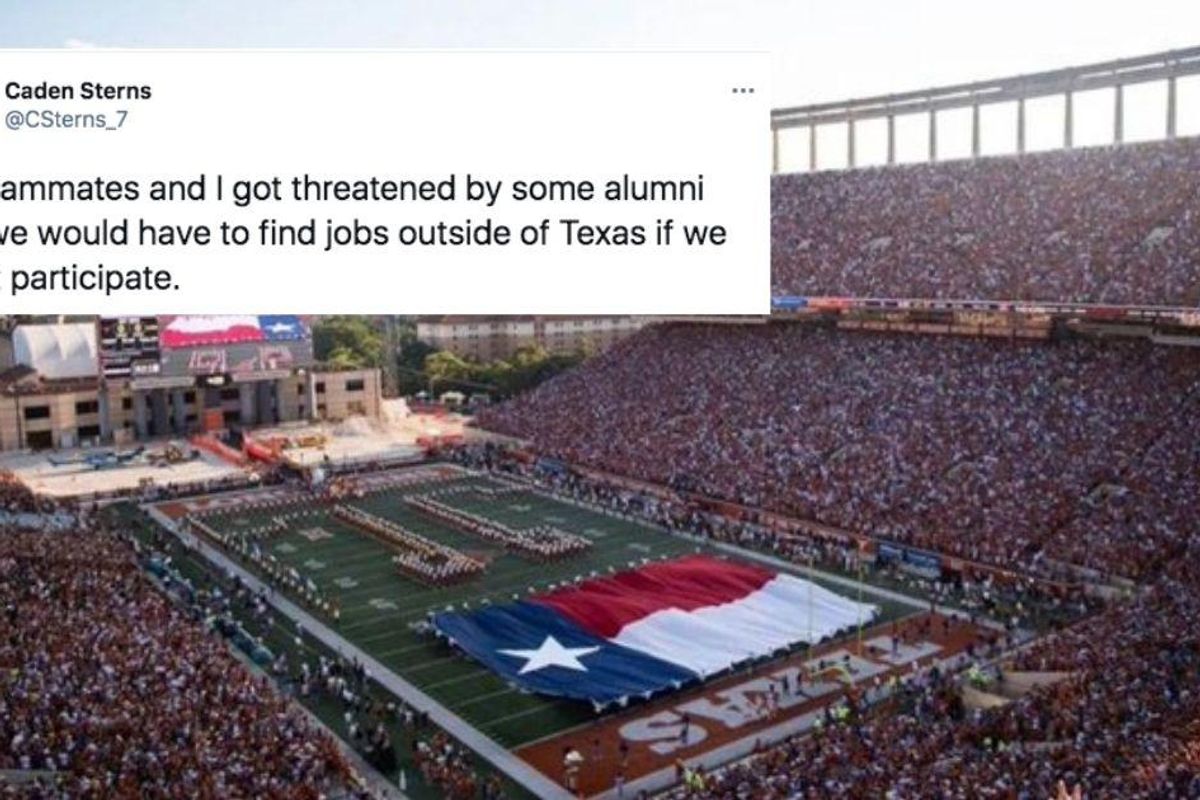 Controversy has been brewing for months at the University of Texas at Austin as student-athletes petitioned the school to stop playing the school's alma mater song, "The Eyes of Texas."
The issue is that the origins of the song are allegedly steeped in racism. It was written in 1903 by two students who were inspired by speeches given by then-UT President William Prather, in which he used the phrase "The eyes of Texas are upon you." Prather himself had been inspired by General Robert E. Lee—leader of the Confederate army that fought for the right to own slaves—who used to say "the eyes of the South are upon you."
That's not all. The song is set to the tune "I've Been Workin' On the Railroad," which has its own questionable origins, and according to the Austin American-Statesman, "The song debuted at a Varsity minstrel show, a fundraiser for UT athletics, and was at some points performed by white singers in blackface." (Minstrel shows were a long, disturbing part of America's history of racism, in which white performers made themselves into caricatures of Black people and Black performers acted out cartoonish stereotypes in order to entertain audiences.)
This summer, in the midst of nationwide protests against racial injustice, students at the university launched a petition asking the school to confront its historic ties with the Confederacy in the names of buildings on campus and to formally acknowledge the racial roots of the alma mater song. A second student petition asked the school to replace the song with one that didn't have "racist undertones" in an attempt "to make Texas more comfortable and inclusive for the black athletes and the black community that has so fervently supported this program."
---
The school responded with a pledge to "own, acknowledge and teach about all aspects of the origins of 'The Eyes of Texas' as we continue to sing it moving forward with a redefined vision that unites our community."
The song stayed, but students protested by simply not participating in the singing of it. Some members of the school band said they didn't feel comfortable playing it, and most of the Texas Longhorns football team left the field when the song was being sung.
Some alumni and donors did not like that and made their feelings known in hundreds of emails, some of which were blatantly racist and some of which were blatantly childish.
"My wife and I have given an endowment in excess of $1 million to athletics. This could very easily be rescinded if things don't drastically change around here," wrote one donor. "Has everyone become oblivious of who supports athletics??"

It seems that this donor has become oblivious of who actually performs the athletics that they support and enjoy. Is forcing Black athletes to participate in something they feel is demeaning to them any better than asking Black performers to dance in minstrel shows in order to earn your money?
"The Eyes of Texas is non-negotiable," wrote a long-time season ticket holder and graduate. "If it is not kept and fully embraced, I will not be donating any additional money to athletics or the university or attending any events."
To be clear, the school has kept the song. They're threatening to withhold donations not because the song wasn't kept, but because Black athletes aren't fully embracing it. They might as well say, "You will not only dance for me, but you will show me you enjoy it!" Gross.
"It's time for you to put the foot down and make it perfectly clear that the heritage of Texas will not be lost," wrote a donor who graduated in 1986. "It is sad that it is offending the blacks. As I said before the blacks are free and it's time for them to move on to another state where everything is in their favor."

So yeah, using the phrase "the blacks" is a pretty obvious tell, but saying Black people should move to another state if they don't like the racism in Texas is really something.
Caden Sterns was a team captain and safety for the Longhorns football team who left at the end of the season to enter the NFL draft. He posted yesterday on Twitter that he and his teammates were threatened by some alumni that they would "have to find jobs outside of Texas" if they didn't participate in the singing of the song. Wow.

Black athletes—especially football players in football-loving Texas—are the backbone of the athletics program these alumni and donors cling to. And these people are willing to defund the athletics program over a song? Threaten the futures of these students over a song? Take down the entire institution over a song? Who exactly are the ones reallybeing overly sensitive here?
On the one hand, we have the actual harm of hundreds of years of racial oppression being called to mind by a song with unquestionably racist undertones, which students (who are literally the purpose of a university) are asking to be changed. On the other hand, we have the hurt feelings—or rather, mild discomfort—of people who haven't been students for decades who want to be able to sing a song because they've always sung it. These alumni and donors have made it clear that their priority is tradition over all things, including the very real issue of racism and the wishes of the Black athletes they rely on for the carrying forward their favorite sport.
If UT Austin decided to change the alma mater song, do you know what would happen? Nothing. No one would be harmed. After years of controversy, the Washington Redskins finally changed their name, and what happened? Nothing. No one was harmed. It turns out people get over these things pretty quickly.
Getting over a song or team name or building name being changed is a million times easier than getting over racism that has persisted for hundreds of years and continues to this day. Traditions can be fun and unite people, but if it's not fun for everyone and is actually causing a divide, then it's time for that tradition to be replaced with a new one. This really shouldn't be that hard to understand.
Good for the students for standing their ground.