Family
"We need to be able to talk to each other about our feelings, even the bad ones."
Jonna Roslund is a 26-year-old from Sweden who lives with depression.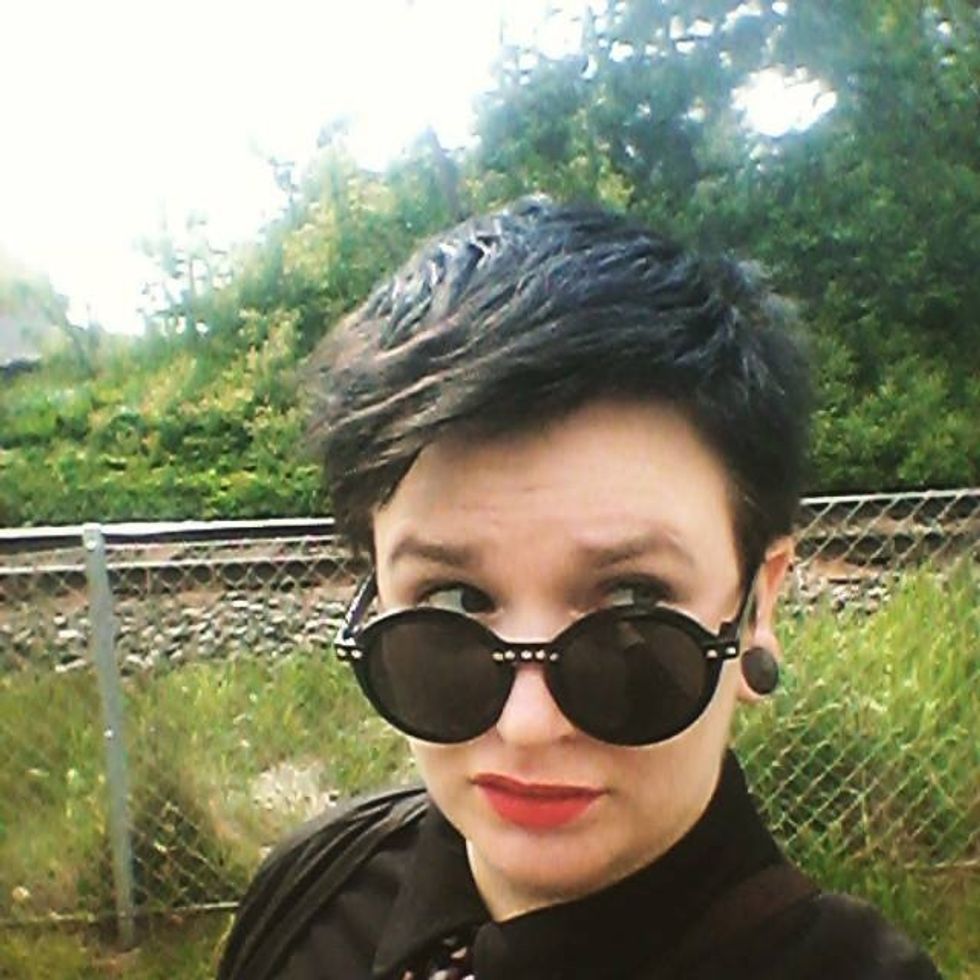 Photo via Jonna Roslund, used with permission.
Living with a mental illness affects many areas of a person's life, including one annoyance most of us can relate to: the dread of household chores.
<h2><strong>But for Roslund — and many people living with depression —  the process of cleaning can be about so much more than simply tidying up.</strong></h2><p>"I suffer from severe depression and have a really hard time with cleaning and doing other kinds of household work," she wrote in a post on <a href="https://imgur.com/gallery/b57HT" target="_blank">Imgur</a>.</p><p>"My room [has] been this messy for several months [because] I can't push myself to take care of it," she explained. "But this Friday I decided to finally do it!"</p><p>She posted two photos of her bedroom — one before cleaning up, and one afterward.</p><h2>This was Roslund's bedroom before she cleaned:</h2><p class="shortcode-media shortcode-media-rebelmouse-image"><img type="lazy-image" data-runner-src="https://assets.rebelmouse.io/eyJhbGciOiJIUzI1NiIsInR5cCI6IkpXVCJ9.eyJpbWFnZSI6Imh0dHBzOi8vYXNzZXRzLnJibC5tcy8xOTUwNDUwOS9vcmlnaW4uanBnIiwiZXhwaXJlc19hdCI6MTYxNjMyNzkyMH0.yGJOzzhnMWSYLknyNagHMin4Dd9g6dSxwQ78yfoKU7I/img.jpg?width=980" id="6188a" class="rm-shortcode" data-rm-shortcode-id="3cfe95a4b6c45fc04699f72b7ed57d66" data-rm-shortcode-name="rebelmouse-image"><small class="image-media media-caption" placeholder="add caption...">Photo via Jonna Roslund, used with permission.</small></p><h2>And <strong><em>after</em> she cleaned</strong>:</h2><p class="shortcode-media shortcode-media-rebelmouse-image"><img type="lazy-image" data-runner-src="https://assets.rebelmouse.io/eyJhbGciOiJIUzI1NiIsInR5cCI6IkpXVCJ9.eyJpbWFnZSI6Imh0dHBzOi8vYXNzZXRzLnJibC5tcy8xOTUwNDUxMC9vcmlnaW4uanBnIiwiZXhwaXJlc19hdCI6MTYxNzM4OTc5Nn0.voa1GuuQg270CF8YsxJVCnMzmrmRpoH7oiysmPyxbpg/img.jpg?width=980" id="140c3" class="rm-shortcode" data-rm-shortcode-id="71641ee7a738956b5acd092e4a8e6d6e" data-rm-shortcode-name="rebelmouse-image"><small class="image-media media-caption" placeholder="add caption...">What a difference some elbow grease can make, huh? Photo via Jonna Roslund, used with permission.</small></p><p>"You can finally see that I have a floor!" she wrote. "Say hi to my teddy Nalle on the bed!" </p><h2>"I know it's not a big victory, but for me it means the world to just be able to have my door open if people come over. I feel so at peace right now ... Me 1 — Depression 0!"</h2><p>The <a href="https://imgur.com/gallery/b57HT" target="_blank">comments on Roslund's post</a> are filled with words of encouragement, as other users expressed how relatable it is to see a messy room so perfectly symbolize their own form of mental illness:</p><p><em><strong>"I too suffer from depression and I know how hard it is to function. You rock and you're an inspiration!"</strong></em></p><p><em>"I've been suffering from bouts of depression and dealing with an eating disorder and my place is in disarray. This is inspiring."</em></p><p><em><strong>"Good on ya! Cleaning is the first to go when my depression flares and cleaning is one of the things that can feel good in the depths."</strong></em></p><p><em>"Good job, [Roslund]. 1 step at a time, 1 small victory after another, is what will get you through this (: I wish you the best."</em></p><h2>Roslund's experience with depression and struggling to stay on top of household chores isn't all that unique.</h2><p>Feeling as though you have little energy and motivation is a common characteristic for those living with depression. Everyday tasks — from the bigger things like staying productive at your job to the smaller (but still important) things like completing household chores — can feel <strong>impossibly difficult at times</strong>.</p><p class="shortcode-media shortcode-media-rebelmouse-image"><img type="lazy-image" data-runner-src="https://assets.rebelmouse.io/eyJhbGciOiJIUzI1NiIsInR5cCI6IkpXVCJ9.eyJpbWFnZSI6Imh0dHBzOi8vYXNzZXRzLnJibC5tcy8xOTUwNDUxMi9vcmlnaW4uanBnIiwiZXhwaXJlc19hdCI6MTU5NDM2MDQ0M30.kEeuVcjikJ8Y9vlY65Rib8J5Vgc9yQbSBxKGECgHWuk/img.jpg?width=980" id="384a9" class="rm-shortcode" data-rm-shortcode-id="fc7df1b6017496a8d67203137c96d1ab" data-rm-shortcode-name="rebelmouse-image"><small class="image-media media-caption" placeholder="add caption...">Photo via iStock.</small></p><p>That no-energy feeling is one that Roslund knows all too well.</p><p><strong>"When you're depressed, it's a struggle to just get out of bed,"</strong> she explains over email. "It makes other things that other, healthy people do, so overwhelming. It's like trying to run a marathon when you've been in a coma for years."</p><p>That's why Roslund's post resonated so widely. It touches on an important point: Sometimes small victories aren't so small after all.</p><h2>Roslund wants the world to get better at how it addresses mental illness — and that starts with <em>all</em> of us.</h2><p>"We need to be able to talk to each other about our feelings, even the bad ones," she writes. "And we need to be better at listening when someone is trying to talk to you about it, even though it's hard to hear."</p><p>It's a vital message to remember, especially since it's <a href="https://afsp.org" target="_blank">National Suicide Prevention Week</a>. Depression and the risk of suicide are <a href="http://abcnews.go.com/Health/DepressionOverview/relationship-depression-suicide/story?id=4360839" target="_blank">closely related</a>.</p><p><strong>"Be patient with yourself or the person you know who is going through a hard time. And it's important to remember that there is help out there!"</strong></p>