Most Shared
An unexpected energy source may be hiding in plain sight.
True
Gates Foundation: The Story of Food
Let's get straight to the facts: A dairy cow produces around 112 pounds of wet manure every day.
Even on a farm with only 187 cows (the U.S. average), that's nearly 21,000 pounds of cow poop every single day.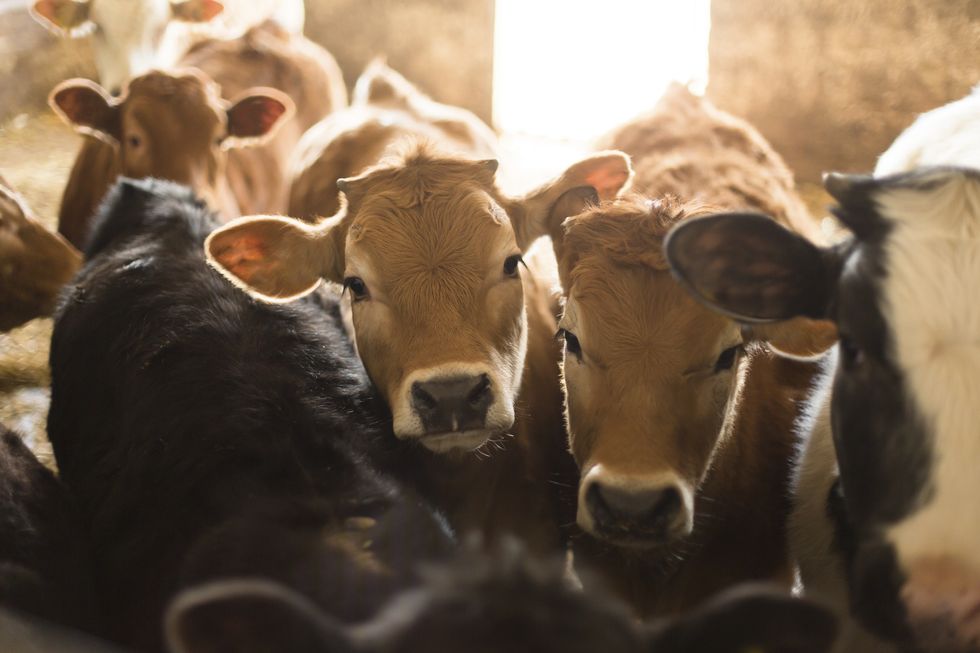 </div></div></div><p>Other livestock also produce staggering amounts of waste. According to <a href="http://www.nationalgeographic.com/people-and-culture/food/the-plate/2016/07/pig-waste-energy-north-carolina/" target="_blank">National Geographic</a>, the 2.3 million hogs in rural North Carolina's Duplin County "generate twice as much waste each day as the city of New York." Holy, um, hog.</p><p>Usually, this waste is a big nuisance for farmers. It takes up space, it smells, it releases methane into the atmosphere ... the list goes on.</p><h2>What if there were a way to harness all that poo for good? </h2><p><strong>Turns out there is.</strong></p><p>The concept is simple, and the technology has been around for decades: Animal waste is collected in a closed container and broken down by bacteria through anaerobic digestion. The resulting methane gas (which naturally occurs in animal waste and would otherwise be released as a harmful greenhouse gas) is then captured and either used for energy on the farm or piped to a power plant in the area. </p><p><strong>Poop goes in, usable energy comes out.</strong></p><div><div class="push-wrapper--mobile" data-card="image" data-reactroot=""><img type="lazy-image" data-runner-src="https://assets.rebelmouse.io/eyJhbGciOiJIUzI1NiIsInR5cCI6IkpXVCJ9.eyJpbWFnZSI6Imh0dHBzOi8vYXNzZXRzLnJibC5tcy8xOTUyMjc4MC9vcmlnaW4uanBnIiwiZXhwaXJlc19hdCI6MTYzODg3Mjg4MH0.Hz2dqroavIFekRLoTlJCJSnDfh1cqO010INRRBAGG6k/img.jpg?width=980" id="5ad71" class="rm-shortcode" data-rm-shortcode-id="1e3749ea4d5aff8b4a4b1ee538d93ae7" data-rm-shortcode-name="rebelmouse-image"><div class="image-caption"><p>Waste must be collected and stored in a closed container to capture the methane. Image via iStock.</p></div></div></div><p>Better yet, the energy obtained from the methane gas isn't the only benefit of using this system. Other byproducts of a biodigester on a dairy farm, for example, include: liquid waste, which can be used for fertilizer or cycled back into the digestion process; fibrous material, used for compost or even animal bedding; and waste heat, used to warm homes and other buildings on-site. </p><h2>Converting animal waste to energy isn't a technology of the future; it's already in use all over the world.</h2><p>In Colorado, the Heartland Biogas project processes both animal and food waste, sending the resulting methane to an interstate pipeline. According to <a href="http://www.npr.org/sections/thesalt/2016/04/05/472673127/how-colorado-is-turning-food-waste-into-electricity" target="_blank">NPR</a>, the facility can process up to 1.7 million gallons of waste at a time.</p><div><div class="push-wrapper--mobile" data-card="image" data-reactroot=""><img type="lazy-image" data-runner-src="https://assets.rebelmouse.io/eyJhbGciOiJIUzI1NiIsInR5cCI6IkpXVCJ9.eyJpbWFnZSI6Imh0dHBzOi8vYXNzZXRzLnJibC5tcy8xOTUyMjc4MS9vcmlnaW4uanBnIiwiZXhwaXJlc19hdCI6MTYxMTEwOTIxNX0.8YtPmLQ0x2KnPMy9oXFiwf0GP0rub2i0bod2flRiNGs/img.jpg?width=980" id="b271b" class="rm-shortcode" data-rm-shortcode-id="26650db903e199877b0426a366cf93c1" data-rm-shortcode-name="rebelmouse-image"><div class="image-caption"><p>Image via iStock.</p></div></div></div><p>In North Carolina, <a href="http://www.nationalgeographic.com/people-and-culture/food/the-plate/2016/07/pig-waste-energy-north-carolina/" target="_blank">hog farmers are generating biogas</a> from waste lagoons — a mixture of solid and liquid waste typically held in uncovered containers. Covering these waste pits allows farmers to capture the valuable methane gas and drastically reduces the overpowering odor these facilities are known for. </p><p>In Germany, the <a href="http://www.cnn.com/2011/10/10/world/europe/elephant-dung-biogas-munich/" target="_blank">Munich Zoo</a> has a small biodigestion program that converts animal waste (mostly from the elephants) to biogas, which fulfills a percentage of the zoo's electricity needs. The waste heat, in this case, is used to warm the gorilla enclosure. Other zoos around the world, including in <a href="https://detroitzoo.org/press-release/detroit-zoo-looks-to-turn-animal-waste-into-energy-with-biodigester-crowdfunding-campaign/" target="_blank">Detroit</a> and <a href="http://biomassmagazine.com/articles/13178/zooshare-holds-groundbreaking-ceremony-for-toronto-biogas-plant" target="_blank">Toronto</a>, are adopting similar approaches.</p><div><div class="push-wrapper--mobile" data-card="image" data-reactroot=""><img type="lazy-image" data-runner-src="https://assets.rebelmouse.io/eyJhbGciOiJIUzI1NiIsInR5cCI6IkpXVCJ9.eyJpbWFnZSI6Imh0dHBzOi8vYXNzZXRzLnJibC5tcy8xOTUyMjc4Mi9vcmlnaW4uanBnIiwiZXhwaXJlc19hdCI6MTYyMzE5MzAwN30.MkP8BiZS2EEskB26jjVb_xPLHoan7D0-UDxBWvlpSgM/img.jpg?width=980" id="7f3c1" class="rm-shortcode" data-rm-shortcode-id="befd0d08c49254c909d77a8ec26e9814" data-rm-shortcode-name="rebelmouse-image"><div class="image-caption"><p>A baby elephant in the Munich Zoo, where waste is converted to energy. Image by Andreas Gebert/AFP/Getty Images.</p></div></div></div><h2>Of course, biodigesters aren't the solution for <em>all</em> of our energy needs.</h2><p>For one, they're incredibly expensive to set up (so much so that the cost is prohibitive for most farmers). According to <a href="http://www.pbs.org/newshour/bb/turning-poop-into-power-not-pollution/" target="_blank">PBS</a>, even a primitive digester only makes financial sense on a farm with 2,000 cows or more. But luckily, some farmers are able to reap the benefits without paying too high of a cost (such as those located close enough to a large biodigestion operation like Colorado's Heartland facility).</p><p>Many critics also point out that converting waste to energy doesn't solve our waste issue at its root — if you're putting food scraps in a biodigester, it would have been better to feed those scraps to humans. If you're putting animal waste in a biodigester, you must consider the resources it took to raise those animals and whether they would have been better spent on less intensive crops for human consumption.</p><p><strong>But if we're going to make any progress in tackling the world's energy crisis, utilizing the waste we're already creating is a great place to start. </strong></p><div><div data-card="html" data-reactroot=""><p><span class="pgs-dpg-btn" data-pgs-descriptor="Help promote biodigestion" data-pgs-partner-id="upworthy" data-pgs-target-id="47d12976-c084-4fe4-9b83-a18b2b6ffd71" data-pgs-target-type="campaign"></span></p></div></div>