More
Someone challenged "bored teens" to clean up local parks and beaches. They absolutely nailed it.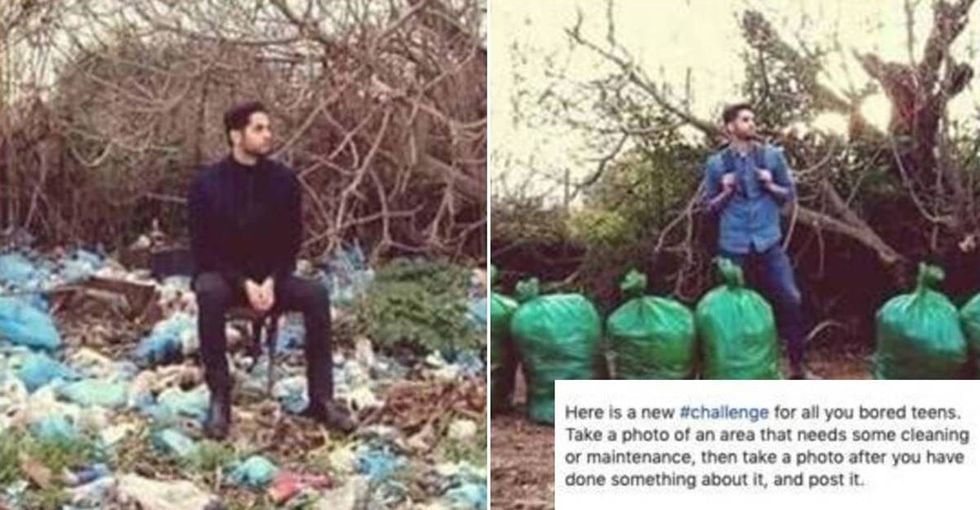 When hashtag social media challenges go viral, they're usually bad news. The Tide pod challenge, cinnamon challenge, and that one where people stuck condoms on their heads were all pretty bad ideas.
But over the weekend, #Trashtag went viral, inspiring young people all over the world to buy a box of garbage bags and post photos of themselves cleaning up their local parks, beaches, and wilderness areas.
It's believed that the trend started on March 5 when Facebook user Byron Román shared a photo of himself issuing a challenge to "bored teens" asking them to "Take a photo of an area that needs some cleaning or maintenance, then take a photo after you have done something about it, and post it."
---
The post has since been deleted but it was shared over 300,000 times.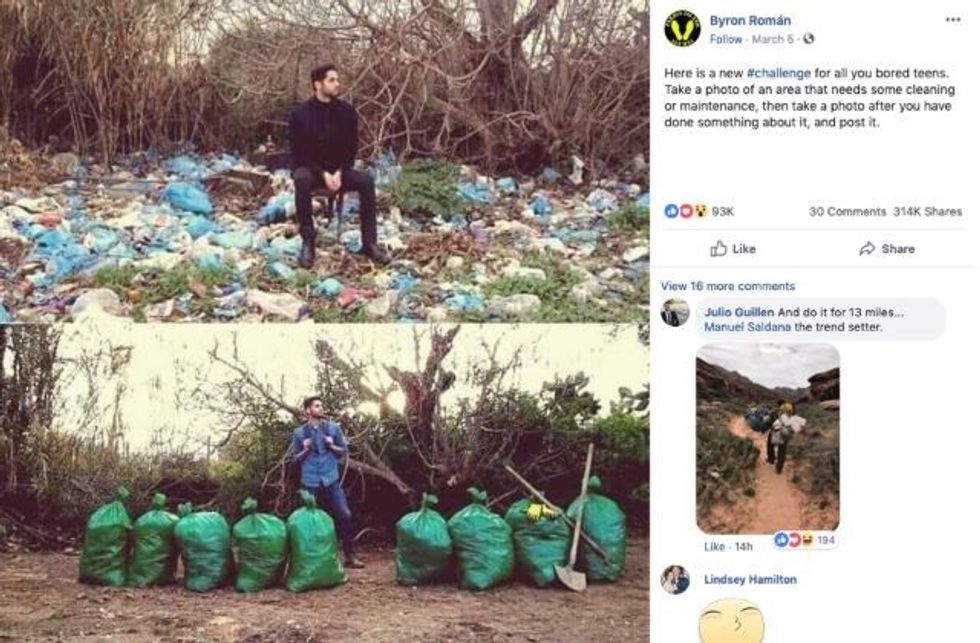 via Byron Román / Facebook
The hashtag campaign dates back to 2015 when UNCO, a company that makes camping gear, started the #TrashTag project to challenge people to pick up 10,000 pieces of trash within a year.
Here are just a few of the hundreds of people who participated in the #Trashtag challenge:
I don't have a before-and-after picture, but here's a couple of pictures of me with my family picking up trash from… https://t.co/NDmDEWcHNC

— Adhiti (@Adhiti) 1552191383.0
Did our part today for #trashtag while offroading in the mountains of California. via /r/pics… https://t.co/Y8lu5c6TJ5

— Steben Stupid (@Steben Stupid) 1552303049.0
Russia had a #trashtag movement for years, they call it "Chistoman" (Clean Man). Participants often dress up as the… https://t.co/lcfWeUODUa

— Mrs. Robot (@Mrs. Robot) 1552328049.0
Along the Potomac River south of Washington, DC #trashtag https://t.co/n2uPL52LZG

— Robbie McNeil (@Robbie McNeil) 1552238741.0
A trend called #TrashTag is becoming popular on reddit where individuals and communities r gathering to collect tra… https://t.co/O5BOJhbUIT

— shahnaseeb | شاہ نصیب 🇵🇰 (@shahnaseeb | شاہ نصیب 🇵🇰) 1552304075.0
Cleaned up a beach on an island off the east coast of Johor, Malaysia. Sat 9th Feb 2019 #trashtag via /r/pics… https://t.co/cmeOSuZfGM

— Steben Stupid (@Steben Stupid) 1552236736.0