Heroes
Rescue dog finally lands 'forever home' after swapping places with shelter director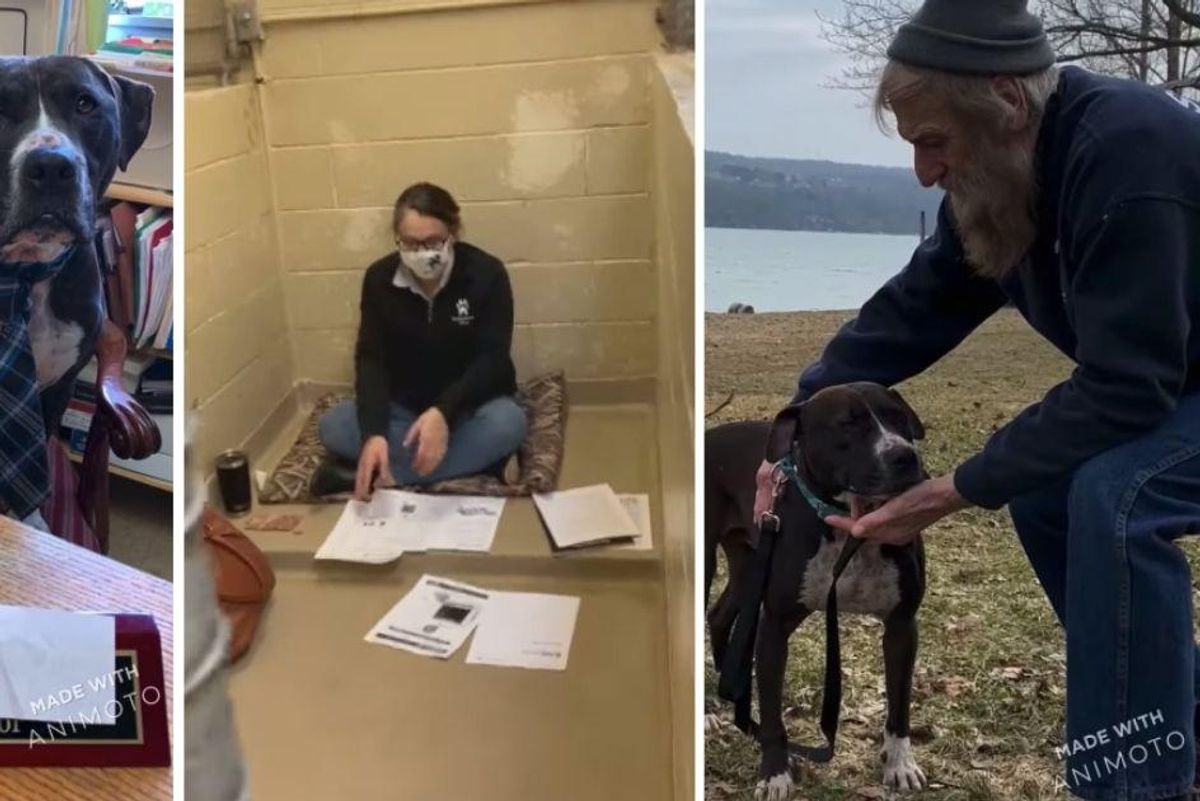 When Max first arrived at the Susquehanna SPCA shelter, the workers didn't think he'd stay long. The 5-year-old pit bull terrier mix was sweet and friendly—which ironically led to a longer than normal stay. As of March 3, he had been at the shelter for 444 days.
"When he came here, we thought he would find his home easily because he is such a nice guy," executive director Stacie Haynes told Fox 5 News. "Turns out, he just kept getting looked over and he wasn't on our radar as an urgent dog to get out because he is just so sweet."

Max stepped into the limelight recently when Haynes swapped places with the dog for a day in an effort to raise awareness about the shelter and educate people about what life is like for a shelter dog. Max got to hang out in Haynes's office and even wore a tie for the day, while Haynes did her work on Max's bed in his kennel (with an occasional bathroom break, some enrichment activities, and people walking by to check her out, she said).
Haynes told WBGN that Max didn't really know life outside the shelter, having been there so long.
---
"He's a very good boy. He's very friendly, he comes up to the kennel wagging his tail," said Haynes. "He just wants to be your friend."
However, shelter life is generally hard on dogs, as they're constantly trying to protect their space from different people coming through. "You're constantly trying to make sure you're safe," said Haynes.
Dogs often become anxious when they're sheltered too long, always on alert and prone to panic. But Max's response was different. The longer he stayed, the more he became depressed and lethargic, sometimes staring at a wall.
Haynes said the 444 minutes she spent in the kennel gave her an extra dose of empathy for Max. Shelters provide a wonderful service, giving animals food and a place to live while trying to find them permanent arrangements, but they aren't meant to be long-term.
"Time feels like it's stood still. It has gone very, very slowly. I can understand why Max is staring at the wall. I found myself sitting here trying to count the links of the chain link," Haynes said of her time in the kennel.
The dog-director day swap got the attention of local news agencies, which led Ed Panus of Moravia, New York to come to the shelter to meet Max. Panus said he felt an instant connection with the doggo.
"I noticed he was almost like the dog I had that passed away here at the end of last year," Panus told WBNG News 12.
So after 450 days living at the Susquehanna SPCA and four months at a different shelter before that, Max has finally found his forever home with Panus.
The shelter had said that when Max was adopted, they would help provide a behavioral specialist to ease him through the transition from shelter life to home life. So far, so good it seems. Panus said Max immediately made himself at home, even jumping right into Panus's human bed.
Congratulations Ed and Max! Hope you both enjoy your new life together.