Culture
Chihuahua that went viral for being a 'Chucky doll' finds his forever home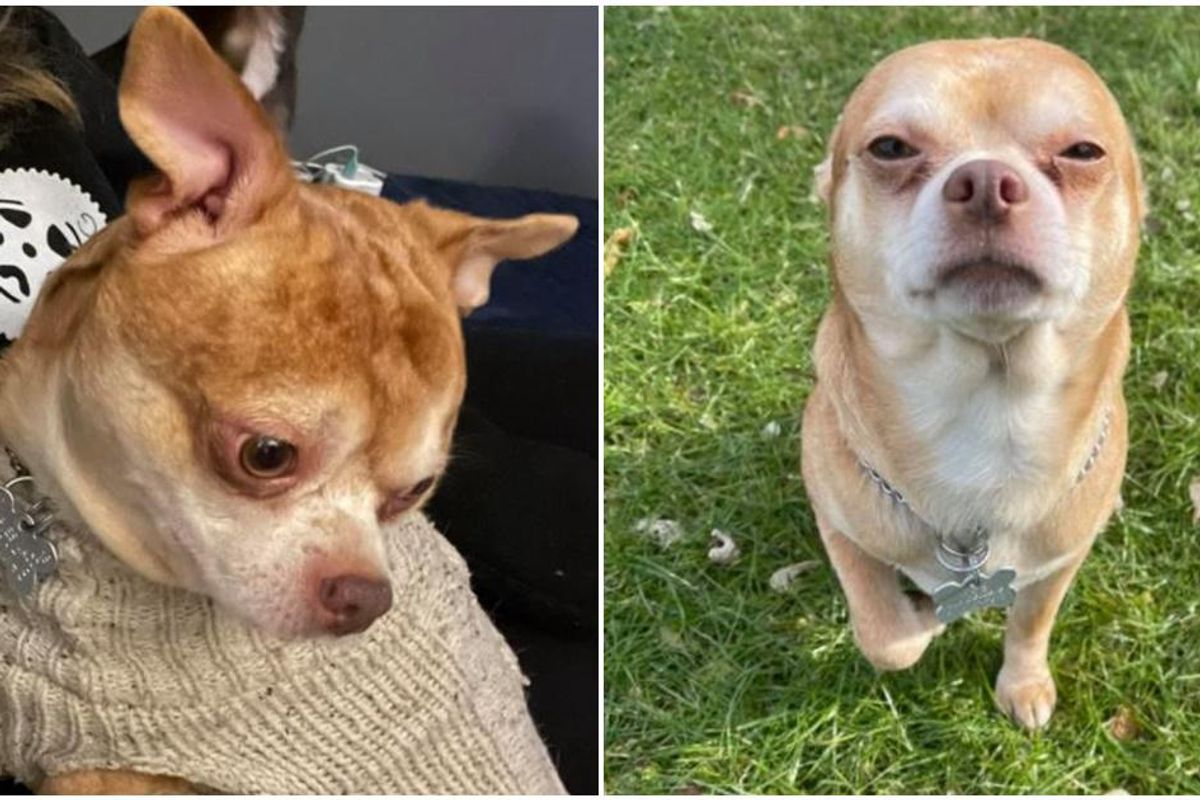 via Tyfanee Fortuna / Facebook
Earlier this month, a Facebook post by Tyfanee Fortuna went viral for her hilarious description of Prancer, a Chihuahua she was fostering. Fortuna was frustrated because she had tried to make the dog seem presentable to potential adopters for months, but nothing was working.

So, she went for broke by taking the brutally honest route, and people loved her candor.
"Ok, I've tried. I've tried for the last several months to post this dog for adoption and make him sound...palatable. The problem is, he's just not," Fortuna wrote. "There's not a very big market for neurotic, man hating, animal hating, children hating dogs that look like gremlins. But I have to believe there's someone out there for Prancer, because I am tired and so is my family."
---
One of the big reasons it was tough finding a home for the dog is because he hates men.
"Prancer only likes women. Nothing else. He hates men more than women do, which says a lot," she wrote. "If you have a husband don't bother applying, unless you hate him."

The dog is also terribly nervous and really, really angry.
"Every day we live in the grips of the demonic Chihuahua hellscape he has created in our home," she continued. "If you own a Chihuahua you probably know what I'm talking about. He's literally the Chihuahua meme that describes them as being 50% hate and 50% tremble. If you're intrigued and horrified at how this animal sounds already, just wait....there's more."
Fortuna went on to describe the dog in terms familiar to horror fans, calling him a "chucky doll in a dogs body" and a "vessel for a traumatized Victorian child."
The post went viral on Facebook earning over 70,000 shares. Although it was a great read for a lot of people, it still seemed hard to imagine anyone brave enough to adopt such an unpleasant beast.

However, when Ariel Davis, 36, from New Haven, Connecticut read the post, it inspired her to reach out to the Second Chance Pet Adoption League, located in Morris Plains, New Jersey, the shelter managing Prancer's adoption.
Davis thought that Prancer reminded her of an old dog she once had.
"I had a dog that I adopted probably about seven years ago and I raised him from a puppy and he was a Chihuahua/Jack Russel Terrier mix," she told Today. "He had a lot of the same qualities as Prancer, he was a little neurotic and he barked a lot and he didn't work well with other people and other animals. I spent a lot of time working with him and understanding his personality and learning about myself through him."
Unfortunately, Davis had to give up both of her dogs to loving families when she went to rehab a few years back for marijuana addiction.
But after being clean for three years, she thought she was able to care for a dog again. "I read the article, I connected to it, and I was like you know what, why not? I'll just send them an email. What's the worst that could happen?" she said.
Davis thought she had the perfect home for the dog because as a lesbian with a female roommate, so there's not a lot of men coming around the house. "It just felt like a perfect match… and the rest is history," she said.
Davis and Prancer have been living together for a week and things are going pretty well.

"He is a small, neurotic dog and it's been hard coming from a chaotic home," she said. But he does great on walks and has made a wonderful impact on Davis' life. "We're one week into the adoption and he's really changed my life, too."
Davis and Prancer look like they have a wonderful future together.
"He's helped me get out of the house actually and we go on walks and I want to take him to the beach," she said. "He's helping me get out of my shell and one of my goals is to help him become more adjusted to seeing other people."