Well Being
Randy Rainbow asks all the right questions in parody song interview with President Biden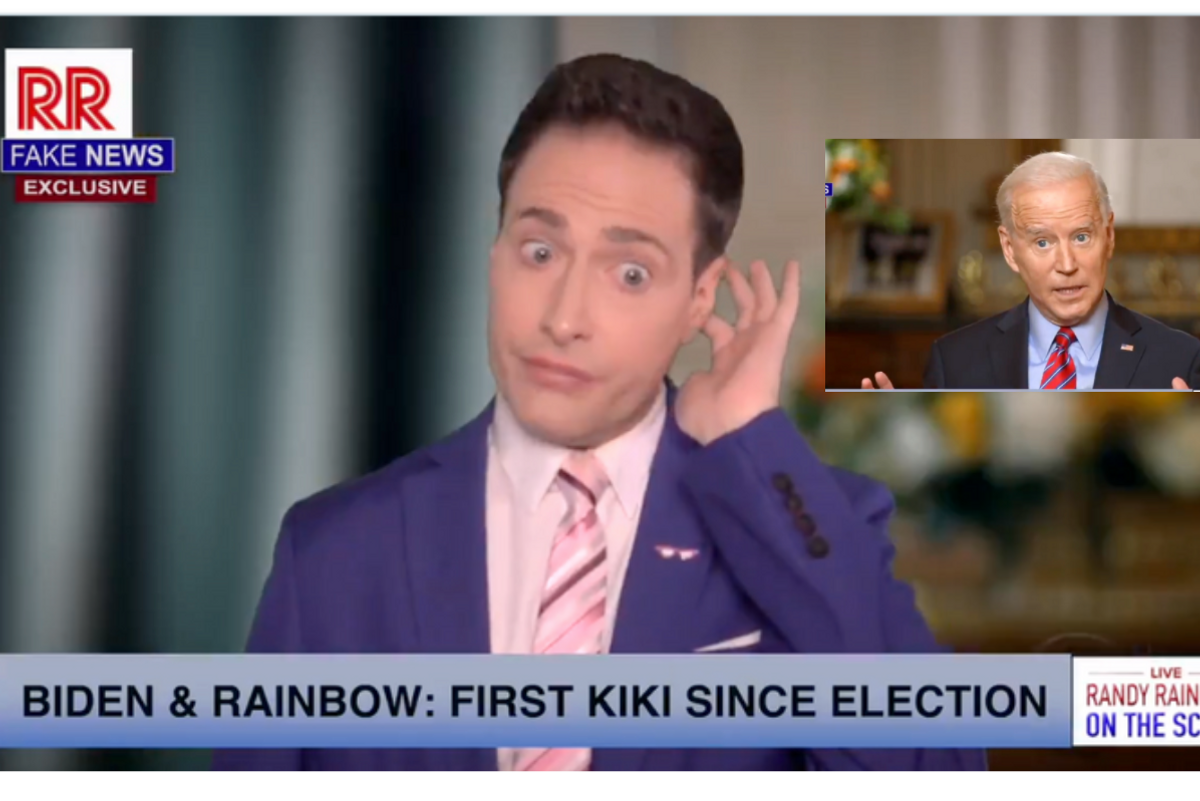 Randy Rainbow made a name for himself launching hilarious parodies during the Trump presidency, as he brilliantly transformed musical theater canon into political theater cannons. He's also helped many of us get through the past year of the pandemic by changing classic musical hits like "Gee, Officer Krupke" and "Put on a Happy Face" to "Gee, Anthony Fauci" and "Cover Your Freakin' Face."
Some of us have wondered if the comedian would have enough material to keep up this kind of comedy in the post-Trump era, but there was no need to worry. Today, he released his first Biden-themed parody since the inauguration, and it is simply delightful.
Randy kicks the video off joking about his post-Trump comedy challenges, saying to President Biden, "Could you maybe at some point just, like, curse or say something completely loony tunes or offensive? The other guy used to do that, and it just made this whole thing a little funnier."
---
After lightly poking fun of Biden's middle name, dozing off while the president talked about the vaccine situation, then having a momentary nightmare, Randy starts belting some impressive 1950s Chordettes harmony to the tune of "Mr. Sandman":

Mr. Biden
Bring my vaccine
Keep me protected from COVID-19
Tell me the trick to how I might earn a
Fix of that magic Pfizer or Moderna
Biden
Gimme a poke
They call you "sleepy" but you're pretty woke
I'm so tired of quarantine
Mr. Biden, bring my vaccine...
(It's way better when you listen to it.)
Enjoy:
One year in quarantine got me like... #MrBiden #BringMyVaccine 🎶💉🙏🏻 https://t.co/QKYaEhhtay

— Randy Rainbow (@Randy Rainbow) 1615300201.0
Randy speaks to what so many of us are feeling right now, as we see the finish line with the country poised to have enough vaccines for every adult by the end of May. It'll take months more to actually get shots in everyone's arms, and for many of us, our turn cannot come quickly enough. After a year of diligently wearing masks and staying distanced, we're ready for all the hugs, and all the friends over for dinner, and all the travel, and all the normal life things we will never again take for granted.
And when "The Robinettes" sang "Oh, I might murder someone if I see another Zoom"? I don't know about you, but I felt that in my bones.
And wanting to plant a big ol' kiss on Dr. Fauci? Felt that too. Speaking of which, if you missed this one it's also worth a viewing:
🎶What a guy, what a guy, what a lovely guy, like he only wants us not to die...🎶 💘😷 #GeeAnthonyFauci #Fauci https://t.co/4ffaONm4aG

— Randy Rainbow (@Randy Rainbow) 1595429483.0
Randy Rainbow has earned himself the title of King of Parody these past few years, and fans are sharing their hopes that he'll receive some kind of formal recognition for his talents. The Mark Twain for American Humor has been bandied about as an idea, which seems perfectly fitting since Twain himself was a satirist and parodist.
Even during the darkest times, laughter is healing. Thanks, Randy Rainbow, for helping provide it during a difficult era. Glad to see you'll still be with us as we turn the corner into (hopefully) better days.