Pop Culture
Paul Rudd hit Conan O'Brien with a prank he's been doing for 18 years—and still pulled it off
Conan genuinely didn't see it coming.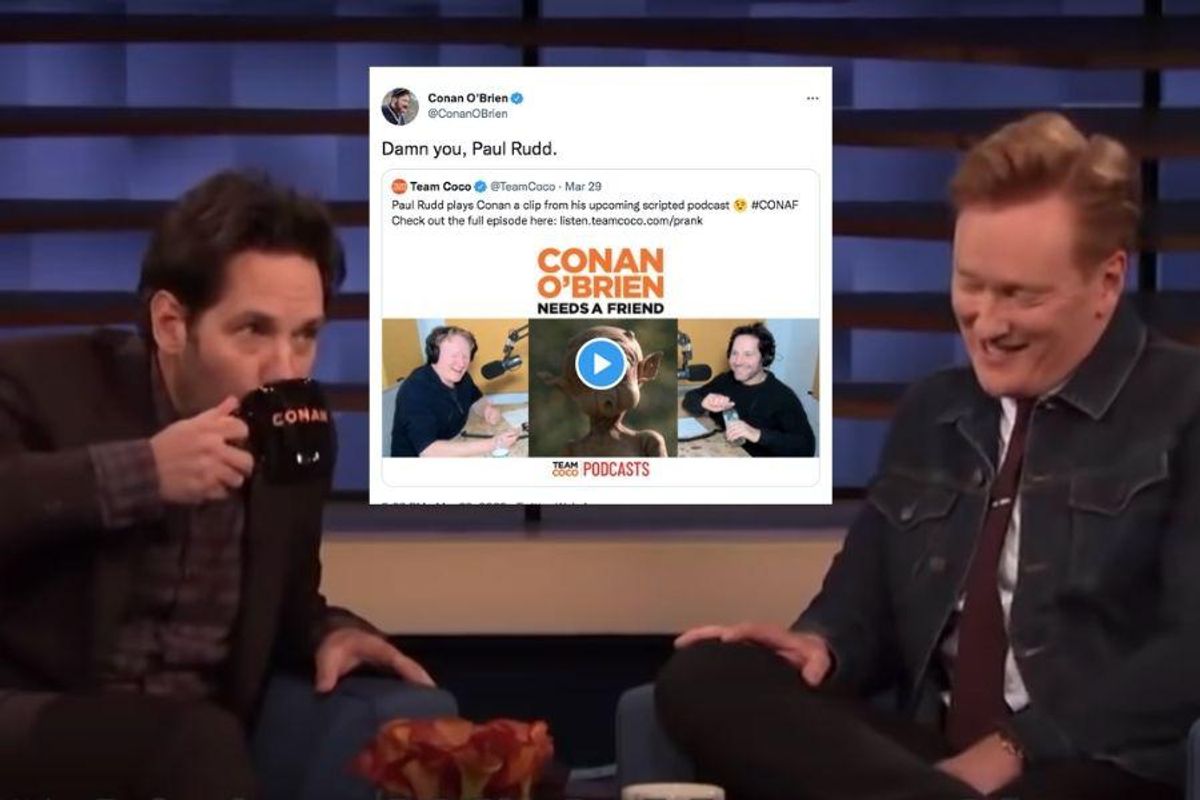 Paul Rudd is a prolific and perseverant prankster. Just ask Conan O'Brien.
In 2004, Rudd was a guest on Conan O'Brien's talk show and he told O'Brien he'd brought a clip of the finale of "Friends" to share with him and the audience. He set up what the clip would be, but when O'Brien cut to it, what played was a scene from the cheesy 1988 film "Mac and Me."
Paul Rudd's First "Mac And Me" Prank | Late Night with Conan O'Brienwww.youtube.com
It was cute and silly and the beginning of a nearly two-decade-long running gag.
In the years since, Rudd has pulled the "Mac and Me" clip out around a dozen times on Conan O'Brien's show while promoting various projects, from "Anchorman 2" to "Ant-Man." Sometimes he starts to show a clip from an actual film he's in, which then suddenly switches to the "Mac and Me" scene. And Paul Rudd has remained deadpan, every time.
---
After so many years of Rudd pulling this prank, you'd think Conan O'Brien would anticipate it. And indeed, he does know to expect it on his talk show. But Rudd managed to surprise O'Brien this week by pulling the gag with a twist—playing the audio of the clip on O'Brien's podcast, "Conan O'Brien Needs a Friend."

Rudd told O'Brien that he'd been working on a podcast project of his own, a four-episode narrative on Audible. He described how excited he was to get to record it with some of his friends, including Adam Scott and Ken Marino. He explained the basic premise of the series, with the characters and background story. He said he brought a clip from the series to share—and this time, O'Brien really didn't see the prank coming.
Watch:
Damn you, Paul Rudd.https://twitter.com/TeamCoco/status/1508886962660274176\u00a0\u2026

— Conan O'Brien (@Conan O'Brien) 1648600736
O'Brien's repeated "You can't do that on a podcast!" is hilarious. He genuinely wasn't expecting it this time, which makes it all the more delightful.
How dedicated do you have to be to keep a gag going for 18 years? And to make up an entire series just to get O'Brien to fall for it? The guy is a legend.
Watch the supercut of all the times Rudd has pranked O'Brien's audience with "Mac and Me" to see how he's managed to keep it going for so long:
Totally predictable after a while, but honestly? It's Paul Rudd. Even when you know it's coming, it's still great. Moving the gag to the podcast realm was just extra next level. We wouldn't expect anything less.