Culture
Obama responded to the Atlanta shooting with a renewed call for 'common sense' gun control laws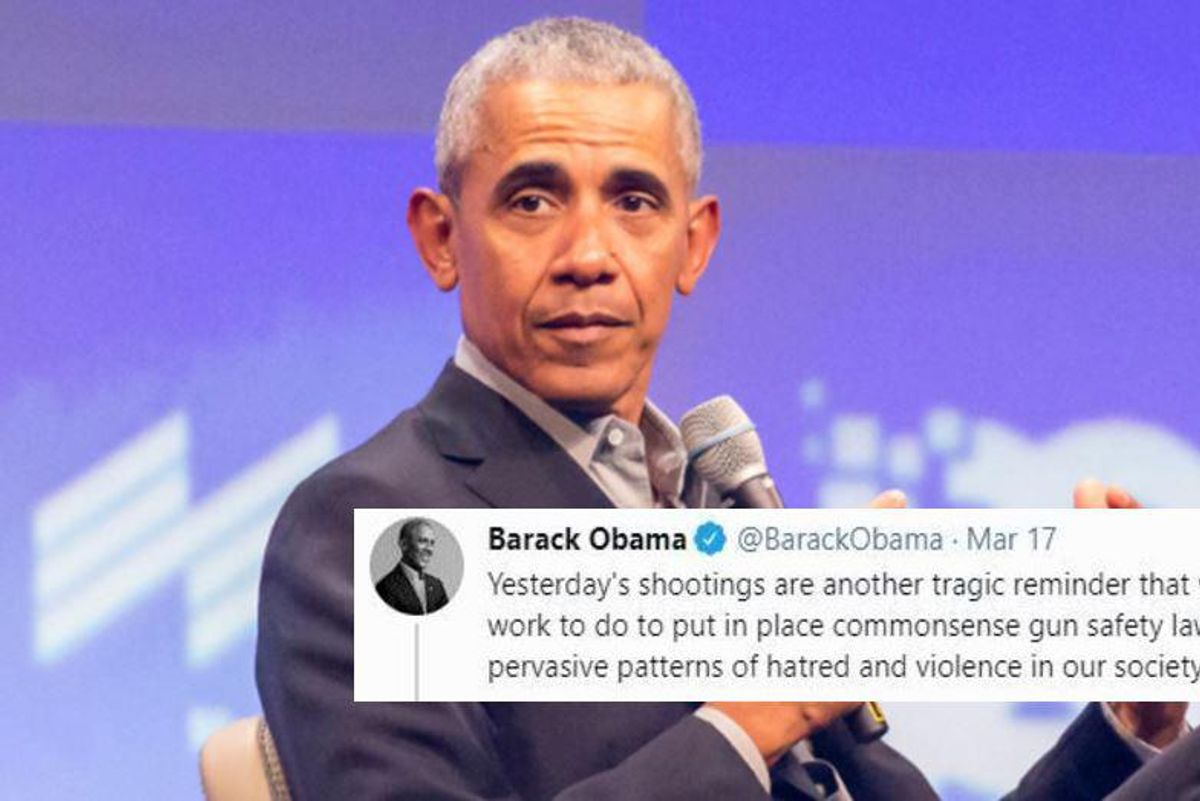 The COVID-19 pandemic has been a grim time in American life, with death and illness dominating the national consciousness. But there has been one thing notably absent from the nightly news: stories of public mass shootings.

A database compiled by USA Today, The Associated Press, and Northeastern University found there were only two public mass shootings in 2020 and both occurred before the lockdown. That's a steep drop off from 2019 and 2018 when there were nine and 10 such shootings, respectively.
Public mass killings are defined by the database as events where four or more deaths occur, not including the shooter, and are not instances of domestic violence or associated with gang conflict, drug trade, or other criminal activity.
---
According to researchers, there were two major reasons for the decline. First, people have been leery about going out in public for the most part of 2020, creating fewer opportunities for slayings at schools, workplaces, or movie theaters.
Second, Americans were so focused on other tragedies that shooters were less likely to consider vicious acts.
"The thing about mass shooters is they tend to be people who feel that they are the victims of injustice. Well, lots of people now are suffering, not just them," James Alan Fox, a criminologist, and professor at Northeastern University, told AP.
"It's hard to say right now that your own plight is unique or unfair. It may not feel good, but there's certainly reason for it. And it's not because of something someone's doing to you. It's really the pandemic, which is a thing not a person," Fox continued.
The murder of eight people at Atlanta massage spas on Tuesday was a grim reminder of the type of violence that was rampant in pre-pandemic America. It felt like a wake-up call to the country saying that a return to public life may mean a resurgence in these senseless acts of violence.

Former President Barack Obama, a staunch supporter of gun control measures, used the Atlanta tragedy to call on Americans to renew their commitment to gun-control policy.
"Even as we've battled the pandemic, we've continued to neglect the longer-lasting epidemic of gun violence in America," Obama said on Twitter Wednesday.

"Although the shooter's motive is not yet clear, the identity of the victims underscores an alarming rise in anti-Asian violence that must end," he continued.
"Yesterday's shootings are another tragic reminder that we have far more work to do to put in place common sense gun safety laws and root out the pervasive patterns of hatred and violence in our society," he said.
Obama's call for the country to enact sensible gun laws is a policy priority that reaches back to his days in the oval office. The 2012 Sandy Hook shooting in Newton, Connecticut caused him incredible anguish.
The failure of Congress to address the gun violence problem with gun control measures caused him further frustration.
"I will say that was not only maybe the saddest day of my presidency, but when Congress failed to do anything in the aftermath of Sandy Hook was probably the angriest I ever was during my presidency," Obama said.
"I was disgusted and appalled by the inaction because you had parents who had just lost their children sitting in front of senators and asking for very modest, reasonable approaches," he continued.
Obama has an ally in the White House with his former Vice-President, President Joe Biden. Currently, a bipartisan group is pushing measures that would require background checks for all gun purchases.

Biden has also called for "universal background check legislation, requiring a background check for all gun sales with very limited exceptions, such as gifts between close family members."
The president also wants to "keep guns out of dangerous hands" through background checks and by closing "other loopholes that allow people who should be prohibited from purchasing firearms from making those purchases."
As the country prepares to get back to normal, let's hope that one far-too-common aspect of American life, public mass shootings, is something we leave in the pre-pandemic past.