More
A 4th-grader explains to class what having autism is like. The teacher was stunned by their reaction.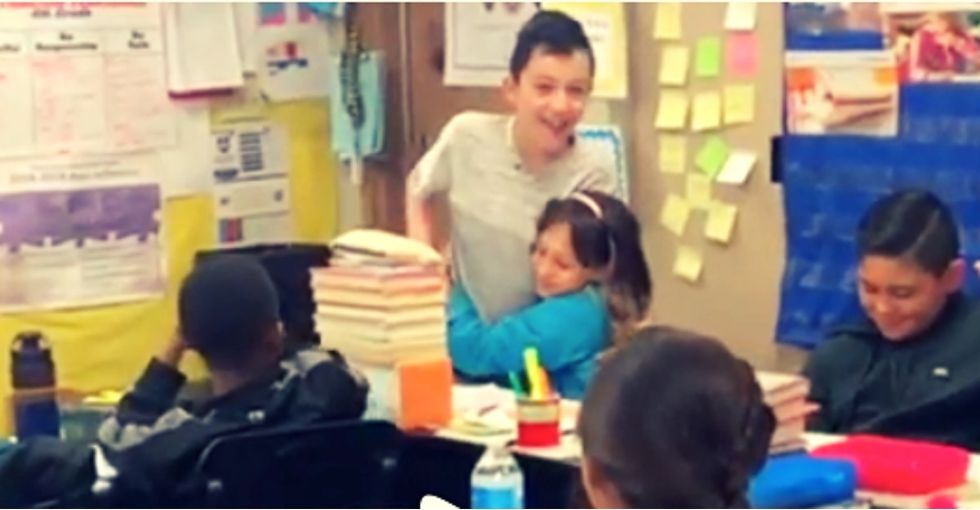 When 4th grader Rumari asked his teacher if he could address the class, she had no idea what was about to occur.
Lisa Moe wasn't sure what to expect when one of her 4th graders raised his hand and asked to address the class.
Rumari has autism, and he decided he wanted to share with his classmates what that means for him. He got up in front of the class and talked about how it's important to make kids with autism "feel like a somebody." He pointed out that kids might think he was weird sometimes for the way he talks or for some of the "stimming" behaviors he exhibits. He gave an example of how he sometimes hits his open palm with his opposite fist, and suggested that other kids might want to do it to make themselves feel better.
---
Ms. Moe started filming when she realized something beautiful was happening in her classroom.
The class clapped for Rumari, and then kids started raising their hands.
Rumari got excited when students raised their hands, thinking they were going to ask him some questions. But what they did was shower him with praise and positive reinforcement.
One girl asked if she could give Rumari a hug.
Another said, "I think it doesn't matter what a person does or if it may look weird, or if they might make weird noises sometimes. That's okay! It's them. And it doesn't matter. They're good just the way they are, like you, Rumari."
Another student told him that she doesn't think it's weird when he does what he does. She thinks it's cool. Other students agreed.
"I think you're amazing, pal!" another student exclaimed.
More hugs and words of support followed, and to see this group of kids offering so much love and inclusion is so heart-warming. You just have to watch:
Rumari's teacher was impressed by Rumari's courage and her other students' reactions to him.
"Rumari has faced challenges and barriers beyond what any of us will ever be able to fully understand," Ms. Moe wrote on Instagram. "But today, Rumari stood in front of the classroom with full confidence, enthusiasm, and courage and showed us that there is no challenge or barrier that can stop him. He brought to life the meaning of 'Yes I Can' as he explained to his fellow classmates that he was autistic. With full knowledge, he explained the differences that may come when being autistic and how the spectrum is vast. He courageously spoke about his own differences and quirks, while defining what it means to make everyone feel like a someone. "
"Without any of the students knowing," she continued, "I hit record and captured the final moments of Rumari speaking to us and the raw, authentic reactions of the rest of my students. It is then, that I lost my ability to hold back the tears. It is then, that the daily lessons to 'Be Kind' and to remember 'Yes I Can' were brought together."
Beautiful job, Miss Moe. May all classrooms be as inclusive and encouraging as yours.