Most Shared
Michelle Obama shared how her mom keeps her humble, and people are loving it.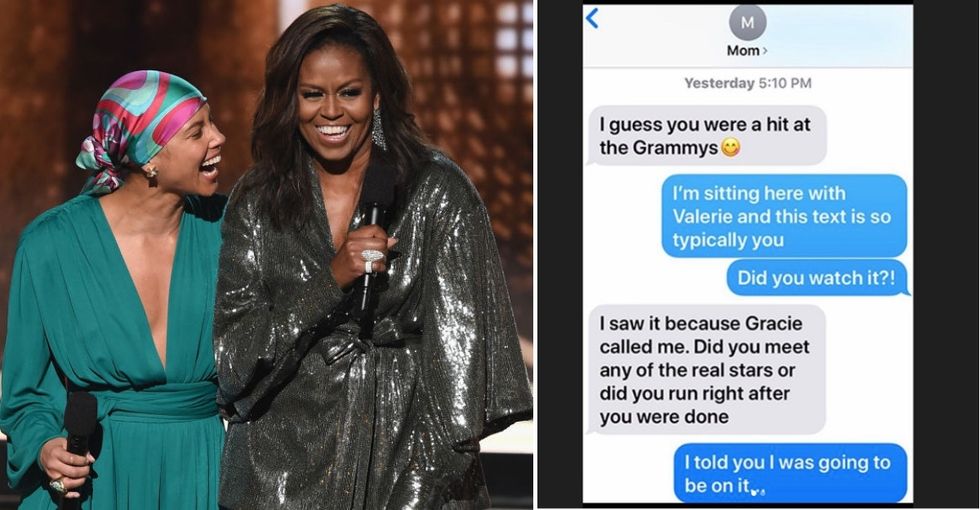 This text exchange between the former First Lady and her mom is the best thing you'll see today.
People adore Michelle Obama because she is smart and dignified, yet incredibly down to earth. She's the kind of person you want to sit and chat with over coffee for hours (before begging her to take you home and adopt you, perhaps).
It's social media posts like this one that make people adore her realness—a quality she clearly gets from her mama. In an Instagram post captioned "When your mom doesn't think you're a 'real' celebrity...," Obama shared a text exchange with her mom after her surprise appearance at the Grammy Awards.
---
[rebelmouse-image 19397849 dam="1" original_size="987x687" caption="Instagram/Michelle Obama" expand=1]Instagram/Michelle Obama
"I guess you were a hit at the Grammys," her mom texted with a smiley emoji.
"I'm sitting here with Valerie, and this text is so typically you," Obama responded. "Did you watch it?!"
"I saw it because Gracie called me," quipped her mom. (Translated from mom language, that's "Why did I have to find out from someone else that my own daughter was on a huge awards show, hmm?")
Then she threw the best Mom Shade ever: "Did you meet any of the real stars or did you run right after you were done."
Ouch, Mom. Ouch.
The woman who changed your diapers and endured your pre-teen nonsense gets to call your stardom into question—even when you're Michelle Obama.
Michelle Obama is one of the most recognized women on the planet. She was named the Most Admired Woman by a Gallup poll last year. She lived in the White House alongside the leader of the free world for eight years straight. There's a reason people went ballistic when she showed up on stage at the Grammys.
But Obama's mama's gonna mama, just like everyone else's. And she made sure her superstar daughter wasn't getting too full of herself by teasing her about not being a "real star."
Obama then tried to tell her mom that she had told her she was going to be on the show, but that got shut down real quick too. "No you did not," her mom texted. "I would have remembered that even though I don't remember much."
Classic mom move. Nothing Obama can say to that but, "I thought I told you."
But the best part was her mom's one word response to Obama saying that she was a "real star."
Gotta hand it to Michelle—she tried.
"And I am a real star...by the way..." she said to her mom. And then her mama responded with one glorious, show-stopping word:
"Yeah."
BWAAHAHHHAHAAAA!
[rebelmouse-image 19397850 dam="1" original_size="603x688" caption="Instagram/Michelle Obama" expand=1]Instagram/Michelle Obama
This will never not be amazing. The post has more than 2 million likes and tens of thousands of comments of people who recognize their own mothers in these texts.
Nobody can put you in your place faster than your mama, and we love M.O. for sharing a glimpse into her hilariously real exchange with hers.