Sponsored
No Field Trips? No Problem. How Teachers Are Taking Students on Adventures Without Leaving the Classroom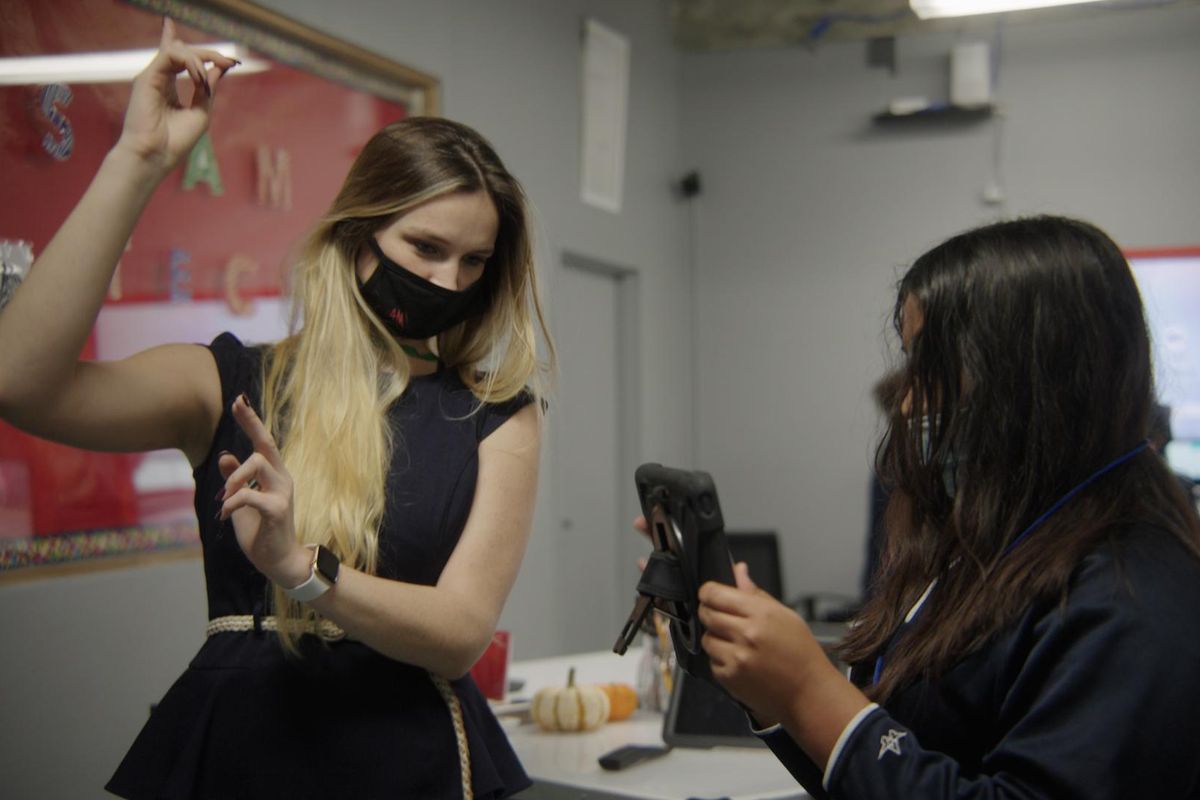 Via Verizon
True
Right before the pandemic, Rebecca Roque, a STEM teacher at Sports Leadership and Management (SLAM) Academy middle school, realized many of her students had never been to the beach—even though they live in Miami, FL.
"Many of our students come from low-income households," said Roque. "So we thought, if they had never even been to the beach, because of lack of access to transportation or otherwise, there's no way they've been outside of the U.S. So we wanted to find a way to expand their imagination and view of how big the world is."
Since March 2020, when remote learning commenced, many students have struggled to stay engaged in their studies. Roque and millions of teachers across the country had to find ways to inspire creativity and get their students excited about education again. So Ms. Roque took them out of this world entirely—and into space—in virtual reality (VR).
Roque's students began experimenting with Visceral Science, a VR app that allows students to virtually explore outer space in a multiplayer environment and learn how stars, gravity, and planetary orbits work. Through the immersive experience, her middle school students were also to grasp and visualize more difficult concepts, such as force and motion, energy conservation, and thermonuclear reactions.
"Being able to insert this gamification and learning experience into my curriculum was a game-changer, both in terms of teaching a hard subject and also with getting students excited to learn it," said Roque. "Anything that takes kids into an immersive experience is the future of learning and I can't wait to do more of it."
Roque's classroom had access to this technology and other innovative VR/AR learning apps as part of the Verizon Innovative Learning schools program. Since 2012, the program has equipped students and teachers at more than 500 Title I schools like SLAM Miami with technology, access, innovative learning programs, and professional development. The school this year also unveiled one of the first Verizon Innovative Learning Labs powered by 5G in the country—a space equipped with emerging technology like 3D printers, VR and AR devices, robotics and circuit-building supplies, powerful computers for model making, and 5G technology to help students get the most out of digital curricula.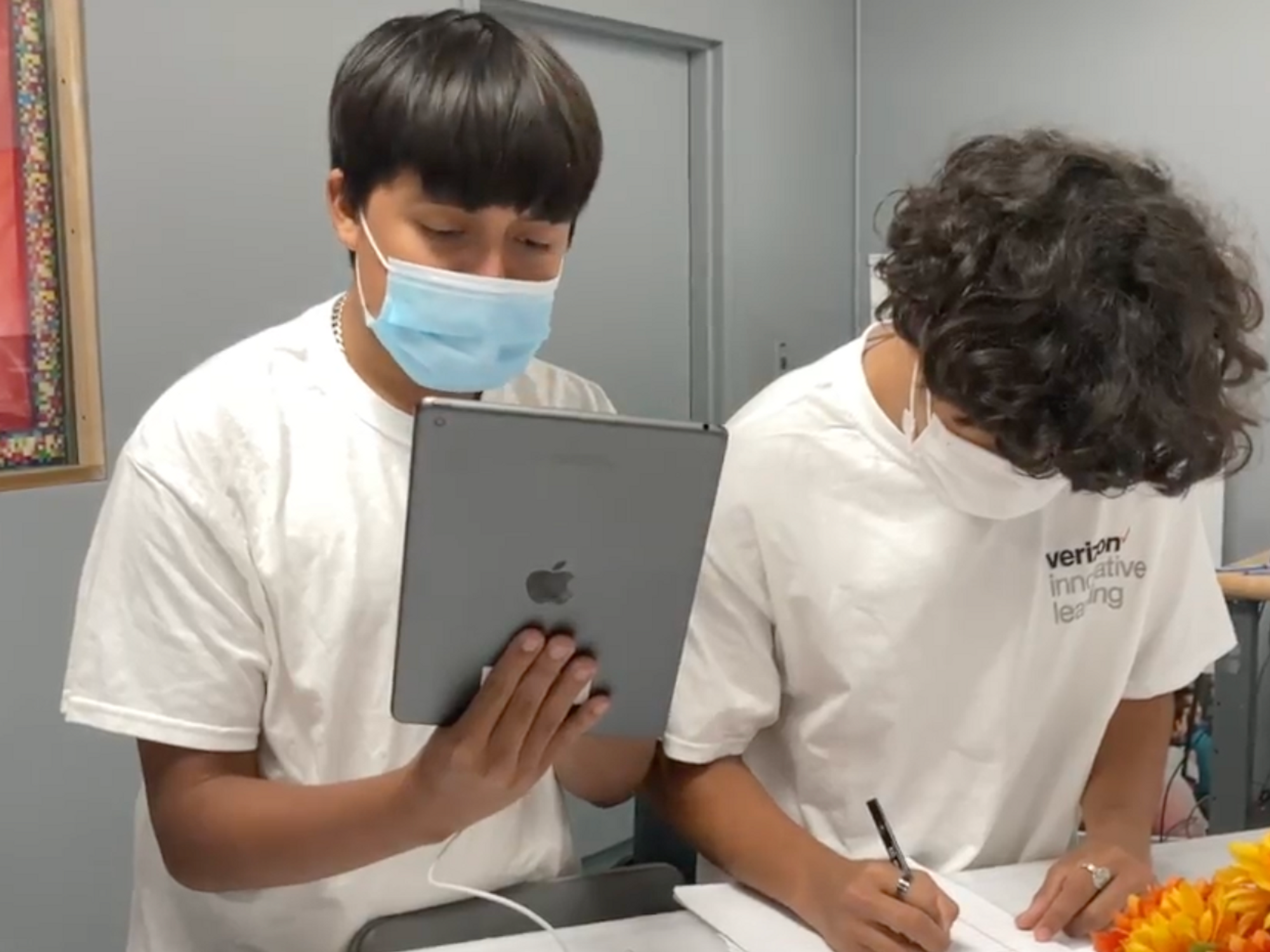 Students Fabian and Kenneth use Mappers Delight to learn about different types of musicVia Verizon
It is stories like this one from Ms. Roque and her classroom that inspired Verizon to take the technology access provided by the Verizon Innovative Learning program to the next level and support more teachers who were grappling with the challenges of remote learning. The result is the launch of the Verizon Innovative Learning HQ education portal, a free online resource for educators that supplements existing lesson plans and gives them more access to next-gen digital tools to enhance the learning experience. The portal also features professional development courses aligned to research-backed micro-credentials.
Teams from Columbia University, New York University, Arizona State University, and other top institutions and nonprofits collaborated with Verizon to design sophisticated lessons that are easy to use, flexible and aligned with standards for integration into existing curricula. This all comes at a time when technology is experiencing a new renaissance of importance for today's classrooms.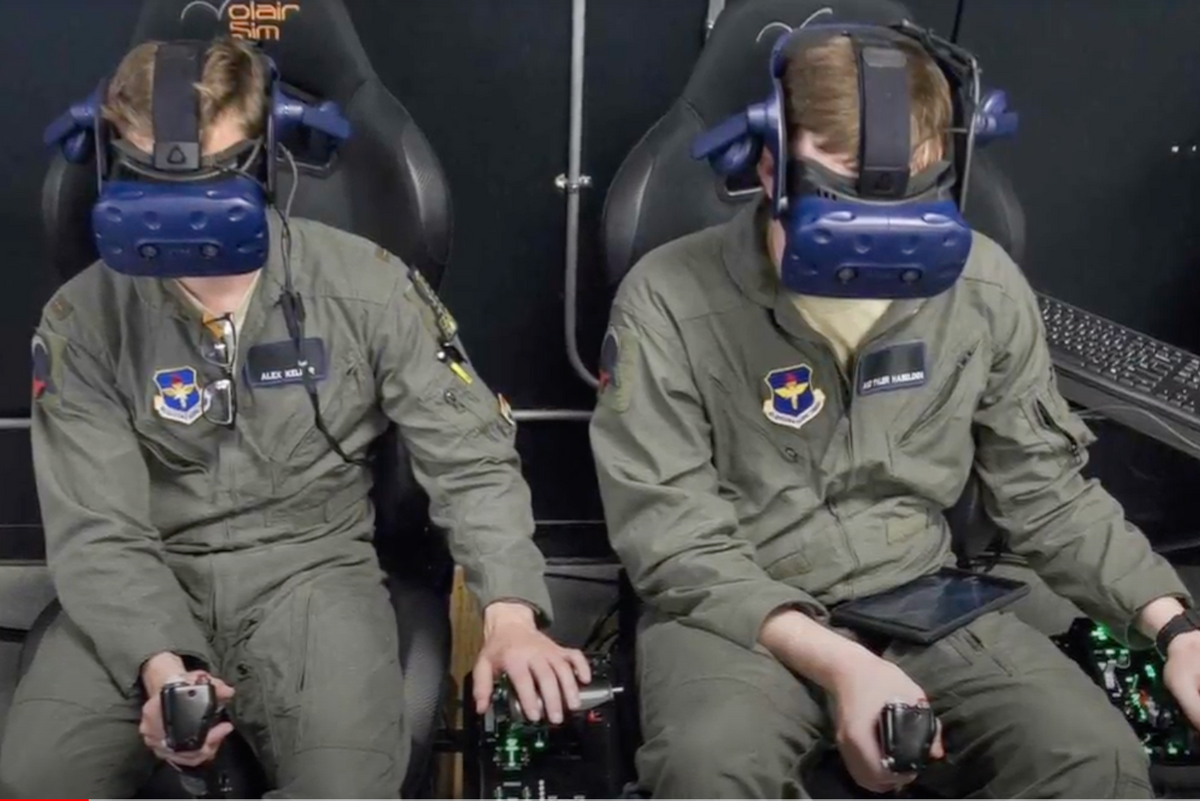 Students simulate how to fly a planeVia Verizon
Christopher Green is another teacher who is using the Verizon Innovative Learning HQ tools, lessons, and immersive technology to captivate students at home and bring lessons to life in the physical classroom at Jeremiah Rhodes Middle School in San Antonio, Texas.
When Mr. Green was a student, his U.S. history textbooks mostly featured white people. As a young man of color, he struggled to connect with the material. Now as a history teacher in San Antonio, Texas, he has the opportunity to show his students that Black and Brown people have made and continue to make history, too.
Green now uses the Verizon Innovative Learning HQ's UNSUNG app to immerse his class in interactive stories that resonate and feel relevant to his tech-savvy students. Students don goggles to interact with Storybox, a maze of AR "rooms" that pop up on a desk or wall. Inside, 3D puzzles and short essay questions test students' knowledge of U.S. history. The answers unlock additional rooms where the young people talk to the avatars of Black artists and activists who were instrumental in cultural movements like the Harlem Renaissance.
Through the app, Green's students have conversed with icons like Ella Sheppard and Odetta Holmes to learn about their contributions to American history. Created by nonprofit Movers and Shakers NYC in collaboration with Verizon, the app's content aligns with Common Core standards which makes it easy to integrate into existing curricula.
Green believes there are enormous academic benefits to integrating next-gen technologies like AR/VR into the classroom, especially for digitally native young people.
"One of the important things about using tech in the classroom is figuring out ways students can be creators and tell stories about themselves and their ancestors," he said.
Though students are mostly back in person, teachers can still take advantage of Verizon Innovative Learning HQ to help bring more next-gen lessons to their classrooms, and unlock their own creativity and curiosity along the way.
"Access to technology makes students think bigger, dream bigger and it makes them the greatest resources in the classroom", said Ms. Roque. "When you trust kids to take technology and run with it, you'd be surprised by the results and all that they can learn and the places they can go.
To learn more and sign up for a free teacher account, visit verizon.com/learning.