More
Native Americans call Trump's Wounded Knee tweet 'callous,' 'disrespectful,' and 'racist.'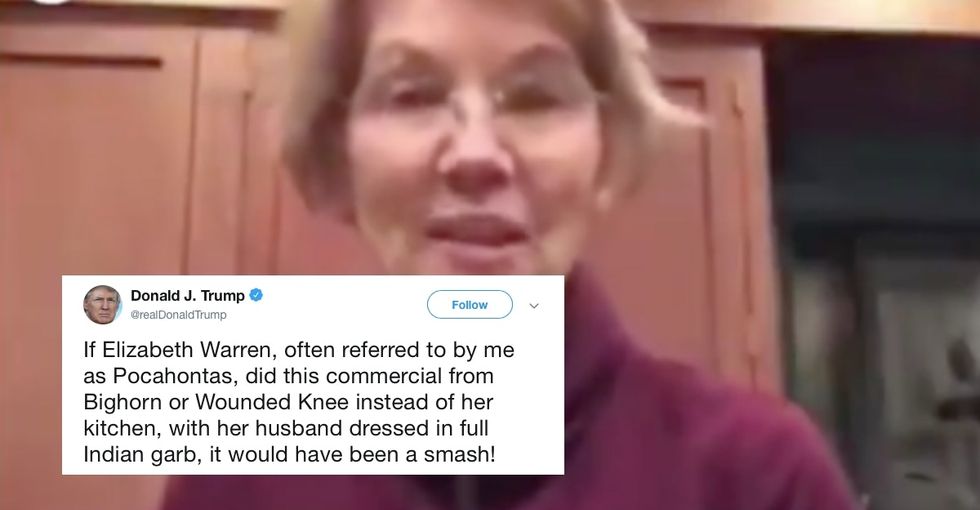 President Trump invoked two Native American tragedies to insult Senator Elizabeth Warren on Twitter, causing decent people everywhere to cringe.
At this point, it should be painfully obvious that you shouldn't use the tragic history of Native peoples as a weapon to attack your political enemies. And yet, here we are.
On January 13, 2019, President Trump shared a clip from an Instagram Live video of Elizabeth Warren, in which she grabs a beer and thanks her husband after announcing that she's running for president in 2020. Trump commented, "If Elizabeth Warren, often referred to by me as Pocahontas, did this commercial from Bighorn or Wounded Knee instead of her kitchen, with her husband dressed in full Indian garb, it would have been a smash!"
---
If Elizabeth Warren, often referred to by me as Pocahontas, did this commercial from Bighorn or Wounded Knee instea… https://t.co/iBFJ5jsr2F

— Donald J. Trump (@Donald J. Trump) 1547434379.0
For those who may not know, Wounded Knee was the site of a massacre in which U.S. soldiers slaughtered 150-300 Native Americans, nearly half of them women and children. And the Battle of Little Bighorn, though a momentary victory for Native Americans, is still a painful reminder of the oppression of the indigenous people of America, which only became more intense after the event.
The largest and oldest American Indian and Native Alaskan organization in the country has denounced Trump's tweet.
The National Congress of American Indians is "the oldest, largest, and most representative American Indian and Alaska Native organization in the country," and those who lead the NCAI had some words for the president after his tweet.
NCAI President Jefferson Keep said on behalf of the organization:
"We condemn in the strongest possible terms the casual and callous use of these events as part of a political attack. Hundreds of Lakota, Cheyenne, and Arapaho people lost their lives at the hands of the invading U.S. Army during these events, and their memories should not be desecrated as a rhetorical punch line."
Rodney Bordeaux, Chairman of the Rosebud Sioux Tribe and NCAI Great Plains Alternate Area Vice President also said:
"The President referenced the Wounded Knee Massacre, one of the darkest and most tragic chapters in the history of the Sioux Nation, to mock Senator Warren. On behalf of the Rosebud Sioux Tribe, I condemn President Trump's racist and disrespectful tweet about this brutal incident, in which an estimated 300 unarmed men, women, and children were rounded up and slaughtered. President Trump should remember that the United States has broken and continues to dishonor the treaties of peace made with our nation and other tribal nations of this country, and he should apologize immediately to the people of the Rosebud Sioux Tribe and other Lakota, Dakota, and Nakota nations for his shameful and ignorant misstatement."
Others have called out the president's insensitive and callous remarks as well.
Ruth Hopkins, a Dakota/Lakota Sioux writer and tribal attorney called Trump's tweet "cold, callous, and just plain racist."
+300 of my people were massacred at Wounded Knee. Most were women and children. This isn't funny, it's cold, callou… https://t.co/KEGmPkHHqa

— Ruth H. Hopkins (@Ruth H. Hopkins) 1547434560.0
The Standing Rock Sioux Tribe called him out, saying "It is disgraceful that a President is mocking a massacre that hurt our Lakota People. We are outraged by his ignorance and lack of propriety."
@realDonaldTrump No, it wouldn't have been a smash. It is disgraceful that a President is mocking a massacre that h… https://t.co/Ax680vXPV5

— Standing Rock Sioux (@Standing Rock Sioux) 1547501852.0
Other folks on Twitter, Native and non-Native, have pointed out the egregiously offensive nature of this official presidential statement. (As a reminder, all of Trump's tweets, including this one, have been ruled by a court as official statements and will go down on the historical record.)
@keithboykin @realDonaldTrump Thank you for knowing and acknowledging Wounded Knee. It happened December 29, 1890,… https://t.co/uTBltTGZ3a

— Storm Reyes (@Storm Reyes) 1547436853.0
Trump's tweet is indefensible. The fact that he has not acknowledged that fact or deleted it with a profound apology isn't surprising—but it should be. We should be shocked by this kind of behavior out of the President of the United States. The fact that it's barely made a blip on most people's radars is a clear sign of how far our standards have fallen.