Democracy
New age presidential candidate Marianne Williamson's old tweets have become a meme. Goddess bless.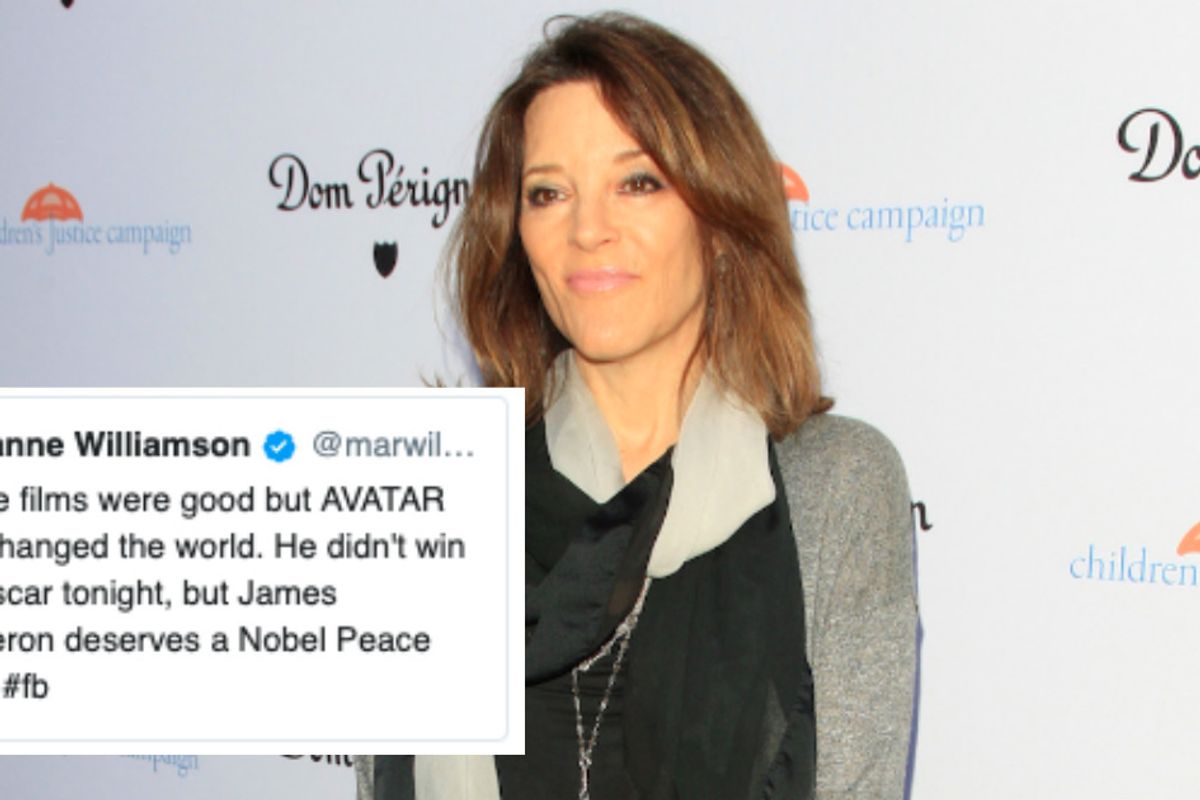 The author Marianne Williamson immediately took the Democratic debate stage by fire Thursday night with her unconventional oeuvre, and the pressing sense that she was about to float off into the night sky on a dragon or a magic carpet.
Williamson, who has previously penned such books as The Law of Divine Compensation and Healing The Soul of America , immediately became a meme on Twitter for saying presidential candidates need to stop focusing on plans, and start focusing on the power of love.
"Trump is not going to be beaten by someone who just has plans, he's going to be beaten by someone who has an idea what this man has done. This man has reached into the American people and harnessed fear for political gain."

She then went on to directly address "Mr. President" and say that "only love can cast that out" and she is personally prepared to cast it out.
---
Williamson also, at one point said that if she was elected she would immediately call the Prime Minister of New Zealand Jacinda Ardern and say "girlfriend, you are on" before getting tips on making America a safer and better place to raise children.
Needless to say, she has hit the internet by storm and people are beyond obsessed with her GOOP meets motivational speaker meets ayahuasca dealer energy.
One of the most beautiful meme-ifications of Williamson so far is a viral thread that merely posts a series of her old tweets, all of which speak for themselves.
These tweets truly show Williamson's spiritual, philosophical and political range.
In one gorgeous tweet, she says all we need to understand America is another viewing of Avatar.
She is a strong believer in reaching collective higher vibrations, and verbally encouraging the grass to grow (at its own pace of course).
She also believes in cultivating a loving, symbiotic relationship with the universe.
Williamson also has a connection to fellow goddesses and believes humanity shares a collective pregnancy.
Truly, the thread of her old tweets travels as far as her love relationship with astral planes.
Needless to say, regardless of how far Williamson makes it as a candidate, she has quickly amassed an enormous gaggle of new followers, ready to take in her words, even if we don't know what they mean.
This article originally appeared on SomeeCards. You can read it here .