More
That escalated quickly.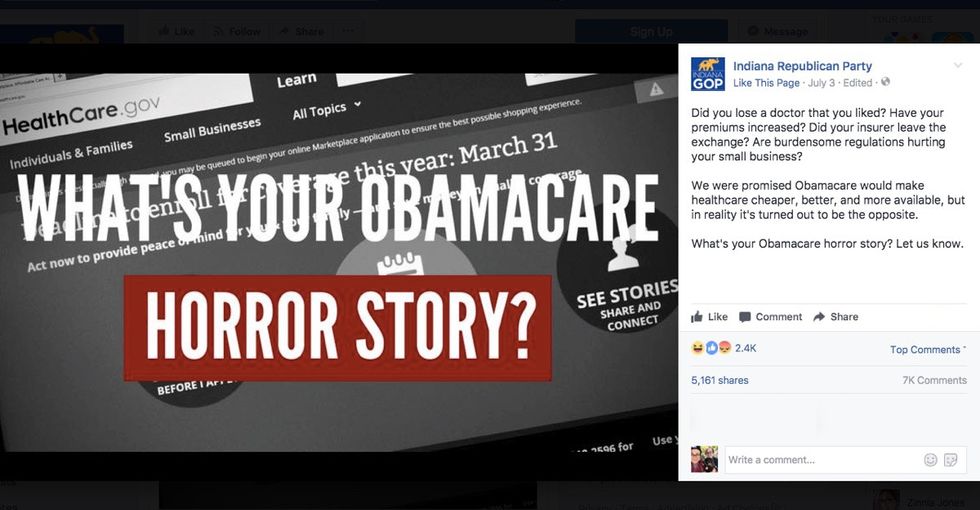 Want to hear a scary story? The Indiana Republican Party sure does.
On Monday, July 3, 2017, the party took to its Facebook page to ask followers to share "Obamacare Horror Stories."
"Did you lose a doctor that you liked? Have your premiums increased? Did your insurer leave the exchange? Are burdensome regulations hurting your small business?" the post reads.
---
The horror! The absolute horror of it all! (Insert spooky music here.)
Instead of getting actual health care horror stories, people responded with powerful, emotional defenses of Obamacare.
Health care providers lined up to share how the Affordable Care Act not only helped improve the overall health of their local communities, but helped improve their local economies.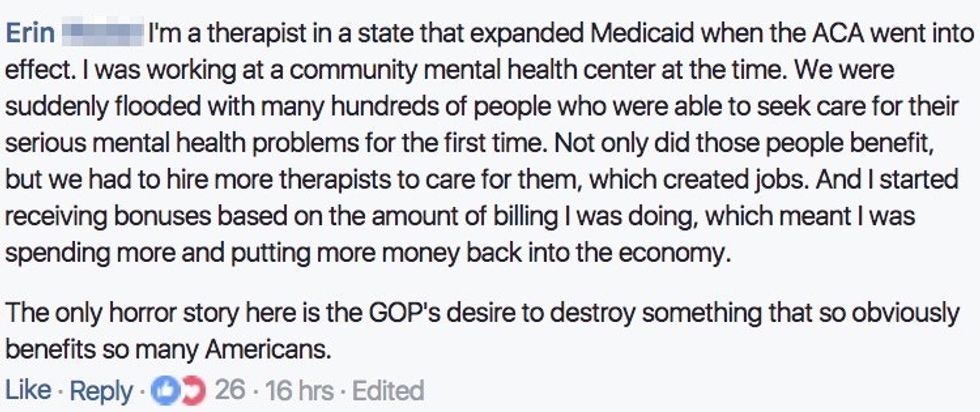 "Not only did those people benefit, but we had to hire more therapists to care for them, which created jobs." All screenshots are from the comments on the original Facebook post and used with permission by the individual commenters.
Parents shared tearful stories about how before the ACA, their young children would have run up against their insurance's lifetime limits well short of adulthood. Thanks to the ACA, annual and lifetime limits are a thing of the past, and people can't be charged more for a pre-existing condition (such as being born prematurely).

"Obamacare has saved our family and we are so grateful for it."

"Under Obamacare, the insurance companies have to insure him with what they define as his 'pre-existing' condition."
Others expounded on how the care received because of the law literally saved their lives or those of people they love.

"If it were not for Obamacare my kids would have no mother, I would not have a partner, and parents would have lost their daughter. She would be dead."
Entrepreneurs talked about how the ACA allowed them to take a chance on starting their own small businesses and escaping "job lock," something that would almost certainly return if the law were to be repealed.

"Obamacare made it possible for me to take the plunge."

"We have been able to stay healthy and afford our medications, even with our pre-existing conditions."
But the truth is that none of the "repeal and replace" proposals put out there by Republicans in Congress address the "horror stories" of losing access to a doctor you might like or rising premiums. Even if they did, are those flaws any more horrific than the fact that millions more will lose their access to lifesaving health care under these new proposals? Probably not.
Maybe instead of trying to score political points, our elected representatives should simply try to do what's best for the country.
And Facebook user Dana Ann nailed it with her comment about coming together for the sake of creating a health care system that works for all Americans, for all political parties. Lives are actually on the line, and it's time for our members of Congress to stop playing like this is a game.

"We are not playing a football game where one side wins and one side loses... we are ONE nation!"
There's still time to stop the ACA repeal effort, and there's still time to demand that your senators and representatives work together, regardless of party, to fix the flaws in our system. You can start by calling your senators today.