More
Heavy metal protesters scare off homophobic church group with a little kid's musical instrument.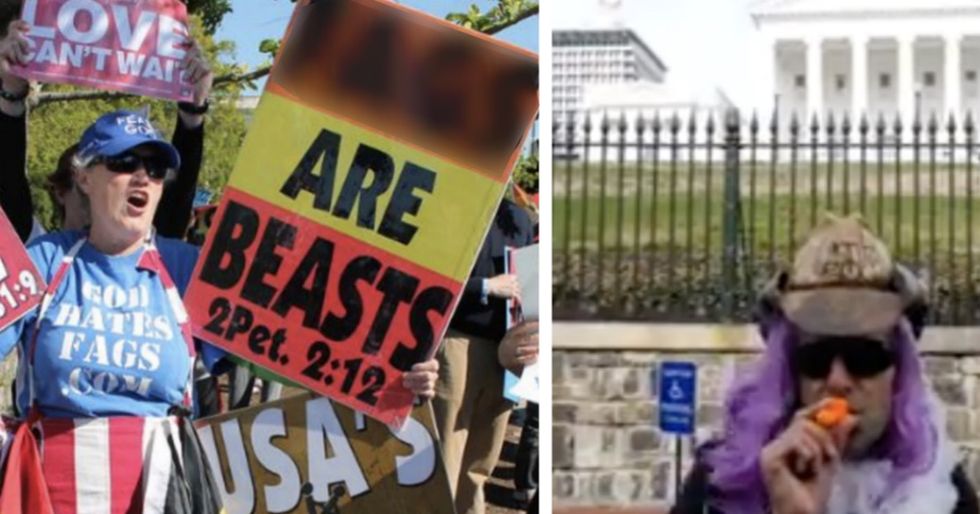 The Westboro Baptist Church are a family-based cult out of Kansas on a seemingly never-ending hate-speech tour. The family drives from town to town stopping at schools, state capitals, and events to scream vicious homophobic, anti-American, anti-semitic, and Islamophobic rhetoric.
Along the way, they fill their coffers through litigation by suing municipalities and counter-protesters who attempt to block their constitutional right to free speech.
[rebelmouse-image 19497644 dam="1" original_size="622x547" caption="via Elvert Barnes / Flickr" expand=1]via Elvert Barnes / Flickr
---
The cult scheduled a demonstration against Democratic Delegate Danica Roem on Monday, March 11, at the Virginia state Capitol in Richmond and soon realized they were messing with the wrong person.
Roem is the state's first and only openly transgender lawmaker, the vocalist of a thrash-metal band, and friend of Randy Blythe, the frontman for Lamb of God, an uber-popular metal band.
[rebelmouse-image 19497645 dam="1" original_size="811x384" caption="via Ted Eytan / Flickr" expand=1]via Ted Eytan / Flickr
After hearing the Westboro Baptist Church was coming to his town, Blythe organized a counter-party to drown out the church's hate speech. Blythe promised he'd bring along a hundred kazoos and $100 award for the best costume.
"We will play the 'Benny Hill' & 'Sanford and Sons' theme songs," he wrote on Instagram. "We will drown them out with cheap buzzing plastic noise makers."
Hundreds of people showed up to the "counter-party" far outnumbering the six Westboro demonstrators.
"These people are coming out and speaking a bunch of ignorance about my friend," Blythe told Virginia Mercury news. "I don't like that. So we came out and just drowned them out. That's the easiest way. There's no point in engaging these people."
The mob of metalheads formed drum circles, blew kazoos and chanted. The Westboro cult only lasted 30 about minutes until they shuffled away to their next demonstration.
Lamb of God frontman Randy Blythe leading a kazoo party to counterprotester an appearance by Westboro Baptist Churc… https://t.co/efxee8wkUk

— Chip Lauterbach (@Chip Lauterbach) 1552309716.0
I somehow ended up up Randy Blythe's protest against the Westboro Baptist Church 🔥 https://t.co/CNbhwBAs2P

— Doc Coyle (@Doc Coyle) 1552309340.0
While this outpouring of love seems to counter the angry metalhead stereotype, science has proven otherwise.
Parent groups and religious organizations often warn that the violent themes in heavy metal music are desensitizing to young people; however, researchers from Macquarie University's music lab found that that metalheads react to violent imagery the same way non-metalheads do.
"[Death metal] fans are nice people," Bill Thompson, a professor at Macquarie University, told the BBC. "They're not going to go out and hurt someone."
Blythe's "counter-party" sent a great message to the Westboro Baptist Church and any group that wishes to spread hate and intolerance: never go against the gods of metal.