Science & Technology
Employers say they could dock the pay of employees who refuse to get a COVID-19 vaccine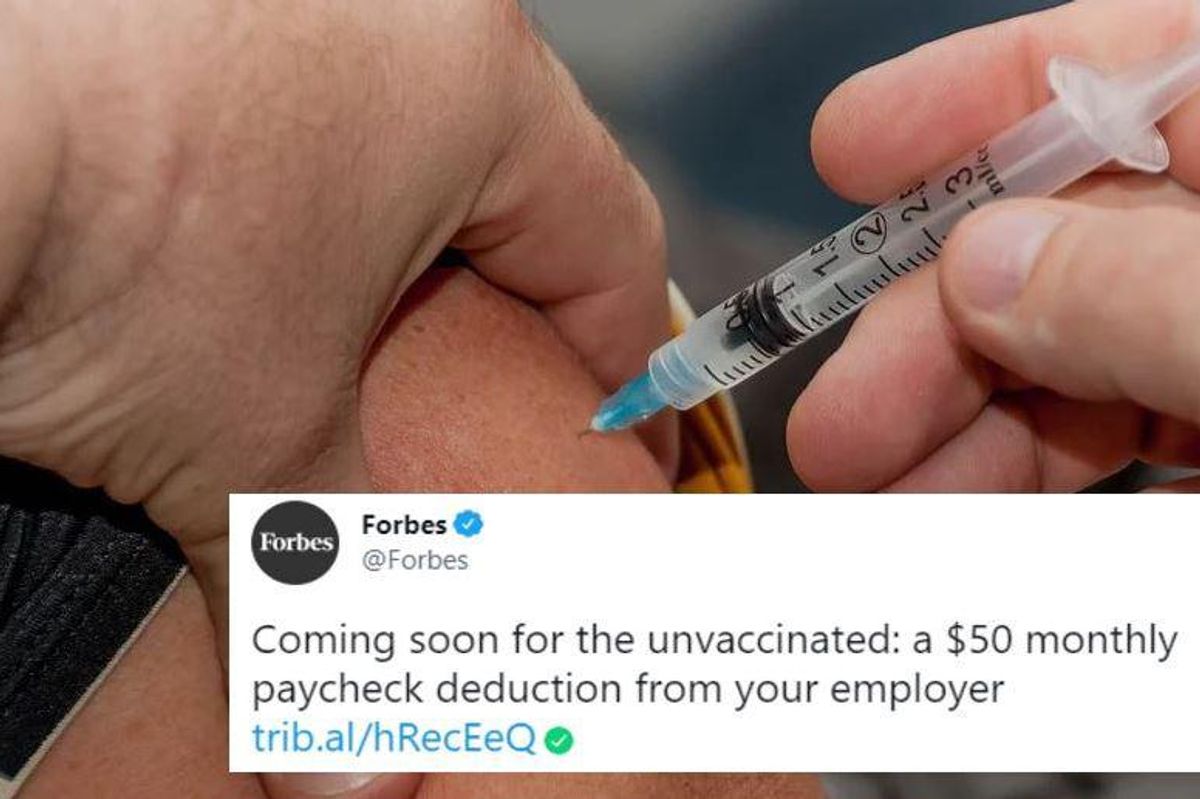 via Pixabay
Employers have tried to get their employees to take the COVID-19 vaccine by giving them benefits including time off to get the shot, extra vacation days, and bonuses. Walmart, the country's largest private employer, has announced its employees that work in stores and warehouses are eligible for a $150 bonus as an incentive to be vaccinated.

McDonald's offers workers at its corporate headquarters up to four hours of time off to get vaccinated.
Kroger, the nation's largest supermarket chain, announced it will give a $100 bonus to employees who show proof of vaccination.
But instead of just incentivizing workers with positive rewards, a number of employees may start leveling financial penalties against those who refuse to get vaccinated.
---
As people return to their workplaces during the Delta variant spike, unvaccinated employees are increasingly becoming a liability. They open up workplaces to outbreaks and drive up healthcare costs for the company, insurers, and employees.
Coming soon for the unvaccinated: a $50 monthly paycheck deduction from your employer https://t.co/6flyGC3RC9 https://t.co/7GTCkziOsM

— Forbes (@Forbes) 1628547126.0
"Getting hospitalized with Covid-19 in the United States typically generates huge bills," Dr. Elisabeth Rosenthal and Stanford University's Glenn Kramon wrote in The New York Times. Kramon said that a 14-day hospitalization for an uninsured person in the Miami area can result in a $104,000 bill.

Now, companies are considering more drastic measures to combat the costs of the unvaccinated by docking their pay.
"Employers have tried encouraging employees to get vaccinated through offering incentives like paid time off and cash, but with the Delta variant driving up infections and hospitalizations throughout the country – at the same time that vaccination rates have stalled – we have received inquiries from at least 20 employers over the past few weeks who are giving consideration to adding health coverage surcharges for the unvaccinated as a way to drive up vaccination rates in their workforce," said Wade Symons, Mercer's regulatory resources group leader.
Mercer is one of the world's largest employee benefits consultants.
Mercer hasn't disclosed which companies are considering docking workers' pay but said that the average surcharge will be somewhere between $20 to $50 a month. The hope is that the surcharge will help offset the costs associated with unvaccinated workers and will encourage them to get the shot to avoid the penalty.

Docking an employee's pay stops short of the more drastic tactics being used at Walmart, Google, Tyson Foods, and United Airlines. They have all imposed vaccine mandates on some or all of their employees. Those who still refuse inoculation can be terminated.
Health insurance companies are also considering a financial penalty for those who refuse to get vaccinated. Given the fact that 97% of all COVID-19 hospitalizations are now unvaccinated people, insurers want to encourage people to get the jab to avoid unnecessary six-figure payouts. Such a policy would also benefit the vaccinated who won't have to pay for rising premiums caused by the unvaccinated.
Even though there has been a recent uptick in people getting vaccinated due to the spread of the Delta variant, the U.S. is still far from reaching herd immunity. Employers have exhausted most of the carrots to get people to get the shot and now's the time for the sticks. Things are only going to get more difficult for those who refuse the shot.