Sponsored
75 years ago, this non-profit stepped up to heal war-torn Europe. And they didn't stop there.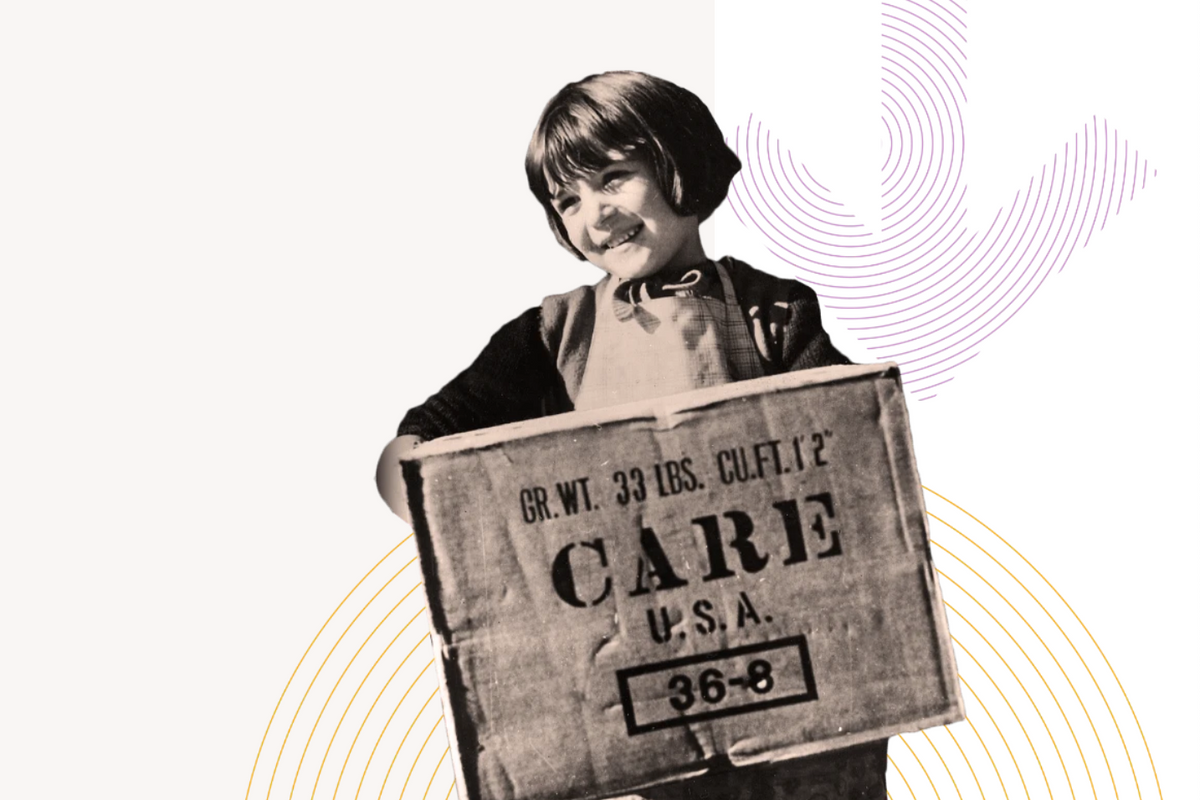 True
Some 75 years ago, in bombed-out Frankfurt, Germany, a little girl named Marlene Mahta received a sign of hope in the midst of squalor, homelessness and starvation. A CARE Package containing soap, milk powder, flour, blankets and other necessities provided a lifeline through the contributions of average American families. There were even luxuries like chocolate bars.

World War II may have ended, but its devastation lingered. Between 35 and 60 million people died. Whole cities had been destroyed, the countryside was charred and burned, and at least 60 million European civilians had been made homeless. Hunger remained an issue for many families for years to come. In the face of this devastation, 22 American organizations decided to come together and do something about it: creating CARE Packages for survivors.
"What affected me… was hearing that these were gifts from average American people," remembers Mahta, who, in those desperate days, found herself picking through garbage cans to find leftover field rations and MREs to eat. Inspired by the unexpected kindness, Mahta eventually learned English and emigrated to the U.S.
"I wanted to be like those wonderful, generous people," she says.
The postwar Marshall Plan era was a time of "great moral clarity," says Michelle Nunn, CEO of CARE, the global anti-poverty organization that emerged from those simple beginnings. "The CARE Package itself – in its simplicity and directness – continues to guide CARE's operational faith in the enduring power of local leadership – of simply giving people the opportunity to support their families and then their communities."
Each CARE Package contained rations that had once been reserved for soldiers, but were now being redirected to civilians who had suffered as a result of the conflict. The packages cost $10 to send, and they were guaranteed to arrive at their destination within four months.
Thousands of Americans, including President Harry S. Truman, got involved, and on May 11, 1946, the first 15,000 packages were sent to Le Havre in France, a port badly battered during the war.
Thousands of additional CARE Packages soon followed. At first packages were sent to specific recipients, but over time donations came in for anyone in need. When war rations ran out American companies began donating food. Later, carpentry tools, blankets, clothes, books, school supplies, and medicine were included.
Before long, the CARE Packages were going to other communities in need around the world, including Asia and Latin America. Ultimately, CARE delivered packages to 100 million families around the world.
The original CARE Packages were phased out in the late 1960s, though they were revived when specific needs arose, such as when former Soviet Union republics needed relief, or after the Bosnian War. Meanwhile, CARE transformed. Now, instead of physical boxes, it invests in programs for sustainable change, such as setting up nutrition centers, Village Savings and Loan Associations, educational programs, agroforestry initiatives, and much more.

But, with a pandemic ravaging populations around the world, CARE is bringing back its original CARE packages to support the critical basic needs of our global neighbors. And for the first time, they're also delivering CARE packages here at home in the United States to communities in need.
Community leaders like Janice Dixon are on the front lines of that effort. Dixon, president and CEO of Community Outreach in Action in Jonesboro, Ga., now sends up to 80 CARE packages each week to those in need due to COVID-19. Food pantries have been available, she notes, but they've been difficult to access for those without cars, and public transportation is spotty in suburban Atlanta.
"My phone has been ringing off the hook," says Dixon. For example, one of those calls was from a senior diabetic, she remembers, who faced an impossible choice, but was able to purchase medicine because food was being provided by CARE.
Today, CARE is sending new packages with financial support and messages of hope to frontline medical workers, caregivers, essential workers, and individuals in need in more than 60 countries, including the U.S. Anyone can now go to carepackage.org to send targeted help around the world. Packages focus on helping vaccines reach people more quickly, tackling food insecurity, educational disparities, global poverty, and domestic violence, as well as providing hygiene kits to those in need.
From the very beginning, CARE received the support of presidents, with Hollywood luminaries like Rita Hayworth and Ingrid Bergman also adding their voices. At An Evening With CARE, happening this Tuesday, May 11, notable names will turn out again as the organization celebrates the 75th Anniversary of the CARE Package and the exciting, meaningful work that lies ahead. The event will be hosted by Whoopi Goldberg and attended by former Presidents Barack Obama, George W. Bush, Bill Clinton, and Jimmy Carter, as well as Angela Merkel, Iman, Jewel, Michelle Williams, Katherine McPhee-Foster, Betty Who and others. Please RSVP now for this can't-miss opportunity.