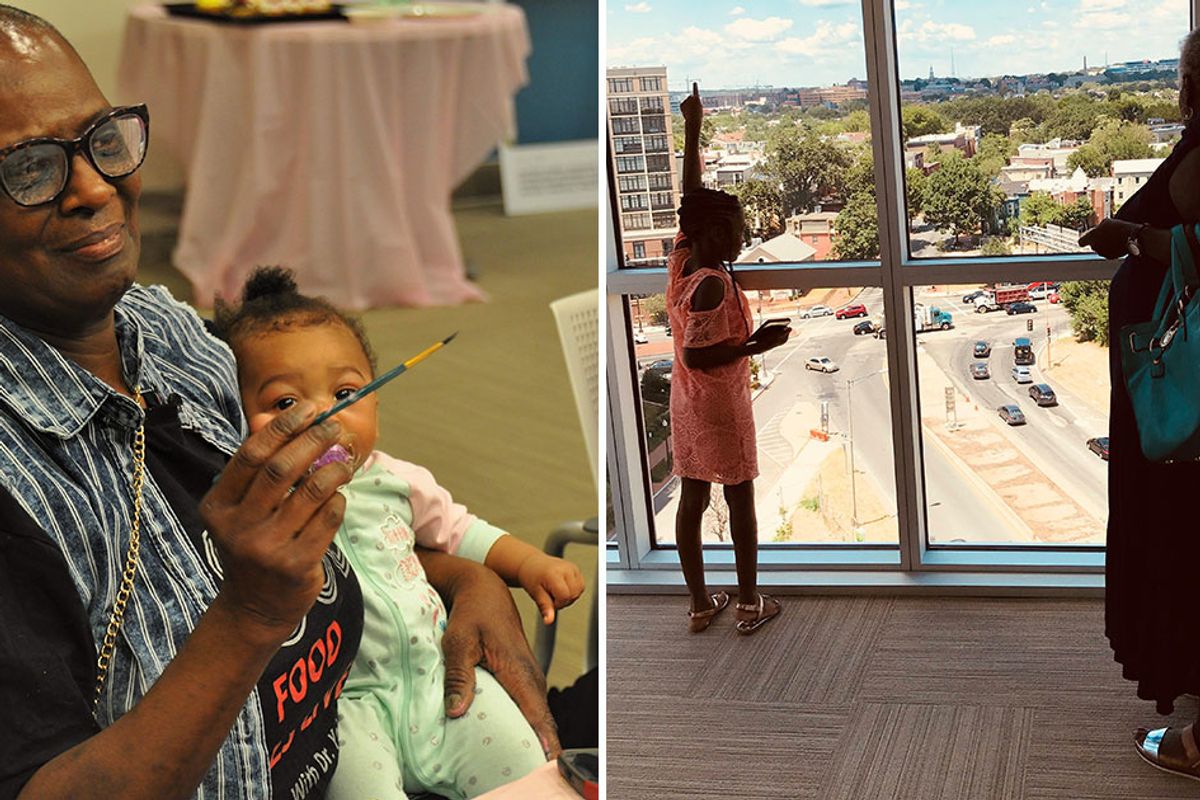 Courtesy of Capital One
True
Capital One
It was around Christmas 2018 and Jean Simpkins, 79, was looking out the window of her new three-bedroom apartment. Eleven floors above Washington, D.C., the grandmother of two gazed out at the lights of the city and became overwhelmed with gratitude. "The only thing I could say," Simpkins remembers, "was 'Thank you, Father.'"
Almost a year later, Simpkins still can't help but look at the apartment as a miracle — one she desperately needed. Fifteen years ago, when her grandson was born, she became his primary caregiver. Six years later, when her granddaughter was four, Simpkins was awarded full custody of her, too. She's spent the time since trying to give her grandchildren the life she knows they deserve, which has been difficult on a fixed income. On top of that, Simpkins worried that the neighborhood the family resided in wasn't the best influence on her kids. Something had to change.
Then she learned about Plaza West , a new development created by Mission First housing that would reserve 50 of its apartments specifically for families in which a grandparent or other older adult was raising children who were related to them. The waiting list, Simpkins says, was daunting. There are a great deal of grandfamilies in the D.C. area and she was sure it might be years before she got the call. But soon after applying, she was offered a choice between a two-bedroom and a three-bedroom apartment. She accepted the latter, sight unseen. She knew that each of her grandchildren needed space of their own.
---
Simpkins' apartment is spacious, and the twinkling lights she sees on the horizon every night are a bonus. But the real reward of living at Plaza West is the community that the grandfamilies — 49 grandmothers, three married couples, and one "very popular" single grandpa — have created for their children (and themselves). It's an intergenerational center, one where youth and seniors come together to learn from each other and give and receive wisdom.
At Plaza West, grandparents aren't just responsible for their own grandchildren. They become surrogate grandparents to every one of the kids living in the building. One grandmother, Simpkins says, takes all the children to basketball games. Other grandparents share the task of taking children to school and making sure they're back home safely.
Each month, grandparents gather together for "fireside chats," community meetings where they discuss their goals for the community as well as ask for support and air grievances in an encouraging environment. In the halls and common areas, grandparents hold all grandchildren accountable for their behavior — quickly addressing any symptoms of trouble and always imparting the importance of kindness and respect.
"We're all a family here," Simpkins says, both proud and grateful of the help she gives and receives from the people around her. "It really does take a village."
Grandfamilies, Simpkins adds, need to be a priority when it comes to housing — and Capital One agrees. That's why the bank, which has a long history of giving back to the community, worked so hard to help make Plaza West a reality for the grandparents, grand aunts, grand uncles, and children who need it.
"It's very difficult for grandparents who are raising their grandchildren on their own to find decent housing," says Ed Delany, a Capital Officer for the Mid-Atlantic region at Capital One who arranged the financing the bank provided. "There's a huge need, both nationally and in the District, for this type of housing." But that housing is rarely affordable. And when it is, Delany says, it's often sub-standard. Capital One wanted to ensure that grandfamilies in D.C. not only had a place to call home, but a place they'd be proud to live.
In order to achieve this, Capital One provided a $7.5 million construction loan and purchased more than $35 million in Low Income Housing Tax Credits to help Mission First make miracles happen for Simpkins, her family, and the other residents of Plaza West. In addition, Capital One left a $200,000 social purpose grant in place. That money is helping provide on-site support for the residents.
Capital One is proud to continue partnering with faith-based developers like Mission First because they help provide housing for those who need it most. They also allow people who've lived their whole lives in suddenly-popular neighborhoods to avoid getting priced out. Developments like Plaza West, Delany says, have had a major impact on quality of life as well as future prospects for the residents of the neighborhoods they serve.
Nothing could be more true for Simpkins and her grandchildren. Though they weren't happy with the move at first — it meant they'd have to leave some old friends behind — now that they've had time to adjust, they're flourishing. Since moving to Plaza West, both grandchildren have made the honor roll. And with more and more activities being added for older kids, including visits by mentors and programs created by Howard University, it's becoming easier to keep them involved closer to home. The neighborhood, Simpkins adds, has only become more safe and beautiful with the addition of Plaza West.
The greatest reward for her family, however, is the social support that living with other grandfamilies provides. The similar experiences they share helps provide both connection and comfort. Parenting is one of the world's hardest jobs, even with a strong support system. It can often make guardians feel isolated and lonely. That goes double for families that would be considered "non-traditional." But at Plaza West, Simpkins says, no one feels alone.
To learn more about Capital One's Community efforts, go to https://www.capitalone.com/about/ .