More
A man was shouting anti-Semitic slurs at two children, so a woman in a hijab stepped in to stop him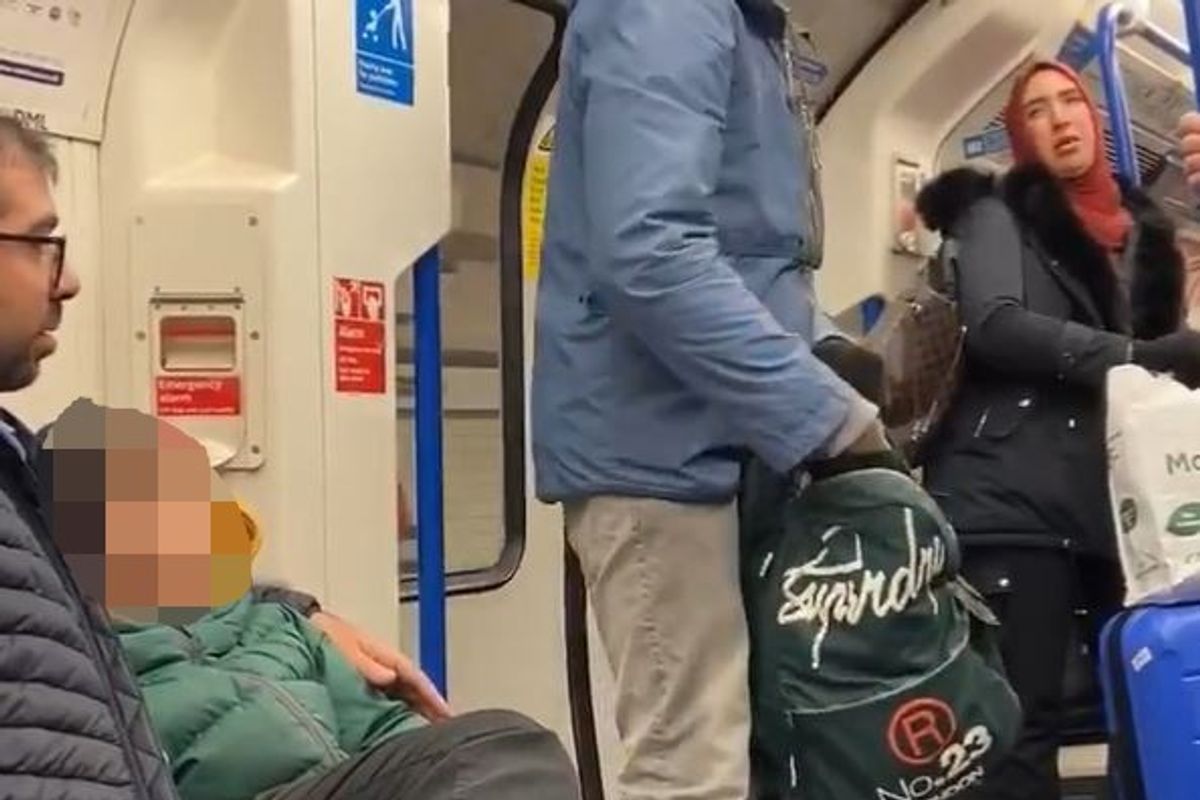 According to the Community Security Trust (CST), an organization that monitors anti-Semitism in Britain, anti-Semitism incidents are at their highest since records began in 1984. There were 892 recorded incidents in the first six months of 2019, which is up by 10% compared to the same time period in 2018. Not only that, but anti-Semitism is up for the third year in a row. Even though it feels like we live in irreparably divided times, something happens to remind us that there are still those willing to step in and do the right thing.
Recently, Jewish family was harassed on the London tubes. Chris Atkins filmed the incident and posted it to Twitter. It went viral.
---
The video shows a man reading anti-Jewish Bible passages to the family. The father keeps his composure and whispers in his son's ear, "just ignore it."

A woman wearing hijab steps in to deescalates the situation. "I thought, if I reason with him and talk to him and pretend that I'm sympathetic with what he's saying, maybe I can defuse the problem because he was actually talking to a little boy," the woman, who was later identified as Asma Shuweikh told Sky News.
Atkins said one factor of the incident stood out as being the most egregious. "It was the children that really got me and everyone else, he was just screaming at these children. It was horrific in every sense," Atkins said, according to the JC Reporter.
According to Shuweikh, the man became more aggressive after Atkins stopped recording. "I did start to panic when he came up into my face, but I managed to keep a calmness and keep trying to defuse the situation," she told Sky News. The father, who chooses to remain anonymous, told the Independent that without Shuweikh's intervention, the man would have continued and "could have escalated to physical violence".
Shuweikh explained why she did the right thing. "I would have loved more people to come up and say something, because if everyone did, I do not think it would have escalated in the way that it did," she told BBC Radio 5Liv. "Being a mother-of-two, I know what it's like to be in that situation and I would want someone to help if I was in that situation."
Shuweikh says she had an obligation to step in. "To be honest I thought it is my duty as a mother, as a practicing Muslim, as a citizen of this country, to have to say something," she told BBC Radio 5Liv. "You can't just sit back and watch that because I felt that it was just getting out of hand. It was really getting too much."
In the moment, Shuweikh didn't think about the consequences of her actions. She just thought about doing what was right. "All my friends and family have been so supportive. But they're also worried about my safety because I have children back home," she told BBC Radio 5Liv. "But when you're put in that situation you don't really think about yourself. You just think, 'look this is the right thing to do. I need to say something'."
If she found herself in a similar situation, she says she "would not hesitate to do it again," she told BBC Radio 5Liv.
Shuweikh was called a hero because of her actions.
Ultimately, Atkins says the video shows different religions working together. "In this day and age we are told how intolerant everyone is and all religions hate each other and there you had a Muslim woman sticking up for some Jewish children," he told CNN.

While it would be wonderful to live in a world where religious tolerance is the norm, it's at least heartening to know that there are those who will intervene when religious intolerance rears its ugly head.