Heroes
14-year-old makes and donates bow ties to help shelter animals find their forever homes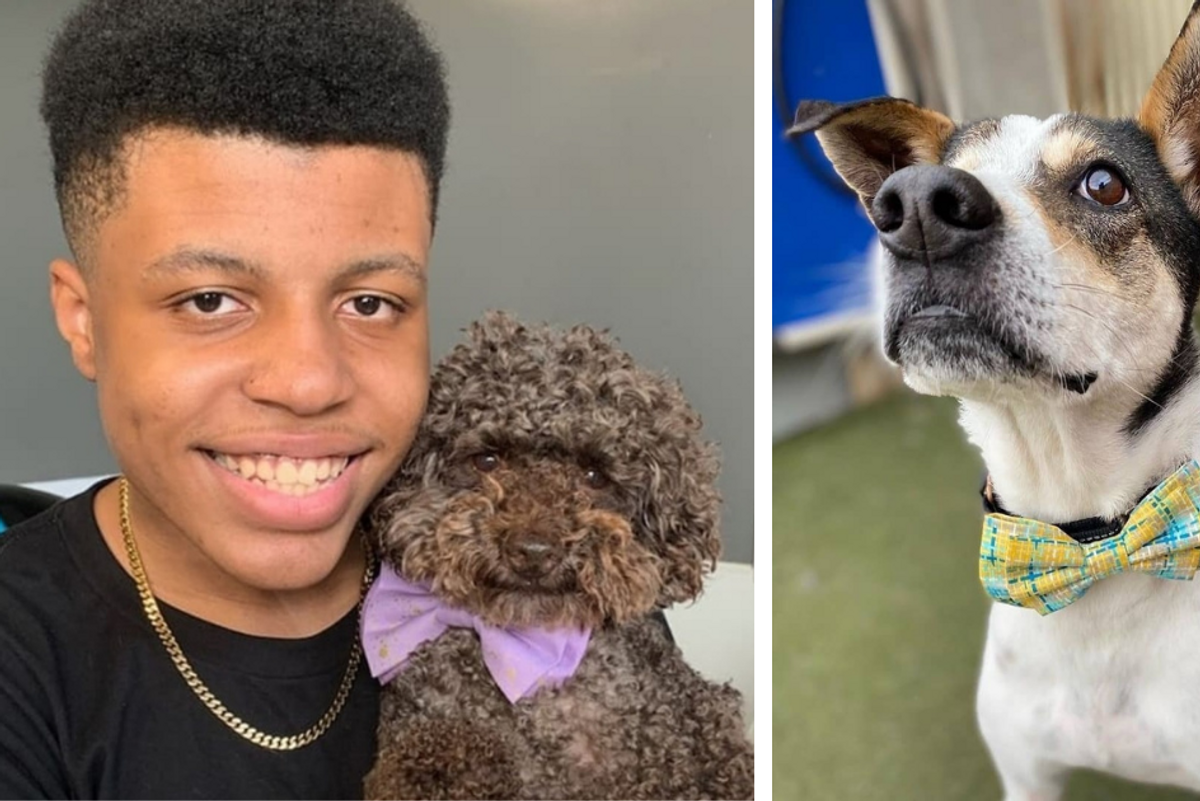 Photo courtesy of Sir Darius Brown
True
This article originally appeared on 07.11.19
Young entrepreneur Darius Brown is on a mission to find homes for shelter animals, and he's doing it with style—literally. The 14-year-old makes bow ties for dogs and cats in the hopes that it will help more of them find homes.

Many people find it hard to resist a puppy. But a puppy with a bowtie? That's just not even fair.
Brown, who goes by Sir Darius Brown on social media, wears a bow tie himself most of the time. "Literally everywhere I go, I wear a bow tie" he says.
It all started when he was eight and his older sister started making hair bows in cosmetology school. Brown had been diagnosed at age two with comprehension, speech, and fine motor skills delays, and helping out with his sister's sewing projects seemed to help him.

---
"With his fine motor skills, he wasn't able to really use his hands well—tying a shoe was challenging," his sister told the Today Show. "My mother and I came up with the idea that if he helped us with things like prepping the ribbon or cutting it, and sewing fabric together, it would help him. And it did—it worked!"
Brown started making his own bow ties to wear, and eventually his love of animals led him to make them for his furry friends also. He has now donated hundreds of ties to animal shelters all over the country.
"It helps the dog look noticeable, very attractive," Brown told Today. "It helps them find a forever, loving home…I love everything about dogs and cats."
Seriously, though. So. Not. Fair.
Brown has created his own organization called Beaux and Paws, and he's begun fundraising to be able to provide more ties. He's also received donations of fabric and supplies from people who support his mission. "The donations help a lot because we were just digging in our pockets, buying the fabric ourselves," his mother told Today. He now uses GoFundMe to bring his "paw-some" mission to life.

And the good work doesn't stop there. During the pandemic, he created over 100 face coverings for essential workers and the homeless as well as created koala mittens for koalas bears that burned their hands due to the Australian bushfires. Sir Darius hopes to continue bringing more awareness to pet adoption, finding new ways to support shelters and pet adoption, and encouraging youth to get involved with volunteering at shelters.
The preteen's work hasn't gone unnoticed. Former President Barack Obama even sent him a letter of praise in 2018.
"Dear Darius," Obama's letter reads. "After hearing your story, I wanted to reach out to commend you for your commitment to community service. From founding Beaux and Paws to lifting up the lives of those around you, it's clear you are doing your part to look out for your fellow citizens. And I trust you take tremendous pride in all you have accomplished.

As long as you stay engaged in the world around you, continue looking for ways to help others, and never give up on yourself, I'm confident our future will be bright. Know that I'm rooting for you in all you do, and I wish you the very best."
Well done, Sir Darius! Keep up the inspiring work.
Upworthy and GoFundMe are celebrating ideas that make the world a better, kinder place. Visit upworthy.com/kindness to join the largest collaboration for human kindness in history and start your own GoFundMe.