Nature
A rescue pit bull is so convinced he's a cat he even climbs up on the fridge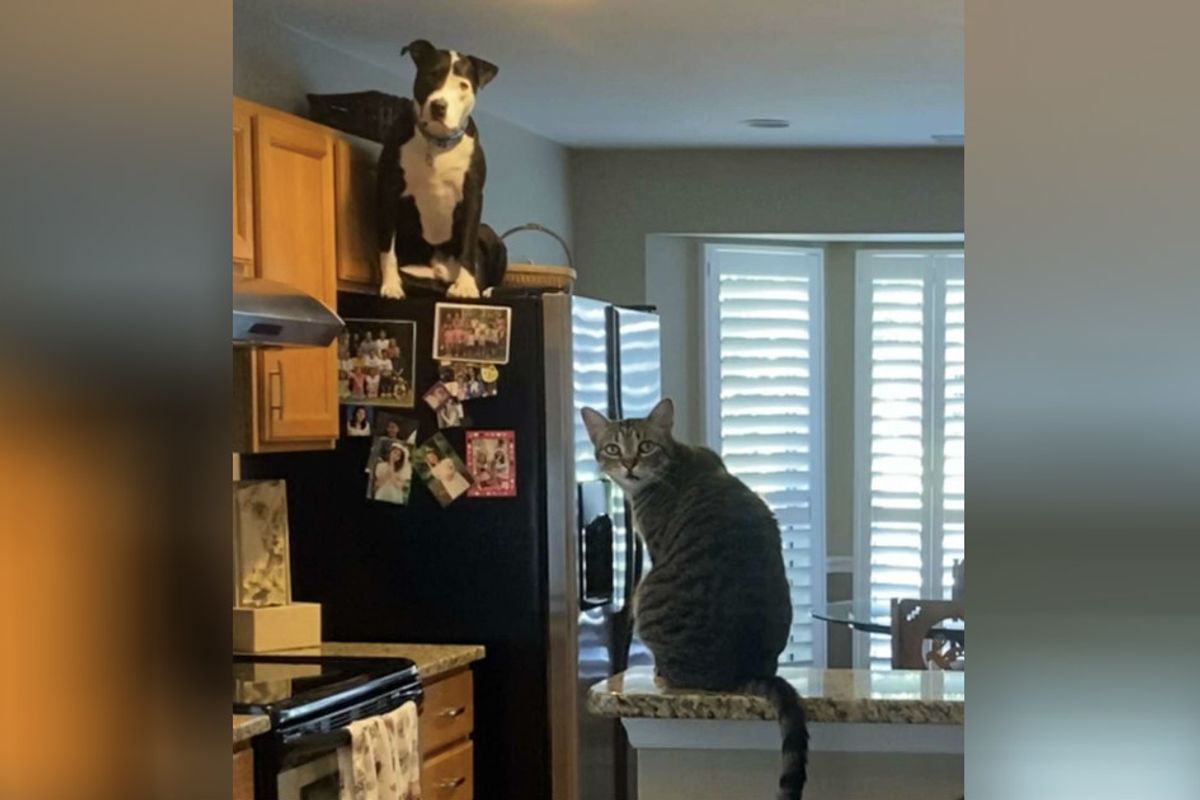 Pit bulls and cats aren't exactly nature's best buddies. Pit bulls are terriers with a very strong prey drive, can be prone to aggression, and are bred to kill rodents.

The difference between a cat and rodent is negligible in the eyes of a pit bull, so they have been known to be aggressive, and even kill, felines.
Of course, it goes without saying, that with the proper training, cats and pit bulls can not only coexist but develop loving bonds with one another.
While a cat and pit bull being besties isn't exactly newsworthy, there's a pit bull that gets along with his two cat buddies so well, his owners believe he thinks he's a cat.
---
When Bethany and Samantha Callister went to a local pet rescue to adopt a dog, Mako, a pit bull at the shelter, made it very clear that he had just found his forever family.
"We joke that we didn't really pick him, he picked us," Bethany told The Dodo. "When we went to the rescue shelter he had his back against the cage so we started petting him and he looked over his shoulder and gave direct eye contact and we just fell in love with the little guy."
They were immediately smitten with Mako but were a little afraid he'd have a clash of personalities with their two cats, Pecan and Gizmo. The shelter told them Mako would be just fine with the cats, but they had no idea just how great they'd end up getting along.

"We initially kept the cats in a separate part of the house because we wanted to slowly introduce them to the new dog," Bethany told Bored Panda.
But soon, the dog and the two cats became close friends, and Mako started imitating them, by climbing to places only cats would dare. He would jump on top of tables, cabinets and even make his way to the top of the fridge.
"Whenever Mako sees the boys on the counters or cabinets he hops up to join them," Bethany said. "He really just wants to be around the cats all the time. If he is not in the room with one of us humans, he's with the cats."
The Castillers realized that they had a very unusual dog, but it didn't matter one bit.
"We went online and found a dog toy that looks like a cat one so we go to the backyard and he chases and jumps after it like the cats," Bethany said. "He also likes to lay on the tables with my cats and look out the window at the birds with them. When he sees one of my cats lay on their backs for a tummy rub he comes over and does the same thing!"
Mako goes to show that just as you shouldn't judge a person by their race, you shouldn't judge a dog by its breed. Heck, you can't even judge an animal by its species. The Castillers went to the rescue to find themselves a dog and accidentally wound up with a cat.