popular
We're going to have to help one another through the chaos of this pandemic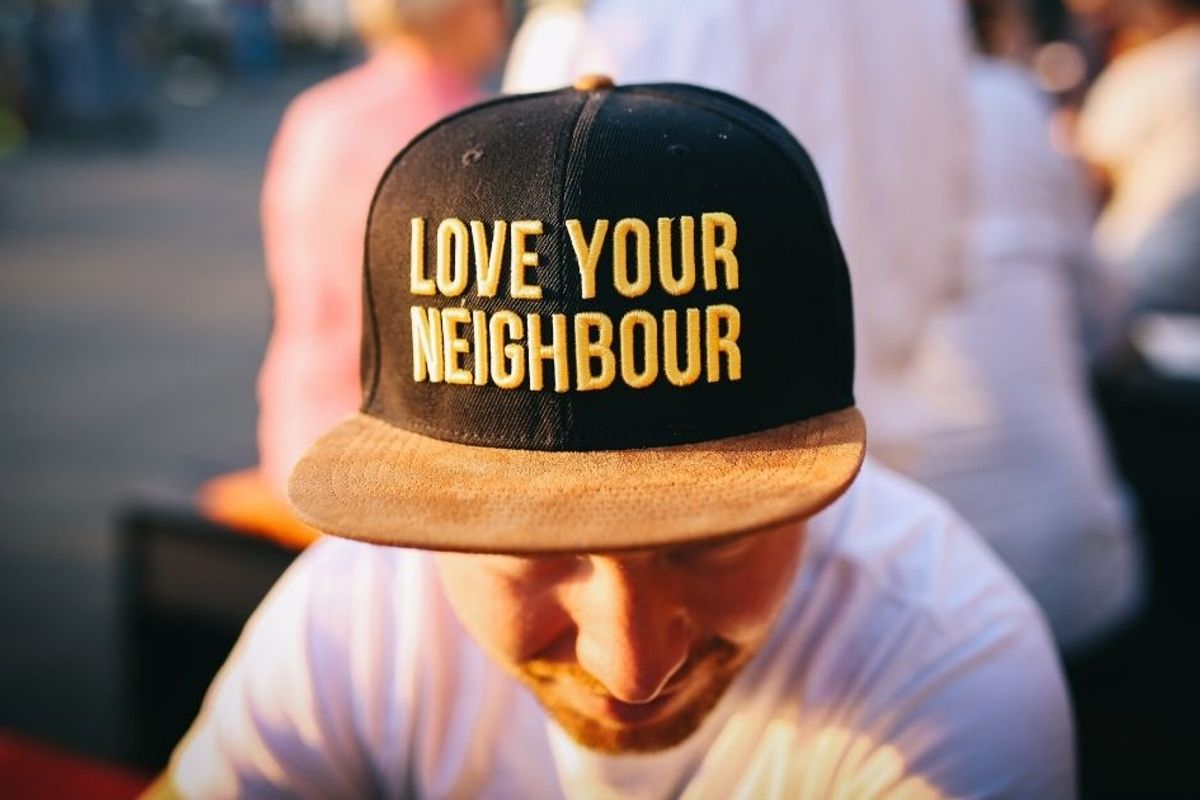 We're all feeling the stress and strain of the pandemic sweeping the planet, the likes of which we've never seen in our lifetimes. Life as we know it has shifted quickly, everything feels shaky, and people are understandably anxious.
There are also many of us who have extra cause for concern or caution, due to advanced age, compromised health, or financial fragility. While this crisis is undeniably hard on everyone, it's extra challenging for those who are at high risk from the virus or who are unduly affected by the economic implications of it all.
---
If this pandemic is proving anything to us, it's that we are all in this together. All truly meaning all. And if there was ever a time to go out of our way to be there for one another, this is it.
A story on Twitter this week illustrated this idea perfectly. Rebecca Mehra shared how she was walking into the grocery store when she heard a woman's voice yell to her from a car. When Mehra walked over to the car, she found an elderly woman and her husband sitting there.
"She cracked her window open a bit more, and explained to me nearly in tears that they are afraid to go in the store," Mehra wrote. "Afraid to get sick as they are in their 80's and hear that the novel coronavirus is affecting older people disproportionately. And that they don't have family around to help them out. Through the crack in the window she handed me a $100 bill and a grocery list, and asked if I would be willing to buy her groceries."
Afraid to get sick as they are in their 80's and hear that the novel coronavirus is affecting older people dispropo… https://t.co/DMbxc7Qbwo

— Rebecca Mehra 🧀🏃🏽‍♀️ (@Rebecca Mehra 🧀🏃🏽‍♀️) 1583971393.0
"I bought the groceries and placed them in her trunk, and gave her back the change. She told me she had been sitting in the car for nearly 45 min before I had arrived, waiting to ask the right person for help."
I know it's a time of hysteria and nerves, but offer to help anyone you can. Not everyone has people to turn to.

— Rebecca Mehra 🧀🏃🏽‍♀️ (@Rebecca Mehra 🧀🏃🏽‍♀️) 1583971457.0
"I know it's a time of hysteria and nerves, but offer to help anyone you can," Mehra added. "Not everyone has people to turn to."
And there's the crux of it. Everyone is affected by this, and not everyone has people to turn to. We can either turn a blind eye to folks who need help, or step in to offer it.
The truth is that times of crisis can bring out the best or the worst in human beings. We all need to decide which it's going to be, and we need to decide now. It's not likely that things are going to get easier over the next several weeks, so now's the time for those of us who are able to reach out and let our fellow humans know we're there for them.
The first thing we can do to "love thy neighbor" is to heed the advice of medical professionals to prevent the spread of COVID-19 as much as possible. Wash hands religiously. Don't touch your face. Practice social distancing as much as possible.
But those of us who aren't as vulnerable as others can also think about proactive ways we can help. If we're young and healthy or if our family is young and healthy, can we run errands for those who aren't? If we have the means to stock up on groceries, are we able to offer assistance to those who don't? Is it possible to direct the money we'd normally spend on whatever is currently being canceled to help those who might not make ends meet this month?
These kinds of questions are vital to maintaining a sense of community, especially when we're asked to physically be apart as much as possible.
What's awesome is that people's better angels are hard at work already. For instance, I've seen beautiful ideas for helping others floating around such as:
Turning Little Libraries in people's yards into Little Food Pantries temporarily
Delivering flyers around the neighborhood letting people know you are available to run errands or grocery shop for those at high risk
Hosting online fundraisers for individuals whose livelihood is being deeply impacted by widespread shutdown—performers, small retailers and restaurateurs, etc.
Setting up neighborhood Facebook groups to keep communication flowing and offer a socially-distanced place to go for assistance
Tipping delivery people extra
Ordering from restaurants to support businesses impacted by coronavirus
Offering free childcare for parents who still have to physically go to work during school closures
Checking in with elderly and ill neighbors to make sure they are stocked with medications
No individual or family is an island, and it's increasingly clear that no country is an island in the proverbial sense, either. As the world figures out how to work together to get through this pandemic with as little collective damage as possible, we can do the same thing on a neighborhood level.

If we all take a community-minded approach to this worldwide crisis, it will all go so much smoother—and maybe we'll come out better for it on the other side.