Most Shared
This school principal who reads bedtime stories online to her students is what they mean by an 'everyday hero.'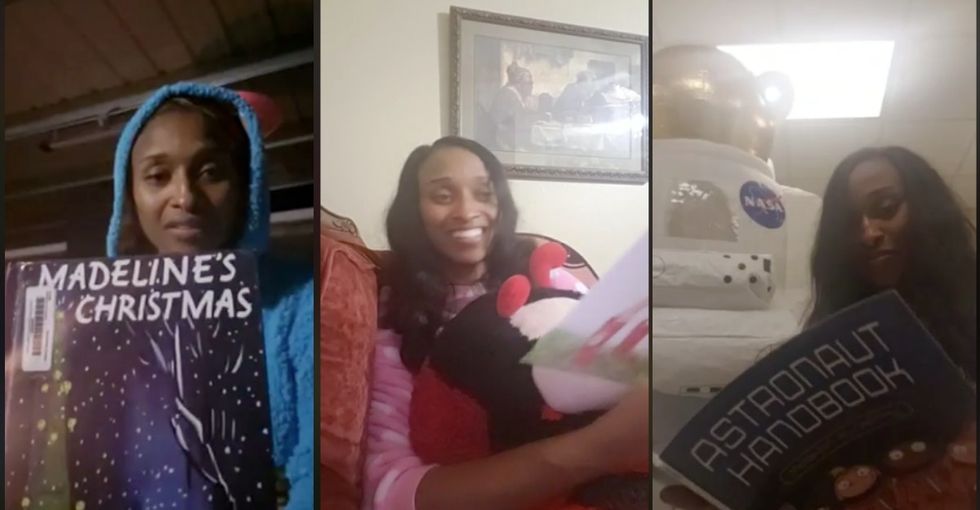 Reading aloud is good for kids. This principal is going above and beyond to make it happen for her students.
The benefits of reading is well-documented, especially for growing children. Books help build vocabulary, foster empathy, increase attention spans, and teach kids to think critically.
But some kids, especially in low-income households, may not have easy access to books or have caregivers who are able to read to them regularly. That's a problem. It's hard for kids to develop a love of reading without lots of exposure to books. And without the benefits that regular reading can offer, the educational gap for kids in low-income households just grows wider.
---
Principal Belinda George, a first-year principal at Homer Drive Elementary in Beaumont, Texas, has many low-income students under her charge. And in a simple, unique way, she's trying to make sure they all get the gift of reading.
Dr. George reads aloud to students in the evening—in her pajamas—during "Tucked-in Tuesdays."
According to the Washington Post, the 42-year-old principal opens up Facebook Live on her phone at 7:30pm on Tuesdays for a read-aloud session she called "Tucked-in Tuesdays." Snuggled up in her jammies—which include a Cookie Monster onesie (me wants one!)—George reads a book aloud to whatever students can be online for storytime. She started Tucked-in Tuesdays in December, and it's a hit.
"Kids will come up to me Wednesday and say, 'Dr. George, I saw you in your PJs reading!," she told the Post. "They'll tell me their favorite part of the book." Students will often go try to find the book she read them at the school library. People outside of the school district, and even outside of Texas, have started tuning in for bedtime stories with the principal.
Her love of kids motivates her to take the time to bring something extra to their lives outside the classroom.
George doesn't have any kids of her own, and she uses her story time to connect with her students whom she refers to as her children.
"The idea came from a Facebook group called Principal Principles Leadership Group," George told TODAY. "And from the fact that I absolutely love my children."
George told the Post that if she doesn't reach them outside of school, she knows she won't be able to reach them in school. Tucked-in Tuesdays are a way for her to build bonds with students and families while also fostering a love of books. She greets students by name as they tell her they're watching, and she asks questions to keep the story time interactive.
Educators like Dr. George can make a huge difference in students' lives.
All of us have special teachers, librarians, or other adults in school who influenced us with their beyond-the-call-of-duty care. What a wonderful memory these young scholars will have for the rest of their lives, and what a great way for them to build positive bonds with an authority figure in their lives.
George told the post that she does anything she can to build relationships with her students, including twice weekly dance parties. "If a child feels loved they will try," she said.
Check out Principal George reading "Clark the Shark" in her Cookie Monster PJs:
Clark the Shark and the Big Book ReportReading Level: 2.5AR Points: 0.5

Posted by Homer Drive Elementary on Tuesday, February 19, 2019