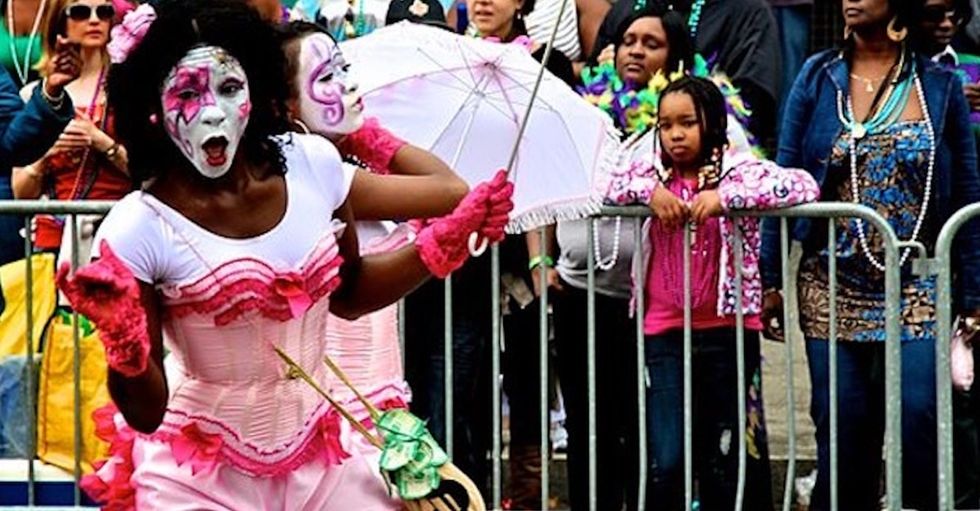 True
New Orleans Tourism
Sylvester Francis was walking home at the end of Mardi Gras when he saw a part of someone's costume lying in the street.
30 years later, it became the first official piece in the Backstreet Museum's collection when its doors opened to the public.
"He saw someone take the suit off and discard it, without even looking back," Bruce Barnes, current president of the Backstreet Museum, says about the founder's impulse to nab the garb.
---
Clearly, it was no longer of any use to its owner since Mardi Gras was over. In fact, all across the city, people were taking off their beautiful custom-made costumes and throwing them in the trash.
To Francis, that was a crying shame.
"That moment sparked him to create a space where people could see the beauty and the work of what it takes to create a Mardi Gras Indian suit," Barnes says.
In 1999, Francis took his collection of costumes, photographs, films, and other paraphernalia from the parts of New Orleans culture that often go unseen and put them on display for all to see. And so, the Backstreet Cultural Museum was born.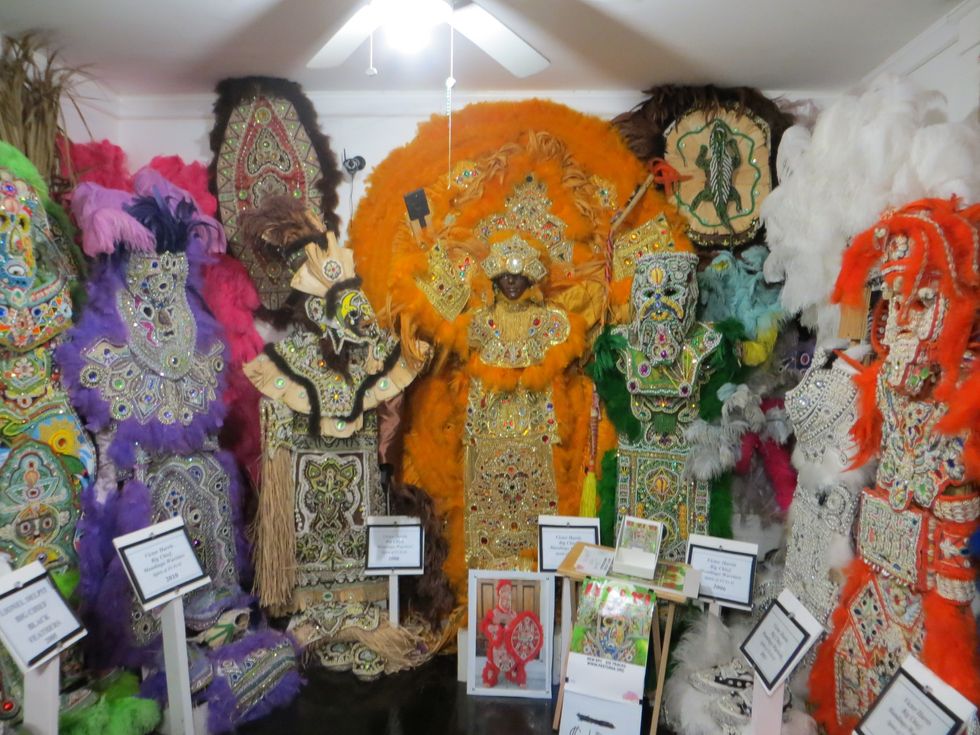 Mardi Gras Indian costumes from past years are displayed at the museum. Photo via Barry Solow/Wikimedia Commons.
For non-natives of New Orleans, mention of the city can conjure the image of huge costumed celebrations, joyful second-line brass band parades, and tons of beads.
But there's a whole subculture in New Orleans that many beyond the city limits have never seen. That's because it's made mostly of black groups whose culture was born out of slavery and segregation — parts of history that society often tries to forget.
When Mardi Gras began, anyone who was considered "second-class" was not allowed to participate in the city's main krewes, or parading groups.
"You couldn't create a krewe and so forth and say we're gonna parade down St. Charles Avenue," Barnes says. "It wasn't allowed." Instead, marginalized groups took to the outer neighborhoods, where they donned masks and outfits and held their own parades.
This pattern of disenfranchised communities establishing groups of their own started out of necessity but then became proud tradition. Over time, these "second-class" traditions became as strong, if not stronger, than the original Mardi Gras celebration itself.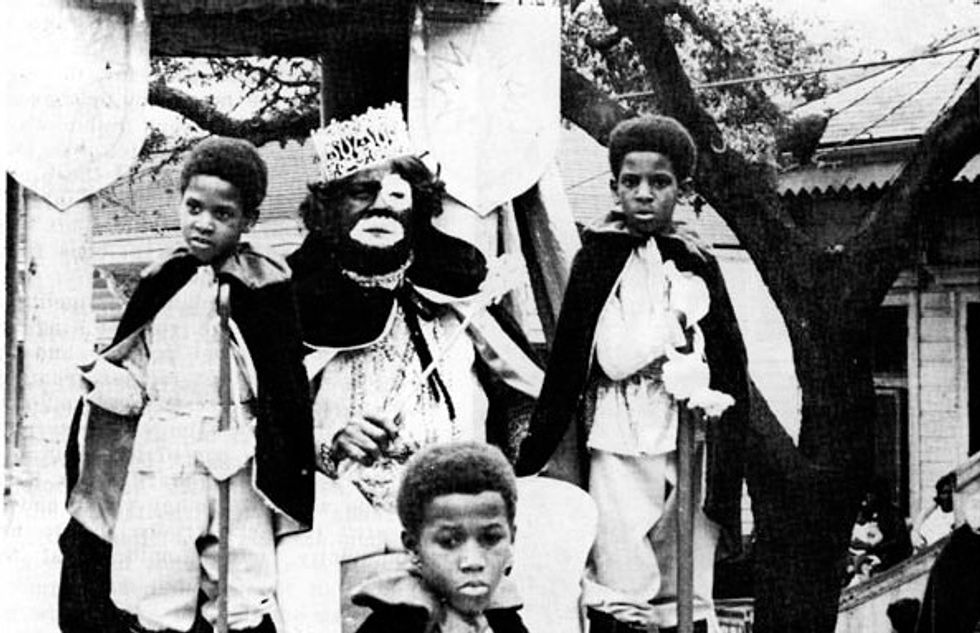 Mardi Gras, 1973. Photo via Porter/Zulu Social Aid and Pleasure Club of New Orleans/Wikimedia Commons.
Today, many residents of New Orleans are proud members of clubs and groups their ancestors established generations ago.
The first is the Mardi Gras Indians, a black masking group that named itself in an homage to the Native Americans who helped slaves escape to freedom. On Mardi Gras, when the rest of the city takes to the main streets, the Mardi Gras Indians parade through the neighborhoods.
"They're celebrating another tradition, sort of in defiance of years of enslavement, of segregation, or disenfranchisement from all sorts of different groups of people," Barnes says. Their suits, rescued by Francis, now reside in the Backstreet Museum.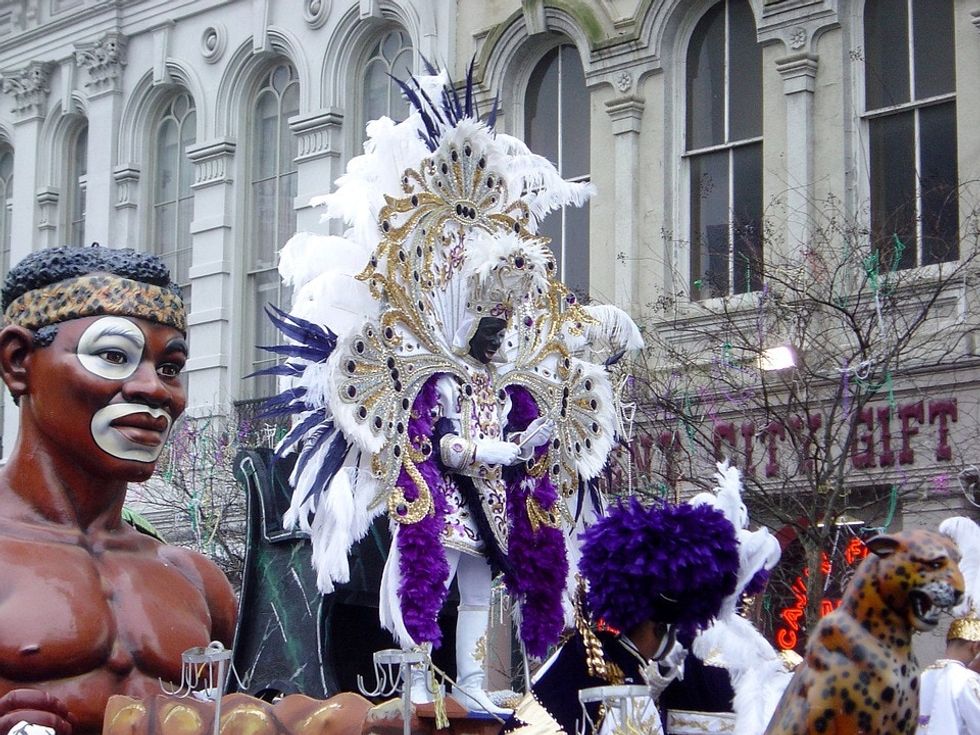 The 2013 parade's King Zulu rides atop his float. Photo via Ford Brackin/Pixabay.
The museum also houses artifacts from the Skull and Bones Gang and the Baby Dolls, two other groups that parade on Mardi Gras.
Barnes himself is the chief of the Northside Skull and Bones Gang, a group of black men who dress as skeletons and go through the neighborhoods of New Orleans with a message.  
Says Barnes, "We remind people about living a good, productive life, how to avoid a short life, a life cut too short through drugs, through violence, through all of these things that can potentially happen to you."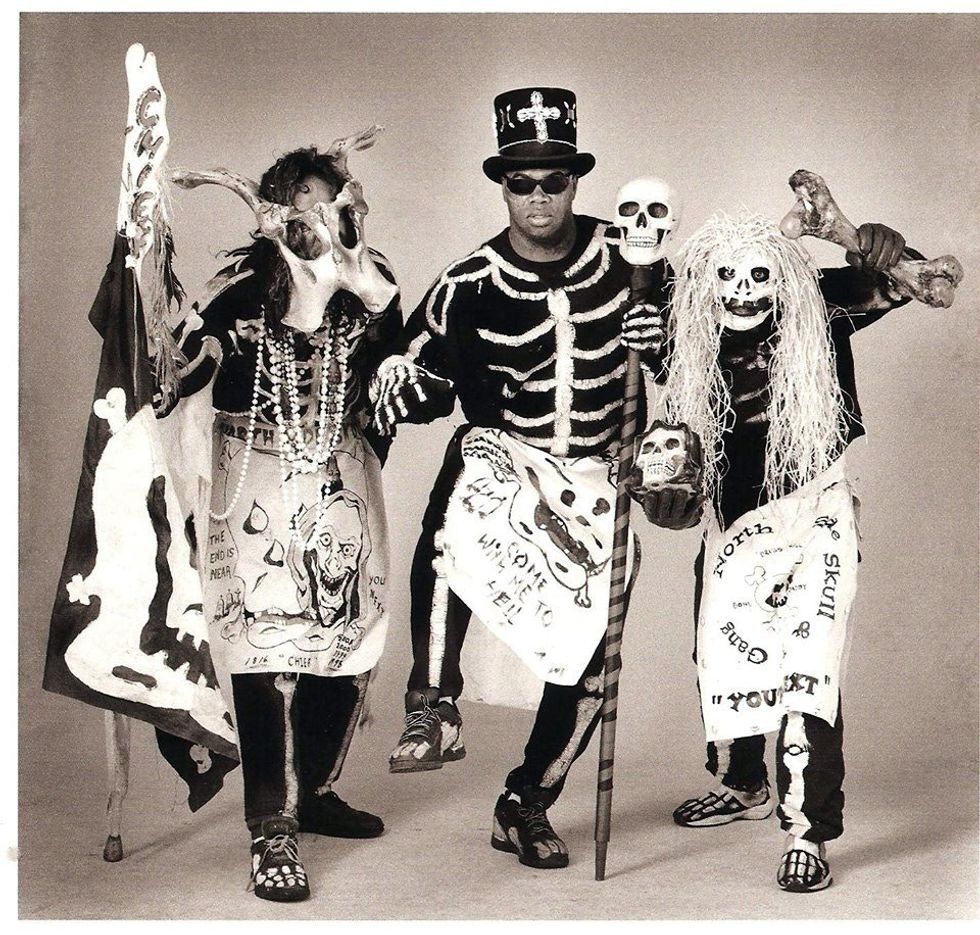 Barnes and other members of the Northside Skull and Bones gang pose in costume. Photo via Rick Oliver/Facebook.
But just because the skeletons are all men doesn't mean that black women are left out of the fun. That's where the Baby Dolls come in.
"Baby Dolls are another black Afro-Creole tradition," Barnes says. "They have bonnets, they have silk satin dresses, baskets that carry baby bottles with drinks in them, like rum and coke, stuff like that." Just like the skeletons, the baby dolls promenade not in the main parade, but around the smaller neighborhoods of town.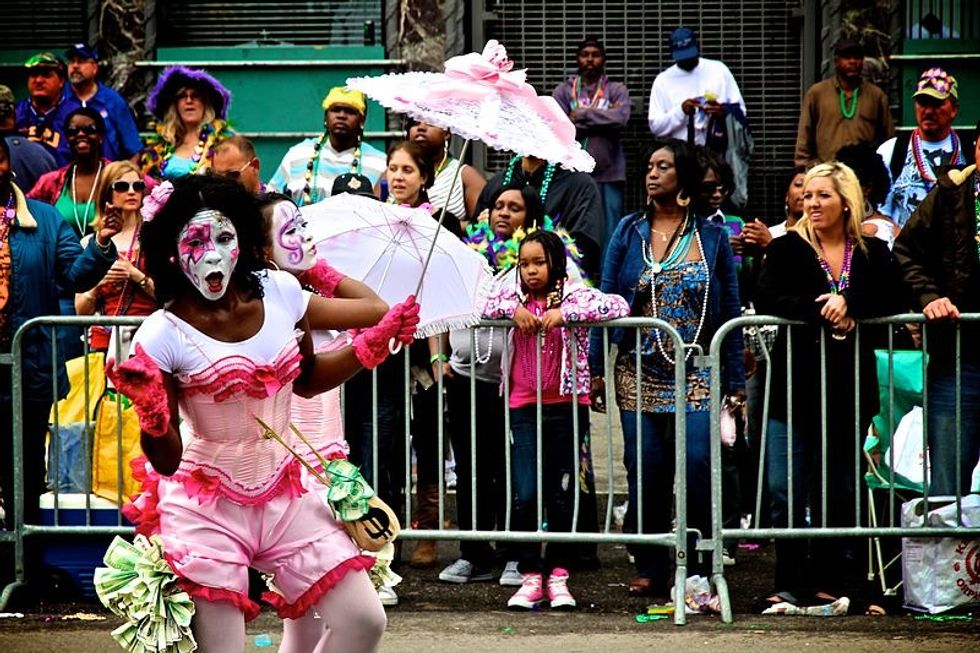 A Baby Doll in full costume marches in the 2011 Zulu Mardi Gras parade. Photo via Brad Coy/Flickr.
In reality, all New Orleans parade culture is closely tied with the culture of the disenfranchised — not just the traditions surrounding Mardi Gras.
Insurance and any type of social aid were much more difficult to acquire for people considered to be "second-class." Those people had to look elsewhere for help.
"You lose your job, you get hurt on the job — it's a burden. Or you could drop dead," Barnes says. "The hardest thing for people who don't have money to do is to pay for a funeral."
In response, social aid and pleasure clubs formed in order to help members' afford health care, funerals, and day-to-day necessities when they came upon hard times.
When social aid and pleasure clubs held those funerals, the entire association got involved — which is how those quintessentially New Orleans jazz funeral parades came to be.
Francis himself took part in many of those brass band funerals and kept photos, videos, pamphlets, and more documenting each and every one.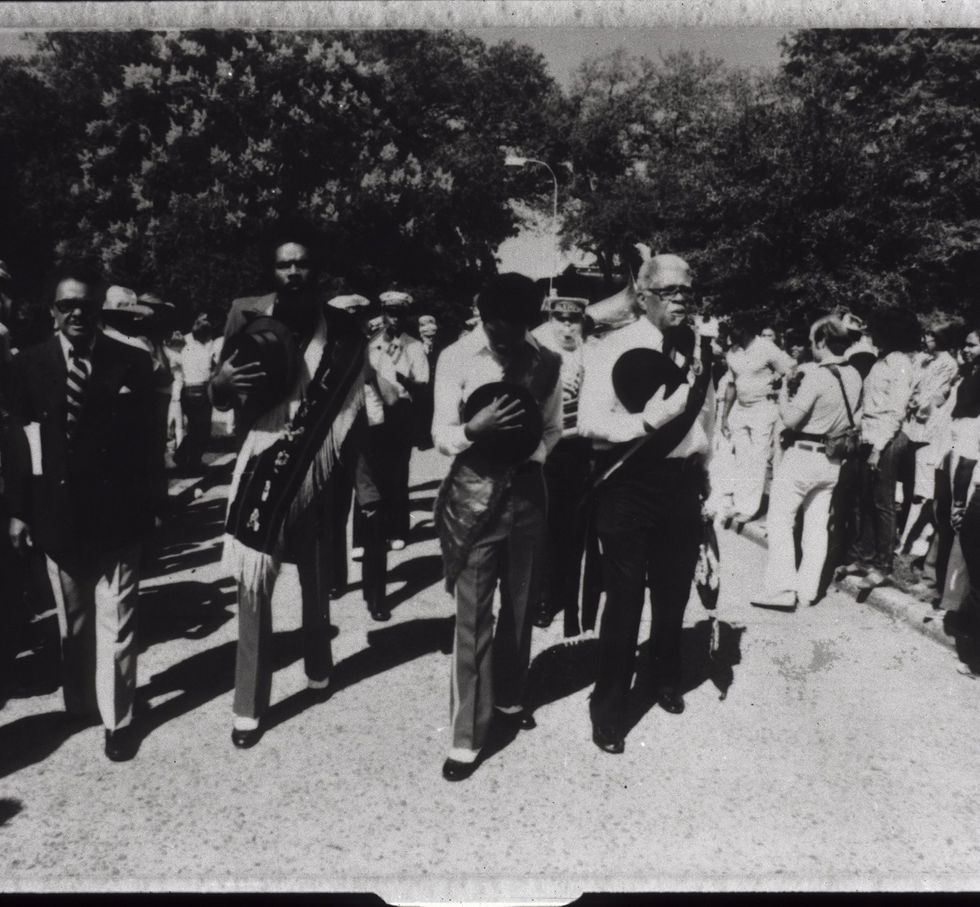 A row of grand marshals parades in front of the Olympia brass band in a 1981 jazz-funeral-style parade. Photo via U.S. National Health Service/Wikimedia Commons.
Today, the Backstreet Museum exists not just to preserve this culture, but to perpetuate it.
"We do different things throughout the year," Barnes says. "People who want to get connected with the spirit of what the city is, the carnival, those kinds of traditions. Anthropologists, sociologists — they all show up."
In a way, the Backstreet Museum has become its own sort of benevolent society, open to community members and the curious alike. Like the social aid and pleasure clubs that preceded it, everyone is welcome.