You're getting ready for a date. It's time to pick the place. Where do you go?
You want to consider price — not too cheap, not too expensive — and ambiance; you want it to be conveniently located, with a good menu and perhaps some alcohol offerings. And if you're gay in Indiana, you also need to pick somewhere you know you won't get harassed or downright thrown out.
"Any service provider in Indiana can turn anyone down," says Amy Shaw, who identifies as a lesbian and has lived in Indiana for the past 14 years. "People get assaulted for being queer. So it's important to know where those safe places are, where you'll get served, where people are going to treat you like anyone else."
In 31 states, including Indiana, it is still legal to discriminate against members of the LGBTQ community.That means that people can be turned down for service, thrown out of restaurants, passed over for jobs, or fired from their work simply because the owner of a business has anti-gay beliefs.
[rebelmouse-image 19397640 dam="1" original_size="6776x5082" caption="Photo via Benedikt Geyer/Unsplash." expand=1]Photo via Benedikt Geyer/Unsplash.
For comparison, Indiana does have nondiscrimination laws that protect people from being discriminated against on the basis of their race, religion, color, sex, disability (mental or physical), status as a veteran, national origin and ancestry. But while everyone else is free to navigate society without fear of danger, LGBTQ individuals still have to do the work of figuring out where they'll be safe.
That's why now, a small sticker is showing up in storefront windows across the state carrying a big message: "these businesses serve everyone."
How about some great news! @JPKnitandStitch is #Openforservice! #openforall #serveeveryone https://t.co/SNhXuuH1Rc

— Open For Service (@Open For Service) 1485979813.0
Created by the nonprofit Open for Service, the stickers let people know that even though it's legal to discriminate, the business is LGBTQ-friendly and won't turn anyone away on the basis of who they are.
"To us, it's obvious," says Sonja Garnett, whose family owns and operates ABC Roofing Company in Indianapolis. "You don't want anybody to feel like they aren't gonna be served for any particular reason."
"I like wearing my badge. I like my thing that says I do support everyone in the community," says Eric Wilson, who owns Irvington Insurance in Indianapolis, which also sports the sticker, or "badge" as he calls it. "I just said, you know, everyone's welcome here at my place, even if you're not welcome in every place."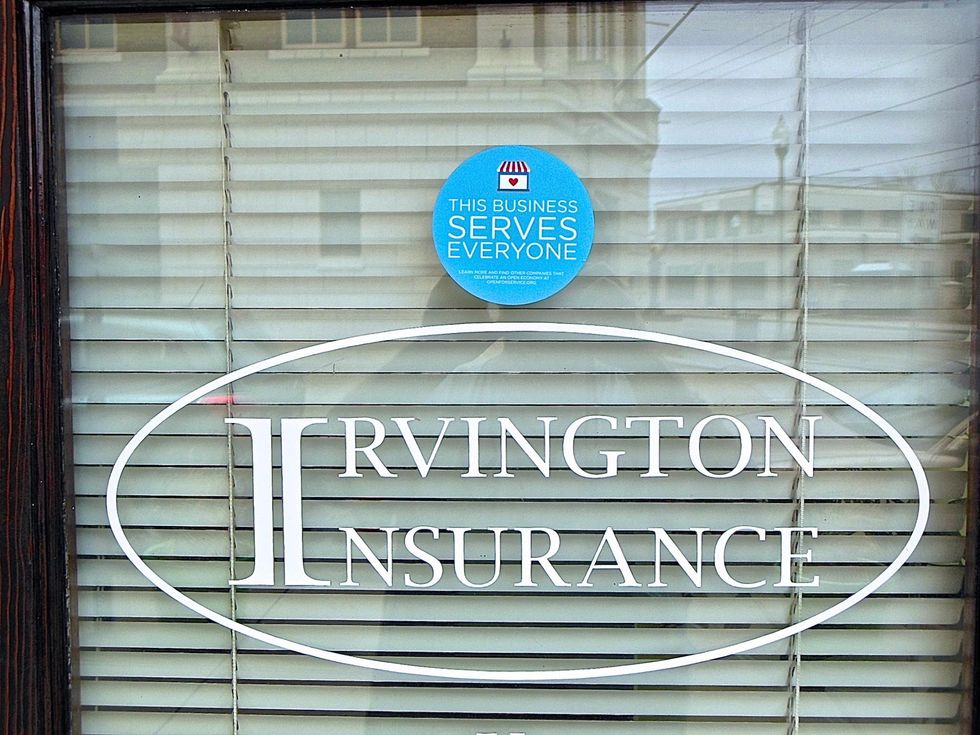 Eric Wilson's business. Photo courtesy of Wilson.
"The sticker signals to me that this place is gonna be cool," says Amy. "They're not gonna kick somebody out because of their sexual orientation or behave inappropriately. The florist will still sell me flowers, and they're not gonna force a bunch of pamphlets on you or something like that."
It's incredibly important — to customers, companies, and communities at large — for everyone to be allowed to participate in society equally.
On one hand, it's simply a matter of dignity. "You don't want them, or anyone, to have to go through something like that, being humiliated because you're different than someone else," says Sonja.
But perhaps more importantly, it's a matter of establishing concrete equality for all people, in all areas of life — not just in marriage, but in business and economy as well. For the same reason that protections exist for racial minorities, veterans, people with disabilities, etc., it's time to extend those laws to cover LGBTQ Americans and ensure that everyone is operating on a level playing field.
"I'm offering a service, and it's a public service that everybody needs access to," says Eric. "Everybody should have equal access to all the things available to us."
[rebelmouse-image 19397642 dam="1" original_size="700x700" caption="Photo via Oliver Cole/Unsplash." expand=1]Photo via Oliver Cole/Unsplash.
The sticker is a big step in the right direction, but those who use it still admit that they wish they didn't have to.
People who are straight and not transgendered don't need to look for signs or stickers to figure out whether they'll be discriminated against in a store. And if they are discriminated against for their skin color or disability status, they can take legal action and pursue justice.
Sometimes, people wonder why Amy, and others from the LGBTQ community, don't move to more accepting states with better protections, but Amy is perfectly happy where she is. "I have a lot of really supportive friends and family," she says. Plus, she adds, the LGBTQ community in Indiana is strong, and she's proud to be a part of it.
All that Amy wants is for Indiana to give her the same protections and legal options that others around the country count on to feel safe.
And business-owners like Eric and Sonja want that for her, too. But in the meantime, the Open for Business sticker is an effective stop-gap that can help make life easier for LGBTQ people from Indiana while they wait for state laws to catch up..
"I wear the sticker because it's necessary for those other people," says Eric. "I want everybody to be welcome. But you have to have the sticker on the door, because there are people who aren't like me."
"It shouldn't be necessary," says Sonja. "But sadly it is, because there are people out there who are discriminatory."
The LGBT community and allies continue to fight for legal protection against discrimination. But in the meantime, the sticker — and the people who use it — have a big impact.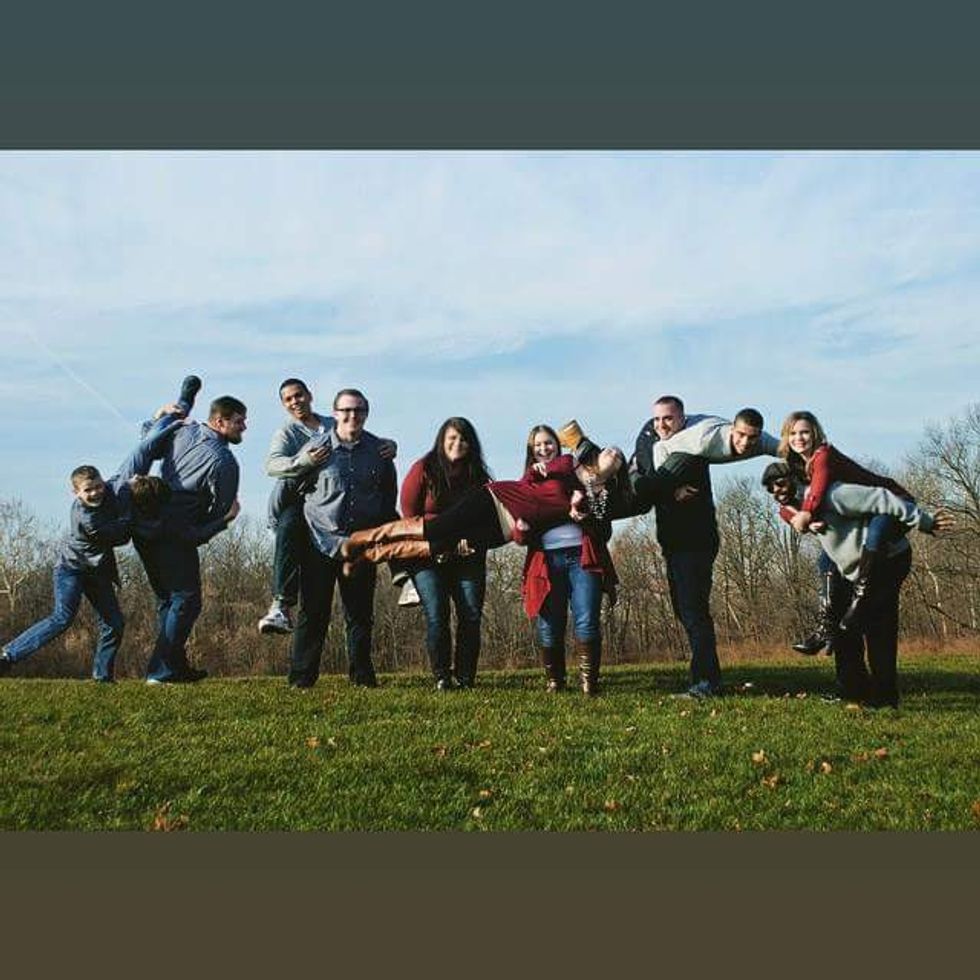 Sonja Garnett and her family. Photo courtesy of Garnett.
Human rights groups are working toward adding gender and sexual identity to existing nondiscrimination laws in the 31 states that remain in need of legal protection for LGBTQ groups. Smaller municipalities are adding nondiscrimination laws to the books in order to protect people in their own towns and counties.
"I want comprehensive hate crime legislation," says Amy. "That way, people have recourse to protect themselves."
But while she and the Indiana LGBTQ community await broader legislation protecting against discrimination, it's people like Sonja and Eric that continue to make Indiana the place that Amy considers home.
"We stand behind people who are seen as 'different,'" says Sonja. "We got the sticker to show that we support them. So they know that somebody stands behind them."