popular
The racist ice cream man song is being replaced with a joyful new one by the Wu-Tang's RZA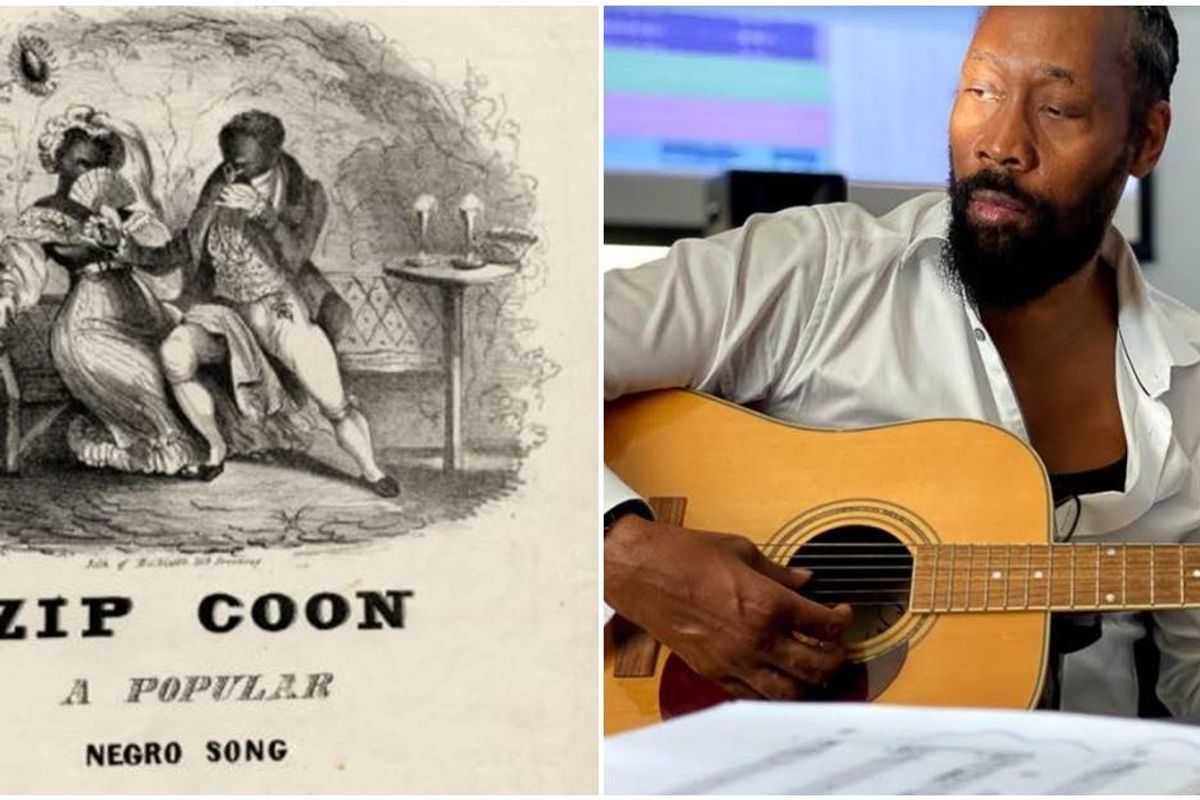 via Good Humor and the Library of Congress
Earlier this summer, Upworthy shared a story about the ugly racist past of the seemingly innocuous song played by a lot of ice cream trucks.

"Turkey in the Straw," is known to modern-day school children as, "Do Your Ears Hang Low?" But the melody was also used for the popular, and incredibly racist, 1900s minstrel songs, "Old Zip Coon" and "Ni**er Love a Watermelon."
Zip Coon was a stock minstrel show character who was used as a vehicle to mock free Black men. He was an arrogant, ostentatious man who wore flashy clothes and attempted to speak like affluent white members of society, usually to his own disparagement.
---
"Old Zip Coon"
OLD ZIP COON - 1834 - Performed by Tom Roushwww.youtube.com
In the early 1900s, cards with racist depictions of Black people eating watermelons while making wide-eyed looks, were popular and inspired another racist song that used the melody: "Ni**er Love a Watermelon Ha! Ha! Ha!"

Ni**er love a watermelon ha ha, ha ha!
Ni**er love a watermelon ha ha, ha ha!
For here, they're made with a half a pound of co'l
There's nothing like a watermelon for a hungry coon
"Ni**er Love a Watermelon"
The Truth About The Ice Cream Truck Jingle | Ni**er Love A Watermelonwww.youtube.com
Minstrel music was popular in ice cream parlors at the turn of the century, so when Americans began moving to the suburbs after World War II, the music was played from ice cream trucks to recreate the feeling of the parlor.

Good Humor started the first ice cream truck in the '20s and had one of the largest fleets until it went retail-only. In 1978, it sold off its iconic trucks to independent contractors, some of which are still operating to this day.
Good Humor is still synonymous with the ice cream man, so the company decided to use its influence to help the ice cream truck industry replace "Turkey in the Straw" with a song that "brings joy to every community."
So it teamed up with RZA, the legendary producer, rapper, composer, and founding member of the Wu-Tang Clan. RZA has also scored a number of films, most notably "Kill Bill: Volume 1" (2003) and "Kill Bill: Volume 2" (2004).
The new jingle will be available to ice cream trucks in the U.S. starting in August through music boxes from Nichols Electronics, the sole manufacturer of electronic music boxes for ice cream trucks in the United States.
In the wake of a renewed discussion over the jingle's history, the company's owner, Mark Nichols, told Good Humor it would remove "Turkey in the Straw" from its music boxes.
Here's the new jingle.
Good Humor x RZA: A New Ice Cream Truck Jingle for a New Erawww.youtube.com
Upworthy got the chance to talk with RZA about his new jingle, ice cream, and how we should deal with troublesome art and artists from the past.

Upworthy: How did this collaboration with Good Humor come about?
RZA: Since the ice cream truck jingle has a problematic history, Good Humor reached out to me to bring in a new jingle and a new vibe for a new era.
UP: What was your inspiration for the new song?
RZA: First and foremost, I was thinking about ice cream and joy. I wrote it in a major key so when a child and a parent hear it they both feel a sense of joy. I made sure the song was rooted in joy. And so my basic foundation was like, if I can get a joyous vibe in the melody then half of my job would be done. I just kept playing around until something felt joyous to me. I tested it on my wife and my son and they said, "It feels good."
UP: It's like you ran a test on your kid asking, "Will this get you running out of the door?"
RZA: Exactly. Everybody loves ice cream. When the ice cream truck comes to the neighborhood kids stop doing what they're doing, yo. I don't care if it's jump rope, hula-hooping, playing skully, hopscotch, whatever, you would stop, yo.
You'd abandon what you're doing to chase this truck down. And don't let the guy start moving before you get there, that means you gotta run 'til he stops at the next building.
UP: What immediately came to my mind after hearing about the project was the song, 'Ice Cream' by Raekown that you produced. Although, that song has a real minor-key feel.

RZA: I also have the song, "C.R.E.A.M," both of those have melodic piano, but this song had to have a really positive intention. But it's still gotta have some Wu-ism to it. So if you listen to it you'll hear that it is a major-key melody but I still go to the minor chord.
It is similar to a song with a chord progression of [Wu-Tang's] "Can it Be All So Simple?" I wanted to be sure that it had a taste of that Wu-ism in it, but not going dark at all.
The Story Behind the New Ice Cream Truck Jingle from Good Humor x RZAwww.youtube.com
UP: Was there any thought given to the sound system that's on the ice cream truck?

RZA: We were privileged to have Nichols Electronics speakers sent to the studio so my mix engineer had a chance to demo it through the speaker so we know how it's gonna sound when these ice cream trucks get it in their hands. What's so funny is the song still has a little bit of bump that the normal jingle couldn't have.
UP: Did you give any consideration to the fact that the ice cream man is going to have to hear this song for eight hours a day while he's driving around?
RZA: I think the way this track was composed it's going to take a long time for him to get bored with it. You listen to my music, don't you notice something like years later?
UP: With every context you hear something different.
RZA: Yeah, so I consciously stuck a few things in there. There's some sound effects and strings underneath that you can't really hear at first listen. But after a while, he'll have fun exploring the track. I think the loop point is fun. It's like a conversation that doesn't end.
UP: I know you're a vegan, but as a kid, when the ice cream man came up the street, what did you line up for?
RZA: For me, strawberry shortcake. You got to imagine a kid who's economically depressed growing up. But I would go to the grocery store and pack bags and you could make yourself a dollar during the summer break. And if that ice cream truck comes, I knew where my dollar was going, yo. I would eat the outside layer first and then eat the ice cream. My buddy Ghost, [rapper Ghostface Killah] he was a toasted almond guy.
UP: Which member of the Wu-Tang has the biggest sweet tooth?
RZA: I still would give it to Ghost. He still has his sweet tooth.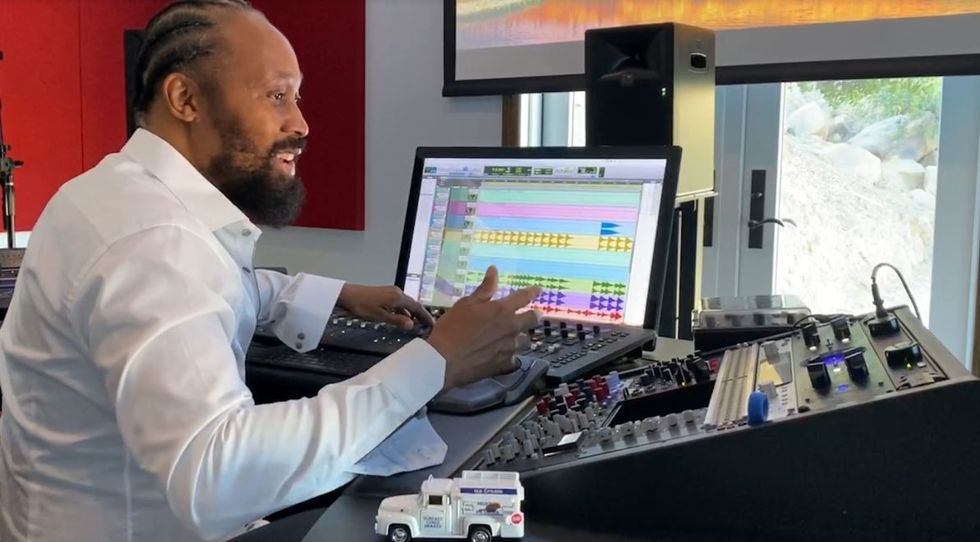 via Good Humor
UP: These days people are reconsidering culture with problematic histories, such as "Turkey in the Straw." As an artist, how do you think society should come to grips with art or artists with questionable pasts?

RZA: I think that if we have a chance to right a wrong, we should. That's a blessing in life to be able to right your wrongs. As an artist myself, I don't think art should be censored, but you've got to be able to evolve.
Think of the guy who had to draw the solar system when we knew about three planets. He only drew from his life experience. Now years later, do we correct him? Yes.
I can look at myself and listen back to my old albums and you can hear the aggression. Later, you hear some of my composed pieces and you hear that I've been to other parts of the world, you hear that I understand other people's experiences.
Art has to evolve. If we made mistakes as artists in the past — and art always comes from the heart — then our hearts should be strong enough to accept our mistakes and focus on making things better for the generation we live in now.
UP: It seems like these days there are a lot of people that won't let people evolve. People get called out for something they did 20 years ago when they aren't the same person anymore.
RZA: You gotta let people evolve. The guy who first came out of the cave, if he would've stayed in we all would've stayed in. But he was smart enough to come out so you have to come out too, man.
UP: The reimagining of the ice cream truck song comes as part of a greater social justice movement. One of the things you're known for is being a strategic thinker. You launched a successful five-year-plan for The Wu, practiced martial arts, love chess, have written a lot on philosophy, and referenced the "Art of War" in your work.
What are your thoughts on how Americans are handling the current social justice movement and what strategies would you suggest?
RZA: I think it's healthy. I think it's a step in the right direction. The more we step in the right direction the further we get away from the wrong direction.
I grew up in school when we had to do a pledge of allegiance to the flag. I'm one of those kids who stood up, put his hand over his heart and did it every morning. And it says, "One nation, under God, indivisible, with liberty and justice for all." That's the pledge that we all took and we should all live up to that pledge.
To me, the strategy of finding ways to speak out for each other when one of us is being mistreated, I think it's very healthy. I look forward to the day when that pledge is upheld by all of us and enjoyed by all of us.
This interview was edited for time and clarity.