Family
The measles outbreak has hit New York City. Literature targeting Orthodox Jews is behind it.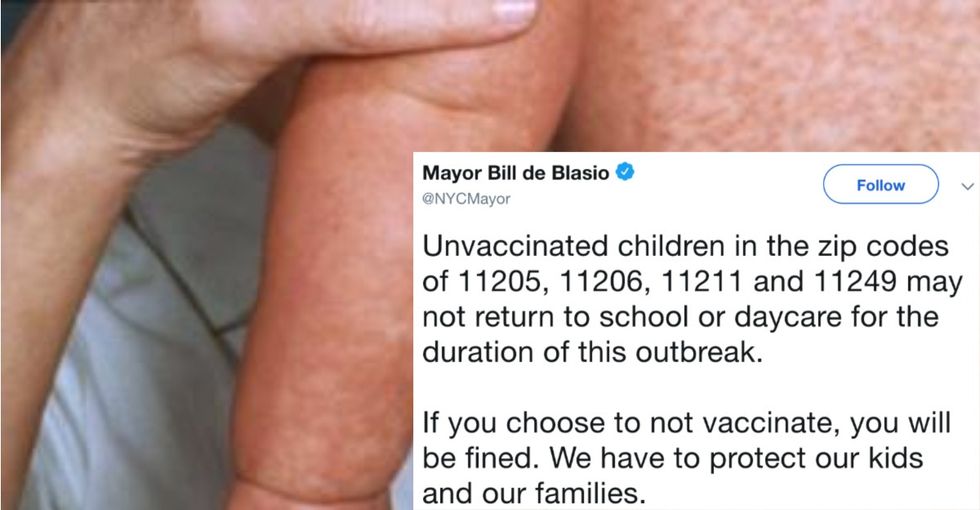 The first major measles outbreak in New York State this year may have started in upstate New York, but it's officially reached the epicenter — New York City.
For several months, officials in New York City have been encouraging members of ultra-Orthodox Jewish communities in the Brooklyn area of New York City to vaccinate their children in an attempt to squash the rapidly growing number of measles cases in the region. In addition to providing education about the vaccine and talking to local rabbis, they have also tried keeping unvaccinated children from attending school.
Despite those efforts, there have been 285 confirmed cases of the infection since September with 21 of them leading to hospitalization. It's the largest measles outbreak the city has seen in over three decades. So this week, officials took a more staunch approach — Mayor Bill de Blasio declared a public health emergency.
---
As part of the increased efforts to eradicate the outbreak, the mayor announced that those who refuse to comply with the required vaccinations will face some legal consequences: violations will be issued, and some may incur fines of up to $1,000. As of today, the order targets four zip codes where the outbreak seems to be centralized.
Some individuals claim that vaccinations go against their religion, and the order is unconstitutional. That, however, isn't deterring Mayor de Blasio from towing a hard line in this worrisome situation.
Unvaccinated children in the zip codes of 11205, 11206, 11211 and 11249 may not return to school or daycare for the… https://t.co/J0Cmc7AJqy

— Mayor Eric Adams (@Mayor Eric Adams) 1554856472
"This is the epicenter of a measles outbreak that is very, very troubling and must be dealt with immediately," de Blasio said during a press conference. "The measles vaccine works. It is safe, it is effective, it is time-tested."
Health officials claim they won't randomly perform spot checks on students as part of the enforcement. Instead, if a new case of measles is detected, they will look into the vaccination records of all individuals in contact with the infected person. They hope this stringency along with the imposed fines will encourage more people to get vaccinated.
While the outbreak is scary, the entire Orthodox community isn't to blame. Only a small percentage Orthodox Jews in the area are against vaccinations.
According to the New York Times, most religious leaders in the community do not back anti-vaccination beliefs. Instead, they have been perpetuated by a grassroots movement that may have started with the distribution of a propaganda handbook created by a group called Parents Educating and Advocating for Children's Health (Peach). The handbook makes many false claims about vaccines, saying they cause autism, contain cells from aborted human fetuses and defy the Kosher diet.
"Vaccines contain monkey, rat and pig DNA as well as cow-serum blood, all of which are forbidden for consumption according to kosher dietary law," Moishe Kahan, a contributing editor for Peach magazine, reportedly said in an email.
Despite the fact that most prominent rabbis maintain vaccines are Kosher, the literature seems to have still swayed a number of families.
The Times interviewed several rabbis and Jewish medical experts who attest to this, maintaining they have been working hard to educate and influence the people in their community who refuse vaccinations.
However, as has been seen in other areas of the country where measles outbreaks have occurred, those who are anti-vaccination aren't quick to drop their beliefs. And the required vaccination mandate seems to have made them dig their heels in deeper.
"I don't think it's up to the city to mandate anything. We all have constitutional rights," a mother-of-five who identified herself as Gitty, told the Times. She added that she refused to vaccinate any of her kids, referring to the act as "a medical procedure by force." She added: "We are marginalized. Every minority that has a different opinion is marginalized."
Another woman, whose interview outside of the mayor's press conference was posted on Twitter, called the act "unethical," maintaining the government has no right to force her to inject her children with medicine.
Outside mayor's press conference on measles outbreak, this mom questioned the science of vaccines and called mandat… https://t.co/ywov3vZwQJ

— Yoav Gonen (@Yoav Gonen) 1554826248
"This is my religious belief," her friend, featured in a separate video interview, explained. "It comes along with whatever it comes along and we deal with whatever comes along with and I think I chose the better part of it, because my kids have measles for life,"  she exclaimed.
There are even claims that "measles parties" are being held in the community, in order to expose children so that they can build up immunity and antibodies.
Spreading a potentially deadly disease to other people shouldn't be anyone's right.
According to the CDC, the measles vaccination is not 100 percent effective. One dose is about 93 percent, while two offers 97 percent effectiveness. So just because someone is vaccinated doesn't mean they're totally immune to the disease.
Refusing to get vaccinated, regardless of the reason, is putting other people's health and lives at risk, no matter how you slice it. New York City's approach to the measles outbreak might seem extreme, but at this point, it's necessary to stop this outbreak once and for all.