I don't know about you, but all of this [gestures widely at the general state of things] has been getting to me a bit lately. And when that happens, I've learned that the best way to pull myself out of the funk is to find joy in simple things. The fleeting colors of a beautiful sunrise. The hilarious quirkiness of my cats. The sound of my kids' laughter.
Big happiness can be found in little things, especially when you add a bunch of them together.
So without further ado, here are 10 things that can bring us all some joy as we head into our weekend.
A puppy riding a rooster is the unexpected therapy we all need.
🐷🐔🐶Bonito viernes🐶🐔🐷 https://t.co/oRvadZQinY

— Stephanie Mireles (@Stephanie Mireles) 1634905713.0
What is even happening here? How did these puppies and roosters meet? When did they become friends? Who knew a rooster would ever do anything like this? So many questions, but honestly, who cares. It's friggin' adorable.
You can see the exact moment this cat says, "Oh crap," and it's just perfection. 
This is Luna. In her defense, that is her bed. 14/10 she did nothing wrong https://t.co/09C4znnauJ

— WeRateDogs® (@WeRateDogs®) 1635011086.0
It's the cat's Jim Halpert stare at the camera at the 10-second mark that pushes this video over the edge. Hilarious.
Spanx founder surprised her 500 employees with two first-class plane tickets and $10,000.
Sara Blakely sold fax machines door-to-door and started Spanx with $5,000 in savings & no experience. She never ra… https://t.co/jX65k0FqKE

— Joe Pompliano (@Joe Pompliano) 1634947987.0
After selling the majority share of her company, Sara Blakely shared the wealth with her workers in the form of two first-class plane tickets and $10,000 to spend wherever they went. An awesome example of taking care of the people who help you build success. Rock on, Sara Blakely. Read the story here.
A dad of an autistic boy shared how a U.K. football club made him feel at home.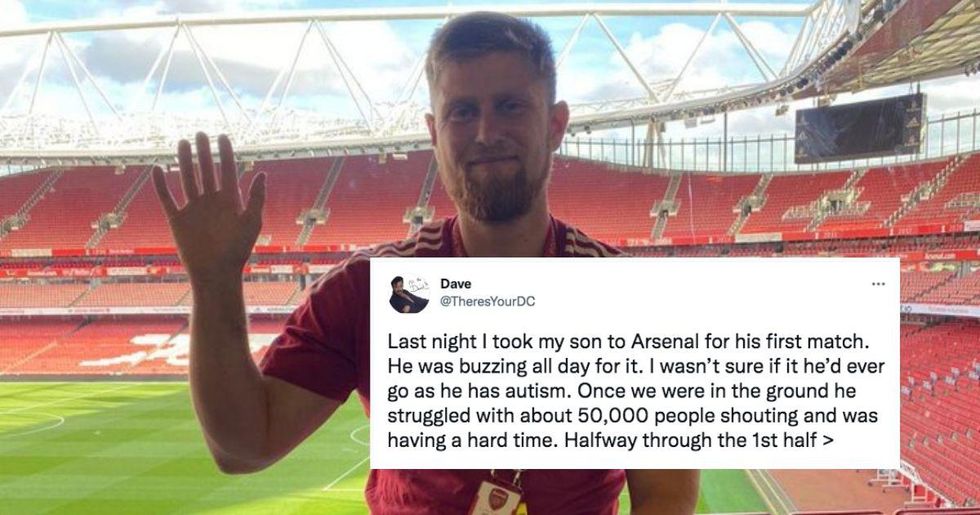 Emirates Stadium has a sensory room for autistic spectators and others with sensory sensitivities.
Arsenal/Twitter, @TheresYourDC/Twitter
A dad took his autistic son to an Arsenal football game, and when he became overstimulated, he was going to take him home. But a kind employee intervened and took them to the club's sensory room, which is set up for people who might experience sensory overload at the game. Read about this beautiful example of inclusion here.
Every parent has experienced the planking baby vs. carseat fiasco. Too familiar, and too funny. 
@benandlex

Light as a feather, stiff as a board! #TargetHalloween #carseat #uppababy
Seriously, when they do this it's nearly impossible to get them to bend without feeling like you're going to break them. It's like a superhuman ability all babies are born with.
Awesome teacher wrote an official letter to the tooth fairy on behalf of a student who threw away their tooth.
It's even on official school letterhead! Gotta love a grown-up dedicated to keeping magic alive for kids.
Chris Evans' giddiness over playing Buzz Lightyear is the most delightful thing ever.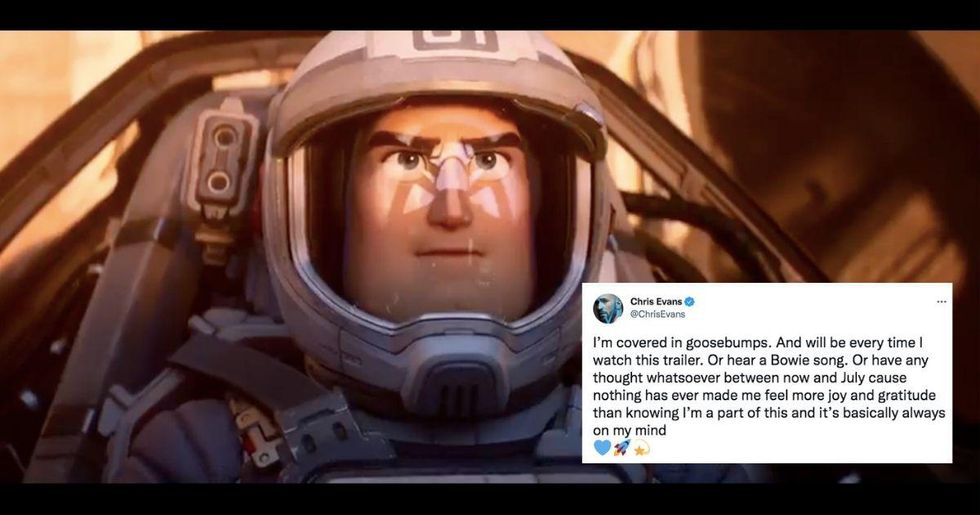 Chris Evans can't contain his delight at getting to play his dream role.
You'd think playing the studly superhero Captain America would be the pinnacle of an actor's career, but Chris Evans has never gushed over that role like he has over getting to play Buzz Lightyear in Pixar's upcoming film, "Lightyear." Check out how he talks about playing his dream role here.
These twin toddlers giggling their way through their first Target experience are all of us.
@savyjane

It's @target right? 🎯 #myheros #preemiestrong #micropreemie #medicalmom #thattwinlife #twins #laughter #smiletoday #foryourpage #fyp
This is the soundtrack in my head every time I get to peruse the perfectly organized aisles of Target by myself. Target is magical.
A kid wanted her "most precious" rock to be put on display at the museum. Mission accomplished.
Good morning to Bethan and Bethan only https://t.co/1U5iyXm1xV

— Ian B (@Ian B) 1635317064.0
The plaque reads, "On 23rd August 2019, Bethan visited Poole Museum. After talking with her mum about what museums do, Bethan decided she wanted to donate her 'most precious' rock to the museum. She asked that we put it behind glass and look after it, so that everyone could see and enjoy it."
This is the way. Well done, Poole Museum.
Puppy pandas. I REPEAT. PUPPY. PANDAS. 
Who is ready for puppy pandas? Credit Imgur/SusanaTerror https://t.co/Mz00uMnfzY

— Danny Deraney (@Danny Deraney) 1635460304.0
And just when you think it can't get better, puppy lions show up. This is seriously the greatest thing I've ever seen.
If that last video alone didn't make you smile, please seek help.
Hope that brought a little sunshine to your day. Come back next week for another roundup of joy and delight!
We can all use more reasons to smile, and thankfully there is no shortage of them. Here we've gathered ten snippets of delight, joy, and hope to help you sail into the weekend with a happy heart.
Enjoy.
Good dog becomes VERY concerned when his owner jumps into the lake.
Don't worry, hooman, I come save you! The way the doggo went around to get into the water instead of jumping in leads me to believe maybe it was even a little scared to go in. But doggone it, there was a life to save! Sweet puppers.
Yikes on bikes, this kiddo is a great little actor.
If they don't stop playing and put this little boy in some acting classes! https://t.co/9OfFKJhe10

— This is a PSL stan account (@This is a PSL stan account) 1634089881.0
First of all, fun costume. Second of all, the kid is ALL IN. Terrifyingly good.
Love this dad teaching his daughter a tricky skateboarding move.
Three cheers for awesome dads.
Speaking of skating, how often do we see a news anchor reporting WHILE skateboarding?
Free skateboarding lessons are happening at a new skatepark in Detroit. Of course I had to show the kids something… https://t.co/xvsC97nivh

— VICTOR WILLIAMS (@VICTOR WILLIAMS) 1634181487.0
You just know this guy has been waiting for the opportunity to show off his skating skills his whole broadcast news career. Congratulations, dude!
Librarians are superheroes and this "Tough Topics" guide proves it.
Clever librarians. You don't have to ask. https://t.co/xtifMiwJIf

— Tara Lazar's BLOOP is out now! (@Tara Lazar's BLOOP is out now!) 1633963786.0
Some people don't want to go up to a librarian and ask where to find a book about [fill in somewhat embarrassing/stigmatized/uncomfortable topic here]. This "Tough Topics" guide uses the Dewey decimal system, so it's actually universal to all libraries.
This donkey adores this human and it's so dang cute.
Donkey utterly adores their human.. 🎥 IG: longhopesdonkeyshelter https://t.co/MwxaUr6wRV

— Buitengebieden (@Buitengebieden) 1634042918.0
I love you. I love you. I loooovvvveee yoooouuuu. (Could live without kissing a donkey's nostril, but that's just me.)
This flower carpet in Belgium is absolutely stunning.
A carpet created from 500,000 dahlia and begonia flowers at Grand Place in Brussels, Belgium. 100 volunteers create… https://t.co/hxhnHcCh5y

— John Lundin 🌊 (@John Lundin 🌊) 1633838881.0
Every other summer, volunteers create an elaborate flower carpet in the center square of Brussels. 500,000 Dahlias and Begonias went into this carpet, which was made in 2018. Absolutely stunning.
Miles Bonham is a wickedly talented 5-year-old.
Coldest vid I've seen today! #ReturnOfTheMack 🙌🏽 https://t.co/JS0b3UYgUp

— Rondel B. (@Rondel B.) 1633804557.0
It's the zoom-in on the sippy cup that really drives the point home here. This kid is incredible. Read more about Miles and his musical talents here.
Kind kiddo gives his coat to a classmate who he noticed didn't have one.
Click the right arrow to see the sweet message from the kid's teacher. What a stand-up little guy!
The Rock is every parent with a kid in the backseat singing a neverending song.
Hilarious. We parents have alllll been there. But this patience is impressive, and the encouragement he gives his daughter despite having endured the same song over and over and over and over is just so sweet. Read more about The Rock singing along with his kiddos here.
Hope that brightened up your week! Tune in again next weekend for more reasons to smile.
University of Utah Hospital/Twitter, @BradBeauregardJ/Twitter
There seems to be a fairly broad consensus that the world is a bit of a dumpster fire at the moment, but that perspective doesn't account for the countless examples of beauty, goodness, and hope we see all around us when we look for them.
If you're looking for reasons to smile, here are ten from this week that'll give you a dose of joy and boost your faith in humanity.
1. A phlebotomist taking a moment to create breathtaking beauty on his work break.
Healthcare workers have had it rough over the past year and a half as the world battles the COVID-19 pandemic. And yet, through it all, we've seen extraordinary resilience and fortitude to carry on through the challenges. Teva Martinson, a phlebotomist at University of Utah Hospital, creates a moment of artistic beauty during a work break with the help of the lobby pianist, and it's everything.
Read the full story here.
A moment of pure joy at University of Utah Hospital❤️ #uofuhealth #universityofutahhealth https://t.co/kiuBPs6cbA

— University of Utah Health (@University of Utah Health) 1630434741.0
2. Singer Shawn Louisiana nailing a Sam Cooke song at the barbershop.
Sometimes a voice shoots like an arrow straight into your soul, and Shawn Louisiana singing "A Change is Gonna Come" for the clientele at a barbershop is one of those times. So gorgeous. Smooth like butter. Definitely worth a listen.
Read the full story here.
The older guy didn't think I could pull off a Sam Cooke song #achangegonnacome youtu.be
3. A grandpa giving a young woman notes of their time together when she was little.
Aw dang, this is too sweet. This grandpa gave a woman three notebooks filled with stories of each time he hung out with her from ages two to five for her birthday. What a precious, forward-thinking gift.
4. Can we please have all meteorologists get a doggo sidekick?
The pandemic has turned live broadcasts into a family affair and if we keep anything from this era, pet interruptions should be it. A weather report without a dog looking for treats just isn't a weather report anymore. (The dog's name is Storm because of course it is.)
5. This baby loves her mama. And her mama's cheeks, and lips, and eyes, and cheeks, and forehead, and chin, and cheeks....
Hold onto your ovaries if you have them, folks, because this baby gushing with love for her mama and all her mama's body parts is just too precious. "I wuv all of 'em, Mommy."
6. These before and after photos of kids on their first day of school are hilariously real.
These photos say it all, don't they? We totally feel you, kiddos. Sometimes we look like this at the end of a long day, too. Read the full story and see more photos here.
7. Watch this guy surprise drive-up window food workers with big tips.
Food service workers have had a rough go of it during the pandemic, too, so seeing them get a larger-than-expected tip is super sweet. They're all so grateful and humble about it, too. People can be so good.
8. This woman collects food that stores were going to throw away and gives it to people who need it.
It seems like such a simple concept, but someone has to actually make it happen. Fourteen years ago, Claudia Wheeler started to rescue food that was going to go to waste and now runs a foundation that helps that rescued food to get to people experiencing food insecurity. Wonderful, dedicated, inspiring woman.
9. This adorable dalmatian and kitten video because these kinds of videos never, ever get old.
Seriously, even when everything seems like it sucks, a sweet dog-and-cat video can always bring a smile to your face. It's the law or something. How could anyone not smile at this?
Stop it! 😅 https://t.co/ibRgAVzXHE

— Buitengebieden (@Buitengebieden) 1630448790.0
10. When all else fails, watch a dog do somersaults with his best friend on a trampoline.
Pretty sure this is the definition of pure joy.
The world is hot trash at the moment so watch this and enjoy your day. https://t.co/FnVtLvLF3j

— Fenrir (@Fenrir) 1630584017.0
Hope that list lightened your load, friends. Keep on joy-scrolling!
Get stories worth sharing delivered to your inbox