Well Being
A Starbucks barista's reaction to a customer's anti-mask, anti-BLM rant was perfection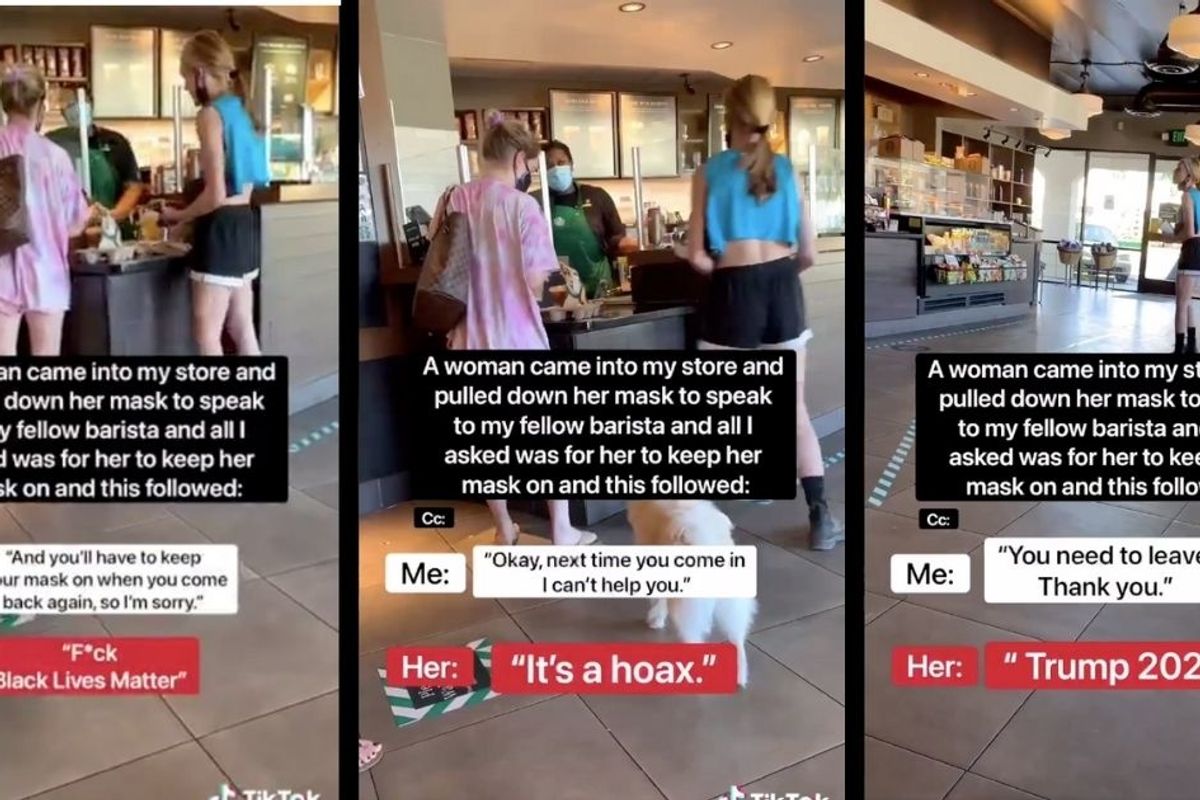 Eight months into the pandemic, you'd think people would have the basics figured out. Sure, there was some confusion in the beginning as to whether or not masks were going to help, but that was months ago (which might as well be years in pandemic time). Plenty of studies have shown that face masks are an effective way to limit the spread of the virus and public health officials say universal masking is one of the keys to being able to safely resume some normal activities.
Normal activities include things like getting a coffee at Starbucks, but a viral video of a barista's encounter with an anti-masker shows why the U.S. will likely be living in the worst of both worlds—massive spread and economic woe—for the foreseeable future.
Alex Beckom works at a Starbucks in Santee, California and shared a video taken after a woman pulled down her "Trump 2020" mask to ask the 19-year-old barista a question, pulled it back up when the barista asked her to, then pulled it down again.
---
Welcome to my day at work🥰 #starbucks #karen @Starbucks https://t.co/six8s4qCAx

— A l e x🧚‍♀️ (@A l e x🧚‍♀️) 1603064435.0
All Beckom did was inform the woman that she needed to keep her mask on, and the scene turned into the woman throwing a fit. She claimed that she didn't have to listen to the barista because "this is America." She said the virus (or the pandemic, or the mask order—it's not clear) is "a hoax." And she berated Black Lives Matter, which had nothing whatsoever to do with the exchange, other than Beckom existing in front of her in her Black skin.
Beckom remained completely professional and friendly throughout the bizarre interchange, even after the woman accused her of discriminating against her for being a Trump supporter, and even after the woman said "F*ck Black Lives Matter," and then yelled the same thing again as she left the store.
"If she thinks she's being discriminated against, that's on her," Beckom told 10 News, San Diego's ABC affiliate. "I never brought up anything about her politics ... I wasn't even angry. I was just like, 'Why is this happening?'"
Beckom had every right to ask the woman to keep her mask on, both due to company policy and the state of California mandate. And no one would blame Beckom if she'd had a more emotional or forceful response considering this woman's rude and inappropriate behavior, but the contrast of her calm reaction beautifully highlighted how off-the-rails the woman's own response was.
The video has had more than 4 million views since Beckom shared it on Sunday, and people have praised the dignity and grace with which the barista handled the situation.
"I think it's important to show this type of behavior shouldn't be normalized and shouldn't be acceptable ..." Beckom told 10 News. "As this behavior continues, the cycle continues, and we need to get this cycle to stop."
Indeed, we do need to get this cycle to stop. People like this woman are partially why the U.S. is in the dismal state that we're in with the coronavirus pandemic. Calling it a hoax, refusing to keep her mask on, berating a lovely young woman who is just doing her job—these kinds of videos are so old, but so indicative of where we are.
But Beckom's response is also an indicator that there is hope to be had in all of this madness. To have such presence of mind and maturity at 19 years old is impressive, and the more we see people doing the right thing, the better. Beckom represents the millions of Americans who work with the public and have to put up with people's nonsense. It's heartening to see someone so young handling it so well.
Keep up the great work, Alex. (And hey Starbucks, maybe give that woman a raise. In the meantime, here's a GoFundMe if you want to give her a tip for her excellent customer service.)