Well Being
A group of Anti-Maskers is trying to pass off a bogus 'mask-exemption' card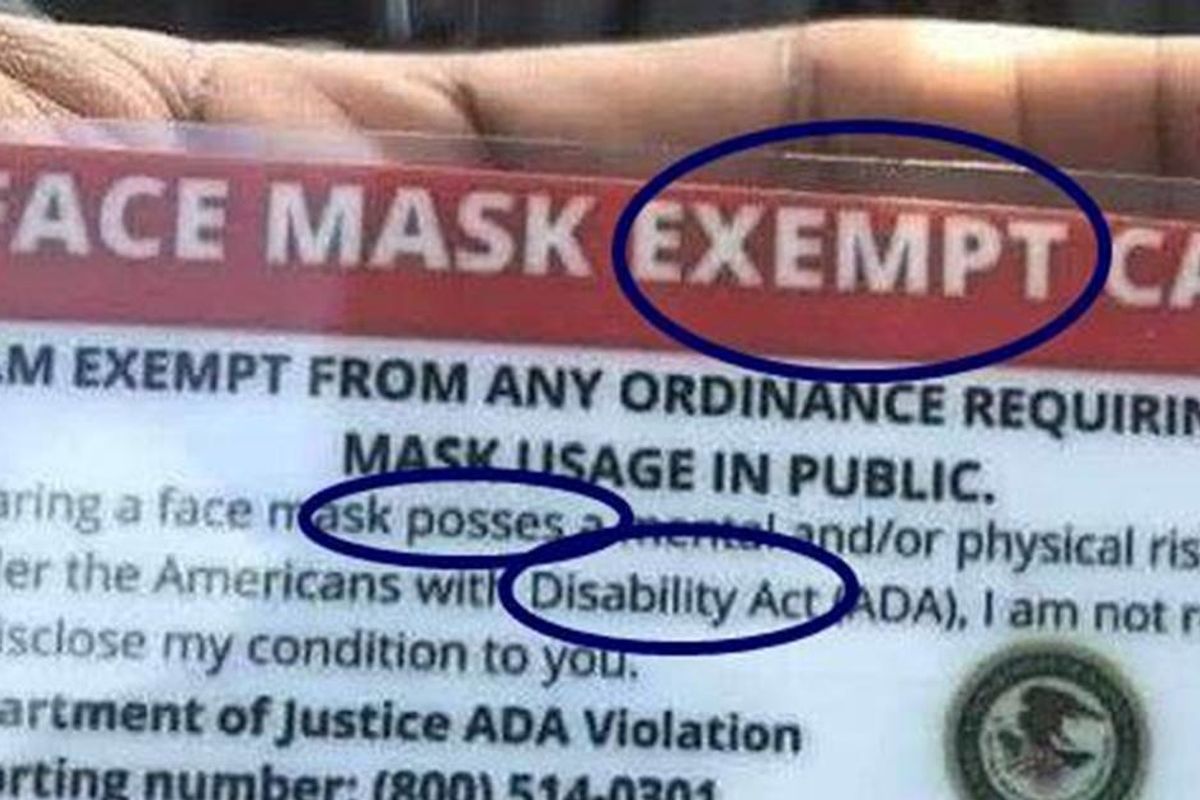 via Reddit
A Facebook group of over 5,000 people with a loose grasp of science, government, and grammar has issued a bogus card to its members, supposedly exempting them from wearing a mask in public.

The card is issued by the Freedom to Breathe Agency (FTBA) a Facebook Group posing as a government agency that protects people's right to go mask-free in public.
The card claims the holder has a disability that prevents them from wearing a mask, and that it's illegal for any business to ask them to disclose their condition.
"I am exempt from any ordinance requiring face mask usage in public. Wearing a face mask poses a mental and/or physical risk to me. Under the Americans with Disability Act (ADA), I am not required to disclose my condition to you," the card reads.
---
"If found in violation of the ADA you could face steep penalties," the card continues. "Organizations and businesses can be fined up to $75,000 for your first violation and $150,000 for any subsequent violations. Denying access to your business/organization will be also reported to FTBA for further actions."
It's pretty disturbing that anyone would pretend they have a disability to get away with putting people's health and safety at risk by going mask-free during a pandemic.
The good news is that the card looks so bogus that it's safe to assume no one would ever fall for the scam.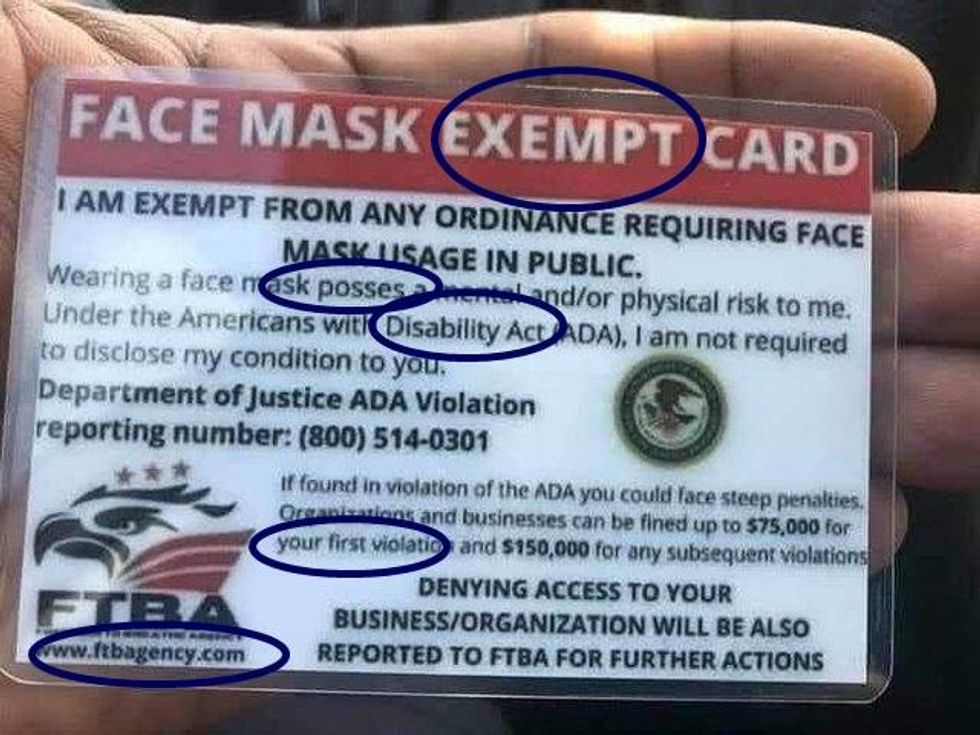 via Reddit
The card is littered with typographical errors.

The headline should read: "FACE MASK EXEMPTION CARD" not "EXEMPT."
The word poses is spelled posses.
The ADA's official title is the Americans with Disabilities Act not the Americans with Disability Act.
Organizations and businesses can be fined for "their" not "your" first violation.
Further, if it was an official government agency, the website would be at a .gov site not a .com.
The FTBA's website was a monument to anti-science, paranoia, and bad grammar, but it's been taken down. Here's a screenshot that was taken before it went offline.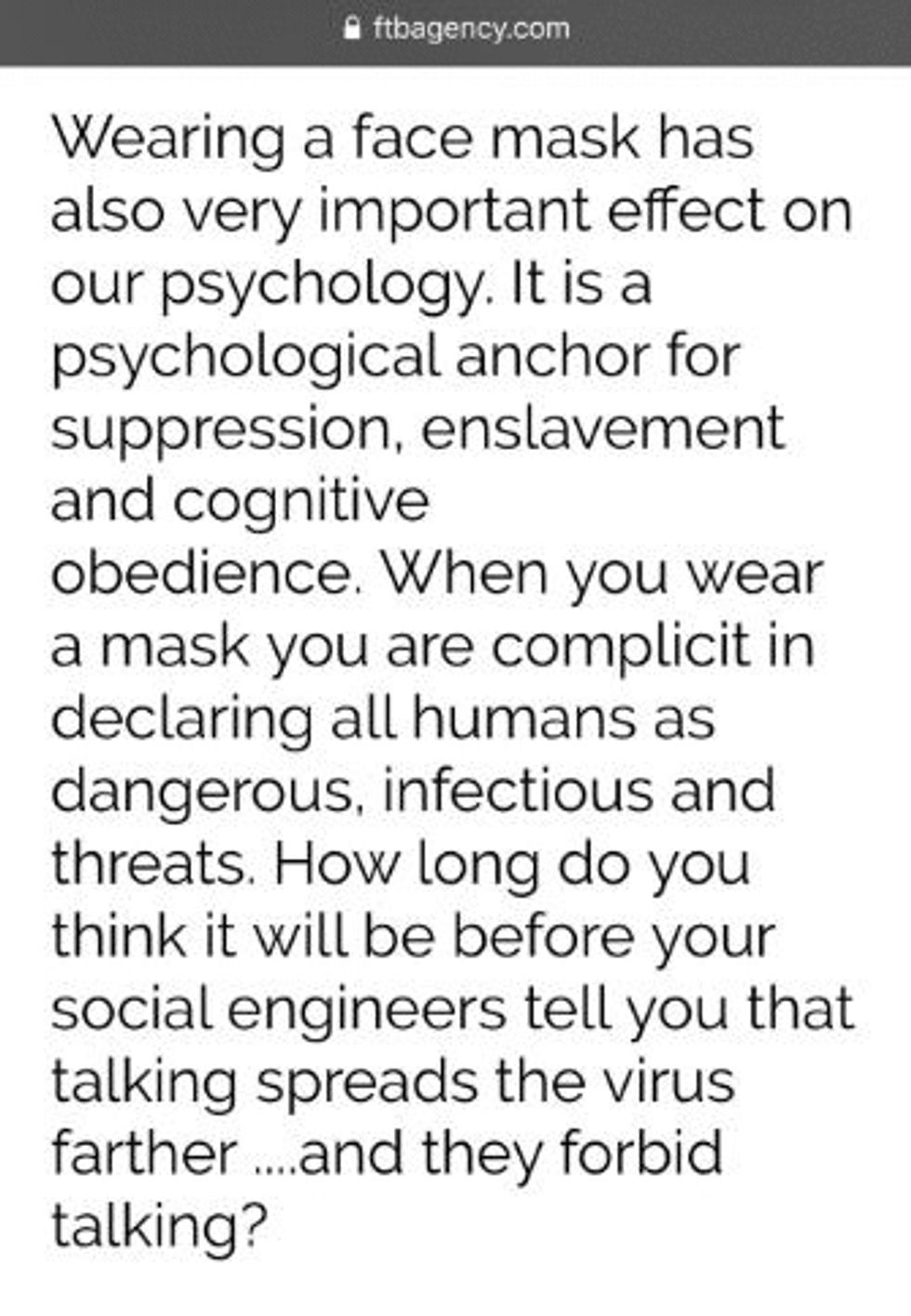 The fake exemption card caught the attention of the Department of Justice that said it is aware of the fake card and that "these postings were not issued by the Department and are not endorsed by the Department."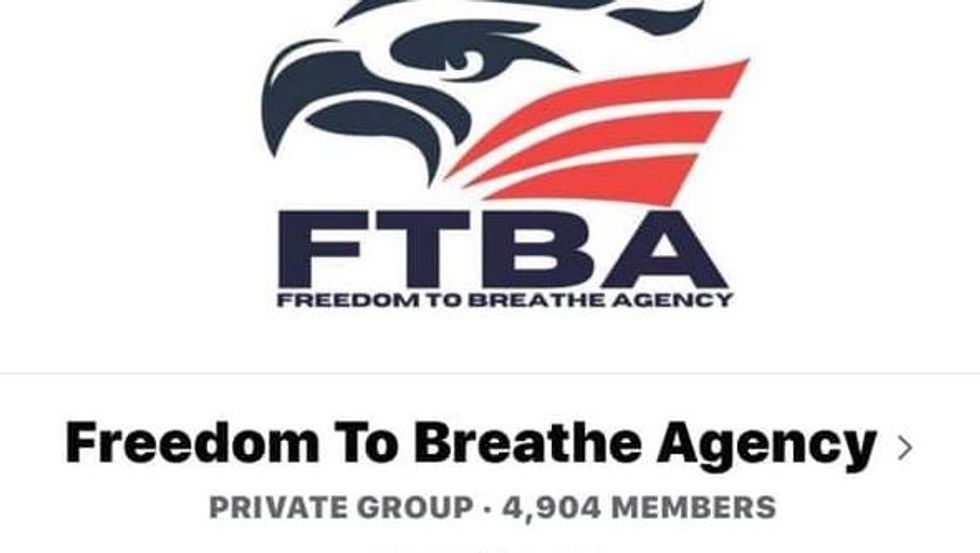 Freedom to Breathe Agency / Facebook
According to the group's Facebook site "Wearing a mask is an unhealthy obstruction of oxygen flow that can lead to hypoxemia and hypoxia, can permanently damage the brain, lungs, heart and about any organ."

However, that is not true.
According to Dr. Abrar Ahmad Chughtai, an epidemiologist and lecturer at the School of Public Health and Community Medicine at the University of New South Wales Australia, hypoxia is unlikely to take place with cloth and surgical masks.
Some people with pre-existing respiratory illnesses (like asthma, COPD), may face breathing difficulty with use of certain types of tight fitted masks, called respirators. [There is] less chance of hypoxia as they may discontinue using masks in that case. Risk is very low with cloth and surgical masks as they are not tight around [the] face.
This information is not hard to find.
The members of the Freedom to Breathe Agency either aren't smart enough to understand the basic science behind wearing a mask or don't have the curiosity to find out the truth for themselves.
Wearing a mask not only prevents people from catching COVID-19 but from spreading the deadly disease as well. So the Freedom to Breathe Agency are willfully deciding to put the health of others in danger because they aren't smart enough to know or they just don't care.
They don't care about science, they don't care about the health of others, and they sure don't care about grammar.